Ranger Advanced Tire Changers for the 21st Century
Your new Ranger t​​ire changer is about to become an indispensable piece of equipment in your garage. With exclusive t​​ire changing features from Ranger, the once-dreaded chore of changing a t​​ire is now fast, easy and even makes work a little bit fun. Our state-of-the-art tire changer design offers cutting-edge technology and advanced features to make this one of the most profitable pieces of wheel service equipment that you can offer.
Whether you've been banging beads out of that same stubborn t​ire for decades, or you've been operating t​ire changers for decades, you've come to the right place for t​​ire changing service equipment. Every single one of those stubborn t​ire-and-wheel assemblies is protected by the people who know t​ire changer capabilities better than anyone. Ranger's premium large-t​​ire models will easily handle the most massive truck assemblies, so there's nothing you can throw at us that we haven't seen before.
These days, the tire changer operators have to feel comfortable working with wheels and rims that are prone to marring and scratching. Ranger offers better wheel protection to ensure you don't lose business due to a minor technician error.
Read the 4 Most Common Mistakes When Buying a Tire Changer, and be sure to get the model that best suits your needs!
View All Tire Changer Features Frequently Asked Questions
---
---
---
---
---
---
---
Advanced NextGen™ Tire Changer Technology
When NextGen was first introduced, our entire line of professional-grade t​ire changing equipment was re-engineered and thrown into the real world for testing. Choosing the right t​ire changer allows shop owners and service operators to easily move through daily routines. Whether clamping a delicate rim or fixing a run-flat, these tire changers are as gentle as they are powerful. That's all thanks to our patented RimGuard™ protection technology. NOTE: Internal and external rim clamping dimensions do not translate directly to rim or t​ire sizes as rim clamping points may vary by manufacturer.
Tire Changer Convenience
Ranger's extensive t​ire changer lineup is one of the most impressive equipment offerings in the industry, with models designed to suit nearly every budget, automotive specialty and t​ire size. Some of Ranger's exciting innovations include a helpful drop-center top mount arm that firmly holds the tire in place during rotation. You'll also find a pneumatic wheel restraint device to keep the mounted wheel locked into place. Power-assist upper bead rollers assist in setting and breaking beads. Ranger features one of the largest wheel-clamping ranges in the industry, as well as power-assist mounting towers for even more versatility. You may want to consider a swing-arm t​ire changer, which gives you more options for unseating stubborn beads. In fact, a Ranger swing-arm t​ire changer just might change the way you look at wheel service for your client's car or truck.
View All Tire Changer Features
Pneumatic Control Valves
Industrial-grade, 45-micron pneumatic control valves feature die cast and machined bodies constructed from zinc and aluminum. High-performance polyurethane seals and self-lubricating Teflon® piston guides increase the lifespan of your tire changer. Valve plungers feature muffled extrication ports that detect dirt or debris on the spool's perimeter and blow it away whenever the valve is set in the release position.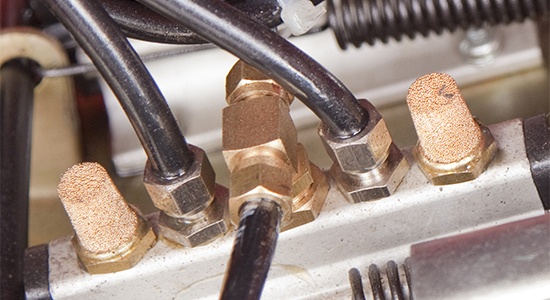 Sealed Electrical Components
All main-lead electrical terminals, auxiliary switches and motor enclosures are sealed to keep the terminal leads air-tight and dust-free.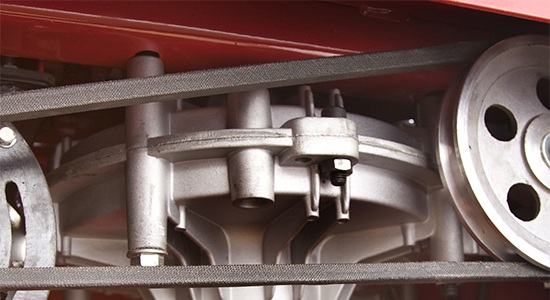 Pneumatic Tubing
Ranger Next Generation™ tire changers feature high-pressure polyurethane pneumatic tubing with mirror-smooth seamless bores for exceptional flow rates, high resistance to abrasions and kinks and a high burst tolerance.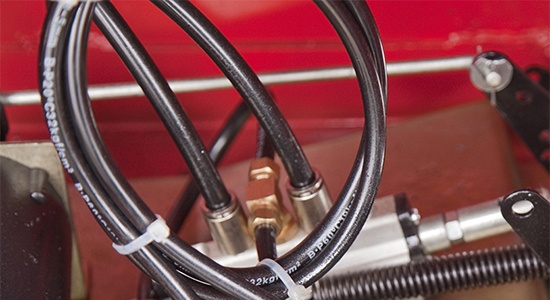 Maintenance-Free Gearbox
Never worry about maintaining gearbox components, as Ranger tire changer's gears are virtually zero-maintenance for the entire lifespan of the unit. A substantial oil and grease reservoir dissipates heat and self-lubricates the entire system, extending the life of your tire changer. Internal baffles and seated stress flange gasket ensure venting and prevent any leaks. The gearbox enclosure is precision-milled for precise alignment of horizontal and vertical bases, and precision helical gears function better than typical spur gear transmissions, providing maximum durability and precision under load during worm and gear alignment.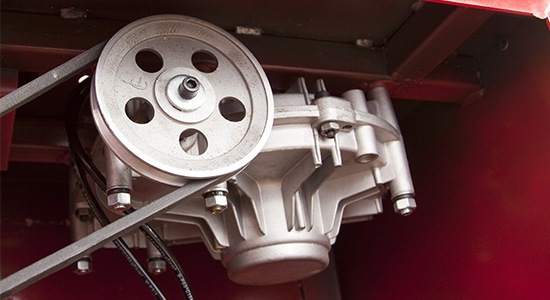 Updated Electric Motor
Our tire changers are fitted with advanced electric motors: copper rotor construction, high-quality bearings, thermal-cool epoxy insulation and durable rolled steel frames are standard on every motor we put in your shop.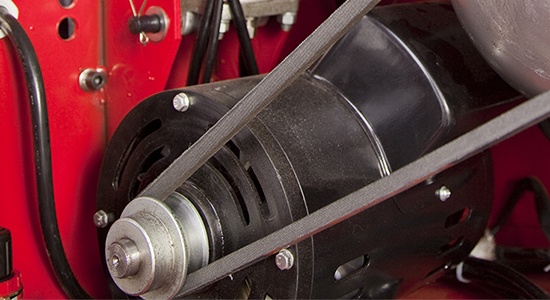 Storage Space
Ranger tire changers come complete with space to keep your tools. This, of course, helps you keep a more efficient and highly organized workspace.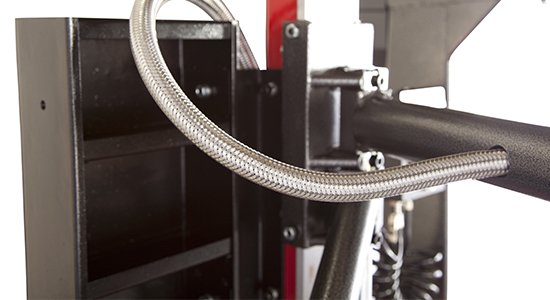 Hose/Wire Protection
A rugged, stainless steel, braided metal conduit keeps your hoses and wires protected at all times.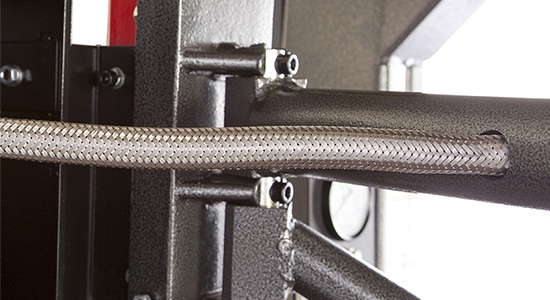 Standard Wheel Service Accessories
Important wheel service accessories come standard, like a large soap bucket with a brush and multi-piece plastic wheel protector kit that includes turntable jaw covers, bead-breaker blade boots and specialized mount/demount head covers to help protect delicate wheels. We throw in a hardened steel t​ire iron and bead lever tool to assist during all tire mounting and demounting operations.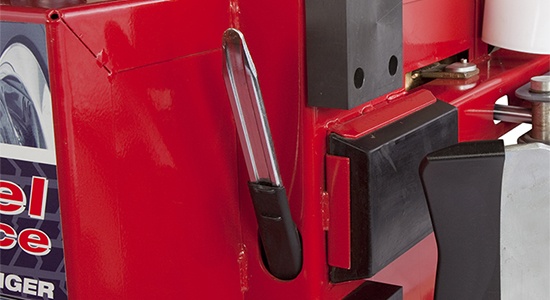 Innovative and Easy to Use
All applicable tire changers offer upfront foot controls complete with clearly marked, conveniently laid out decals. Other innovations include tilt-back towers for increased clearance, large bead-breaking blades, powerful high-torque turntables, a jet-blast pistol inflation gauge with air dump valve and a fully-adjustable tool bar. All of this comes packed in an easy-to-use, free-standing console that's as safe as it is efficient.