R76LT
SKU# 5140144
Tire Changer / Tilt-Back / 762 mm Capacity
---
If you like the versatility of the Ranger R76ATR but don't need its assist-tower feature, then Ranger's R76LT is a slightly stripped-down version that still performs rapid tire changes. Commonly found in general repair shops that see a wide range of tires, such as racing and light truck tires.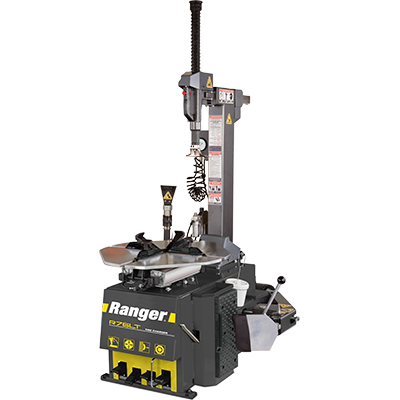 Fast Tire Changes, Simplified Tilt-Back Design
General repair shops are often looking for swift tire changers that are fast, safe and easy to use. The R76LT eliminates some of the add-ons that are specifically made to assist with operators with tricky run-flats, low-profile tires and particularly stubborn beads. Most passenger vehicle and pick-up tires don't have those problems, so this tilt-back design simply offers what you want, and nothing more.
Why a tilt-back tire machine?
Swing-arm models save space, but the duck head needs to be adjusted between wheel sets. The tilt-back tower adjusts to the size of the wheel, making the R76LT significantly easier to use than other styles. Time is money, and a tilt-back is more than just a mere convenience: it will increase turnaround times and help fast-paced shops earn more profit.
The professional-grade R76LT features a large turntable that provides an internal clamping capacity of 762 mm and an external clamping capacity of 711 mm. A sturdy body, rigid 45 mm hexagonal vertical shaft and hardened‐steel horizontal outrigger support arm eliminate flex during all tire service procedures to reduce the likelihood of expensive wheels getting damaged. Bead seating and tire inflation is simple and effortless with Ranger's exclusive TurboBlast™ portable bead seating system. Ergonomic controls are sensibly placed to minimize excessive reaching, walking, or bending.
Electric turntable
The proprietary electric turntable rotates secured wheels quickly and safely. While the turntable is efficient, it's also controlled. This gives low-profile and run-flat beads more time to relax, so they don't snap off and tear the tire.
Adjustable RimGuard™ wheel clamps
Durable, adjustable RimGuard™ wheel clamps are made from hardened steel and expand from 228 mm up to 762 mm. Internal/external multi‐teeth jaws make changing a tire fast and extremely simple.
Advanced clamp positioning
Your tire changer is only as good as the clamps that hold the wheel still. Ranger's advanced positioning system lets you clamp a wheel at any point in the clamping range.
Easier bead lubrication
The turntable's geometric design permits easy lubrication of the beads before breaking them. It's easy to inspect the lower bead during mounting and inflation, as well.
Bead-breaker design
Our bead breaker is the smoothest and most reliable we have ever made. It pops beads in a single, swift motion in both directions. The breaker is designed with a stainless-steel cylinder body, so no more moisture contamination or corrosion. Multiple hinges combine with a fully adjustable blade, as well as dual-flange axle that prevents flexing and early failure. The blade can be further adjusted for larger tires and wheels.
Enhanced bead-breaker ​blade
Enhanced bead-breaker ​blade features rugged box frame construction that increases the mechanical strength, as well as service life and overall performance. A large rubber bump-stop assures a smooth return to help reduce shock loading and minimize wear on the pneumatic cylinder, guides and associated moving parts.
Balanced flywheel
A perfectly balanced flywheel reduces stress on the tire changer. It keeps the machine from rumbling and shaking during operation and greatly extends the lifespan of your tire changer.
Simple foot-pedal control
Forged steel foot pedals are lightweight, easy to depress and extremely durable for continuous, daily use. A snap action spring return keeps the pedal bouncing spritely back to its starting position. Control valves within the foot pedal contain multi-link rod connections for non-binding plunger movement and precise bilateral control.
Tilt-back tower design
Tilt-back towers increase ground clearance, which lets you load and lock larger tire and wheel combinations. It also makes removing them easier. Perhaps best of all, a pneumatic tool head returns to the same position for like sets of tires. The R76LT eliminates the need to manually find the right position with every wheel.
Advanced drive belt system
Ranger tire changers are made with a specialized drive belt that spreads wear evenly throughout the machine. Belt functionality is not weakened over time, and the entire system is protected by the tire changer chassis.
Stainless steel and aluminum pneumatic cylinders
Pneumatic cylinders are installed to prevent the equipment from vibrating too much. Less movement means less friction. Cushions are installed to soften the end of each stroke, preserving the seals, wear bands and piston rods. The whole design is self-lubricating and easy to maintain.
Multi-function mount and demount head
The hardened steel mount/demount head makes it easy to switch between functions without making adjustments. The tool head is gentle on tire beads when removing and replacing tires. We also include a completely nylon tool head for your convenience. The durable nylon construction is exceptionally good at protecting alloy rims and custom wheels.
Spring-assisted tool shaft
Horizontal outrigger support arms come on every Ranger tire changer tool head. They help protect the wheels and include a 45 mm spring-assisted hexagonal vertical tool shaft. This setup ensures the tool head remains in the position you need it set.
Guide bearings for all moving parts
Every moving part in your tire changer is protected. Linear guide bearings put you in charge of adjusting all wheel settings, and the horizontal arm's lower roller guide helps keep an even tempo throughout the full motion of the arm. Wear and tear is practically nullified on tower guides and other sensitive components.
Foot-controlled tire inflator
Our foot pedals control many functions on your tire changer, so you can safely keep two hands on your work at all times. The single push of a button lets you release tire pressure at any time.
TurboBlast™ bead seating
Ranger's TurboBlast™ bead seating system is one heck of a way to safely and rapidly seat beads without damaging the tire. A single, powerful burst of air is controlled by a contoured tab that locks immediately after the air blast.
Motorcycle clamps (optional)
These are necessary for shops looking to service bikes. The motorcycle clamps are specially made for motorcycle wheel and tire sizes.
Features
4 Clamps (Internal / External)
Dual Pneumatic Cylinders
Adjustable Pneumatic Blade
Tilt-Back Tower Design
Vertical Shaft / Tool Head Positioning
Inflation System
Inflation Gauge & Integrated Air Dump Valve
Inflation Pressure Regulator/Limiter
Water Filter
Oiler / Lubricator
Air Regulator
Bead Tool/Tire Iron
Alloy-Steel Mount-Demount Head
Nylon Mount-Demount Head
Large Soap Bucket
Soap Brush
Powerful, TurboBlast™ Bead Seating System
Tool Tray / Bin Storage
Motorcycle Turntable Clamps (optional)
R76LT Specifications
Style
Style:
Tilt-Back Tower Design
Assist
Assist Type:
Single-Tower Assist
Motor
3 HP (220 VAC 50-60 HZ)
Drive System Type
Electric / Air
Air Requirement
110-175 PSI (8-12 BAR)
Wheel Clamping Method
4 Clamps - Internal / External
Table Clamping System
Dual Pneumatic Cylinders
Bead Breaking System
Adjustable Pneumatic Blade
Vertical Shaft / Tool Head
Pneumatic / Locking
Powerful Bead Seating System
TurboBlast™
Internal Rim Clamping Capacity
10" – 30" (254 mm - 762 mm)
External Rim Clamping Capacity
9" – 28" (229 mm - 711 mm)
Turntable Tire Width Capacity (Mounting)
4" – 18" (102 mm – 457 mm)
Bead Breaker Tire Width Capacity (Demounting)
1.5" – 16" (38 mm – 406 mm)
Maximum Tire Diameter
43" (1,092 mm)
Shipping Weight
886 lbs. (403 Kg)
Shipping Weight
326 Kg (720 lbs.)
Shipping Dimensions
1,320 mm x 1,016 mm x 1,016 mm (52'' x 40'' x 40'')