Questions about Hydraulic Power Units?
Every power unit that is manufactured in a Ranger Products facility is designed to mount on an automotive lift and stay there for the entire lifespan of that lift. That means whichever hydraulic power pack you go with, you're going to be using it for a long time. We've worked to find the "sweet spot" between overloading you with too many options and shortchanging you with a one-size-fits-all approach. So, we designed our power units to fit on a variety of car lifts. We always recommend looking at the models we offer and talking with one of our trained sales representatives before you buy an individual unit.
For instance, the E0.8B8F1 hydraulic power unit is a little smaller, making it better-suited for many low-rise lifts. But, it can also mount to some of our two-post lifts. A larger hydraulic power pack might put a little more zip in your lift, but how much you value that extra speed is up to you. It's hard to tell you exactly how each individual power unit is best for you until we know exactly which lift(s) you want, as well as your power capabilities. Call us and we'll guide you through it.
---
---
---
---
---
Quality... No Matter What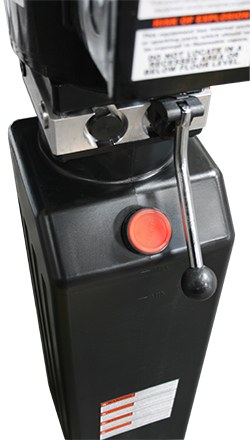 Regardless of which hydraulic power unit you purchase, you're getting the same excellent quality that you can expect from Ranger. We like to point out that weather and garage conditions will never be a factor: each hydraulic power pack is capable of operating in​ -10–​79°​C. All motors are enclosed in a case that protects against dirt and debris, humidity, chemical erosion, weeping transmission fluid, oil spills and whatever other dangerous contaminants might harm your investment.
These hydraulic power units feature a variety of tank sizes and single-phase motors, all of which are easily mounted on your automotive lift post columns for easy access and safe, ergonomic control. Pressure relief valves prevent hydraulic fluid from building up and causing serious damage to your operation, and each valve is manufactured meticulously to perform as advertised. We earn our safety certifications by never cutting corners, whether it's a hydraulic power unit, car lift or any piece of shop equipment in our product line. Every single hydraulic power pack we offer is UL Recognised and CSA Certified.
Our Warranties Don't Lie
To get a sense of the quality you're getting, look at the warranty. Ranger hydraulic power units come with a one-year comprehensive warranty on all parts, labour and shipping-related costs. We're also confident that you may never need maintenance on any part of your hydraulic power pack for many years to come. They're literally built like little tanks (not to mention, they all come equipped with sturdy tanks).