Ranger Oil Filter Crushers Flatten Used Cans and Filters
If you work in or own an auto repair shop, you likely find yourself burdened with hundreds, sometimes thousands of metal cans and oil filters every year. Government-mandated recycling businesses count on your lack of options, so they charge far too much for the modest services they render. Ranger's here to give you a choice, so you can fight back and keep your hard-earned money in your business, where it belongs.
With recent changes to used oil filter disposal laws, including the U.S. Environmental Protection Agency (EPA) and the Department of Toxic Substances Control (DTSC), many shops across the country are facing stiff fines and penalties; some are even closing their doors. Recycling your used oil filters could save you from hefty fines and penalties.
Ranger's premium line of heavy-duty oil filter crushers are designed to quickly and efficiently reduce even your toughest cans and oil filters to at least 25% of their original sizes in seconds, removing 95% of the sludge trapped inside. Sell that leftover metal for scrap and make a tidy profit out of the oil waste. With Ranger Crushers, the decision is all yours.
---
---
Pure, Crushing Force in a Compact Design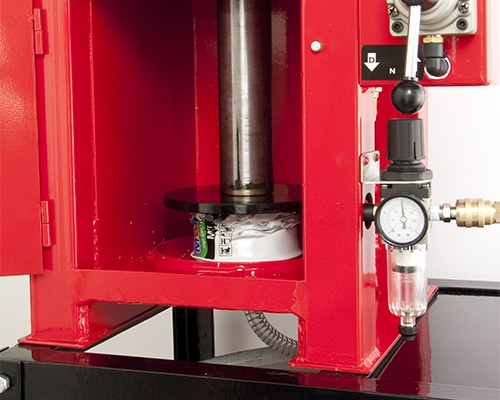 For an oil filter crusher that flattens your most stubborn filters and squeezes the refuse into a storage drum, consider a powerful RP-20FC or RP-50FC oil filter crusher. Each crusher slams filters and cans with an astounding 10 or 25-tons of hydraulic pressure and flattens them into neat little stacks for cheap and convenient disposal. Constructed out of welded steel plate and only the best component materials, Ranger oil filter crushers are engineered to be the last filter crushers you ever have to purchase. We've even included convenient extras, such as an air moisture regulator, a pressure gauge and a lockable viewing door to ensure that your oil filter crusher is everything you could ever want in a shop crusher.
If you want the convenience and cleanliness of a powerful oil filter crusher but don't have room on your workbench, we have the solution! The Ranger RP-20FCS Can Crusher Stand is the perfect support for the RP20-FC Oil Filter Crusher. This sturdy frame accommodates used oil storage drums ranging from 19 L to 208 L, so waste goes straight from the crusher into the storage tank. Just slide an oil drum beneath with one of our top-of-the-line crushers on top and you're ready to go. We've also made sure there's plenty of room to the right of the unit for all the filters and cans waiting to get crushed.
All of our Ranger Can Crushers and Oil Filter Crushers are designed to save both your money and the environment, so you can spend more time in the shop and less time talking with your accountant.