Rock-Solid Hydraulic Shop Presses
Ranger's industrial shop presses offer professional-grade hydraulic force, whether you're at the shop or in your own garage. Among other operations, all Ranger hydraulic presses are ideal for the removal and installation of gears, bushings and bearings—so you can bend, straighten, flatten, crush, press, shape, push, pull, lift and spread like you were born doing it. Choose from two standing shop press models, the RP-20T or RP-20HD.
The RP-20T is a rock-solid hydraulic press designed to withstand even the heaviest abuse. 18-mt of staggering pressure is delivered via a robust bottle jack onto a convenient, vertically-adjustable press table. This entire unit is mounted on a time-tested, extremely sturdy H-frame for reliable pressing operation every time.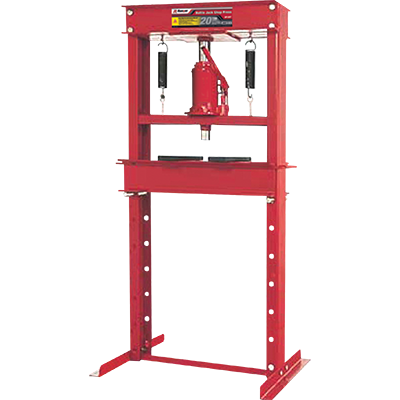 RP-20T
(5150496)
20-Ton (18-mt.) Shop Press
The industrial-grade RP-20T delivers up to 18,143-kg. of pressure via a 20-Ton (18-mt). bottle jack. That's more than enough to satisfy all your pressing needs. No matter how busy your shop gets, the RP-20T is designed to handle all-day use, seven days a week.
---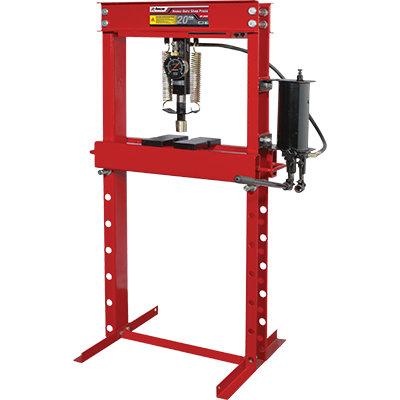 RP-20HD
(5150059)
20-Ton (18-mt.) Shop Press / Two-Stage Hydraulic Pump / Commercial-Grade
The heavy-duty RP-20HD delivers up to 18,143-kg. of pressure to satisfy all your pressing needs. Two-stage pump action delivers incredible control, power and accuracy for a reliable press in commercial settings.
Need More Power? Try the RP-20HD.
The RP-20HD Shop Press comes outfitted with all the convenient features a pro or hobbyist could ask for. A lateral-moving cylinder puts 20-Ton (18-mt.) of pressure precisely where you need it, while an independent two-speed hydraulic pump ensures steady performance throughout. We also integrated a 102 mm diameter pressure gauge, so you can check for yourself how well your new RP-20HD is performing. All of this comes packed on a rugged steel H-frame for unsurpassed durability.
Regardless of which model you choose, you'll be pleased with the high-quality, incredible value and sincere craftsmanship offered by each and every Ranger hydraulic shop press.