The Best Motorcycle Lifts for Home and Professional Use
If your true love is repairing and maintaining motorcycles and ATVs, then you deserve a specialty motorcycle lift. Each lifting platform is a true ergonomic tool designed to elevate motorcycles and ATVs to comfortable working heights, significantly reducing worker fatigue. Our proprietary pneumatic motorcycle lifts and air-over-hydraulic lifting systems have proven to be the top choice of industry professionals worldwide.
If you demand the best from your tools and equipment, then demand Ranger. Our lifts were designed by professional bike mechanics to help make our lifts the very best choice for any motorcycle or ATV enthusiast. Although there are many copycat motorcycle lifts on the market, there is no other that is built with the quality, care and pride that has made Ranger a global leader and brand that stands for excellence.
---
---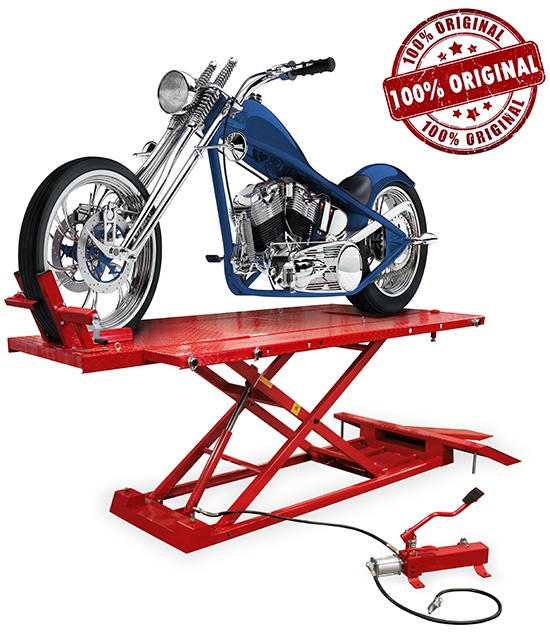 Ranger has the Right Motorcycle Lift for You
Ranger lifts are easy to use and exceptionally durable. Our premium lifts have many features not found anywhere else. By utilising top-quality components and advanced manufacturing techniques, they can be expected to outlast competitive models that can never truly deliver comparable quality. Ranger currently offers three models to choose from: the sleek and dependable RML-600XL, the fully-loaded RML-1500XL and the robust RML-1100 motorcycle jack.
The Ranger RML-600XL motorcycle lift is constructed out of 12-gauge steel and covered with an attractive, durable powder-coat finish. Features include a drop-away rear wheel deck, extra-wide drive-up ramps, dual-screw front wheel vise and pneumatic lifting cylinder that fully raises a bike or chopper in only 10 seconds. Optional side and table extensions are available. The Ranger RML-600XL motorcycle lift consistently delivers powerful capabilities ideal for servicing both ATVs and motorcycles, whether you're a professional mechanic or a dedicated bike-lover.
The full-featured RML-1500XL motorcycle lift is our second motorcycle / ATV lift option for hobbyists and DIY'ers. With a 680-kg. lifting capacity and dual-functioning pump, you can raise your motorcycle or ATV your way, using either an air compressor or just your foot. With automatic safety locks, a retracting wheel deck, built-in retractable swivel casters, top-notch 12-gauge steel construction, durable powder-coating and a convenient 114 cm lifting height, the RML-1500XL is the best small-vehicle lifting solution on the market today.
If the ample height on either motorcycle lift just doesn't quite get it, we also have the RML-1100 Motorcycle / ATV Jack that works great with either lift or on the ground by itself. Just like the stuff we sell, Ranger is always up and running with plenty of service, parts, and technical support. Whatever you need, whenever you need it, we've got your back. Nothing stops us from making sure you have the safest, most reliable motorcycle lift possible.