4-Post Jacking Beams for Full Wheel Service
A rolling jacking beam is the only way to turn a four-post lift into a full-service car lift. Each frame-engaging jack lifts one-half of your car, and two will raise all four wheels off the runways. Wheel service becomes a cinch, and your BendPak might be the last lift you ever purchase for service and vehicle storage.
BendPak offers seven jacking beam models that are designed to hold between 2,041-kg. and ​11,340-kg. each. Each jack is placed on top of a four-post lift, so it can ​slide between the runways. It elevates the frame of your vehicle to permit access to the wheels. ​Jacking beams help get the most out of your car lift and dramatically increase your service abilities. You'll be able to change tires without sending your wheels across the street. Simply balance them on your own wheel balancer. If you purchased an alignment lift and wheel aligner, you can perform full alignment services after returning fresh, balanced tires and wheels to the car. By not having to change ​lifts, you revolutionize your workflow with greater efficiency, and ultimately, more profit.
---
---
---
---
---
---
---
Accommodate an Incredible Variety of Vehicle Types
BendPak's scissor-style ​jacking beams offer peerless jacking speed and convenience. One unit provides you with the ability to raise two wheels off the lift runways, while two jacks can lift the entire car for full wheel service. Their exclusive telescoping roller design adjusts to different tread widths, so you don't need an adapter to work on a variety of vehicles. Reaching factory-approved jacking points has never been easier, and precision rollers enable you to position them anywhere beneath the car.
Please note: each jack would ideally lift half the weight of your car or truck, but the centre of gravity may not be the dead-centre of the lifted vehicle. You must know the weight distribution of each vehicle before placing jacking beam, so you don't accidentally overload one of the jacks. In some cases, ​jacking beams in the front and back of the vehicle being lifted require different lift capacities.
BendPak offers seven four-post bridge jacks:
RBJ4500 / 2,041 kg.
RBJ6000 / 2,722 kg.
RBJ7000 / 3,175 kg.
RBJ9000 / 4,082 kg.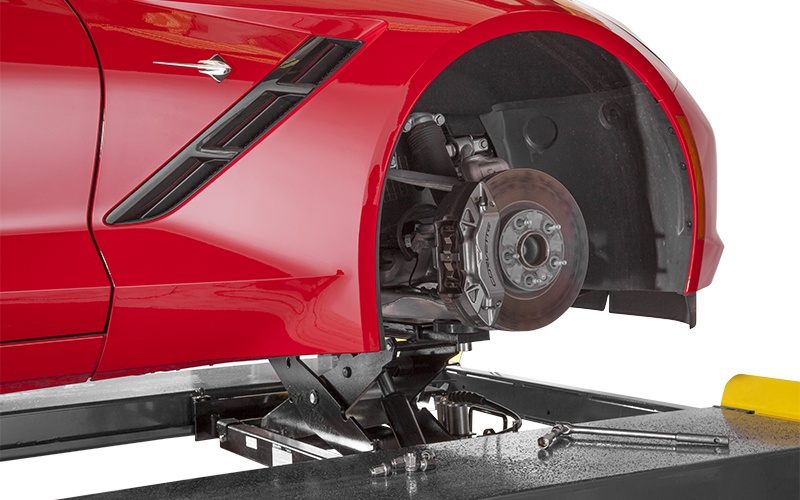 Two Jacks Make One Full Set
While you can certainly use a single jacking beam effectively in your garage, two jacks work together to effectively replace a two-post lift or scissor​ lift. Sliding two hydraulic jacks along the inner lift platforms is effortless. An airline kit will let both units share the same air compressor source without requiring you to unplug or reconnect any hoses. Stackable pad adapters come standard with every purchase. Enjoy the view!
Note: Not all BendPak lift models meet the standards as prescribed by ANSI/ALI ALCTV-2017 or ANSI/UL 201. Consult www.autolift.org for a complete list or contact BendPak via contact@bendpak.com.