RBJ25000
SKU# 5175033
11,340-kg. Capacity / Rolling Bridge Jack
---
This is our most powerful rolling bridge jack ever, with 11,340-kg. of muscle meant to service some of the biggest commercial fleets on earth. Use this jack on the 18,144-kg. capacity HDS40 truck lift to perform wheel service on almost any heavy-duty vehicle on wheels.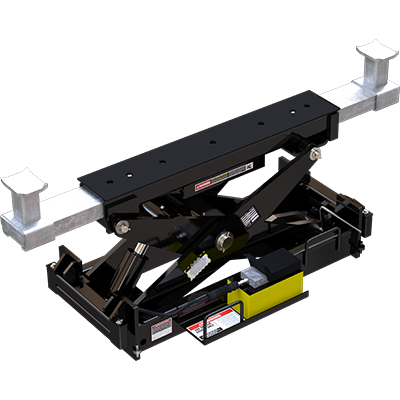 Lift 11,340-kg. for Full Wheel Service Capability
Two RBJ25000 rolling bridge jacks will handle a vehicle up to 22,680 kg. That means these jacks are over-engineered to handle offset centres of gravity on extremely heavy vehicles. Who might need bridge jacks of this calibre? For one, heavy-duty trucks and buses tend to require a bridge jack rated for more than half of the overall vehicle weight. Generally speaking, if you can safely lift a vehicle with the HDS40, you can safely perform wheel service with the RBJ-25000 rolling bridge jack.
Rubber contact pads
The point of contact on your vehicle frame is the most important part of lifting. So, we make the rubber contact pads on our bridge jacks hard and durable enough to lift the monsters in your shop. Heavy-duty fleets are no problem for the RBJ25000.
Stackable adapters
All those firetrucks, dumpster trucks, Greyhound™ Buses, etc. have extended lift points and raised chassis. That's why we include a stackable adapter set with every bridge jack sold. We also recommend you consider the optional truck adapter set, whose frame cradle design ensures heavy frames down shift off the lift pad.
High-pressure hydraulic power unit
A powerful pneumatic-hydraulic power unit creates a dedicated power source for the rolling bridge jack. Two jacks will have separate airlines that can connect together on an airline kit. The foot pedal is air-powered, so a few simple pushes and the jack is fully lifted.
Three lock levels
Lift to three lock positions for your convenience. The higher the jack, the more undercarriage clearance you get on your four-post lift. Every rolling bridge jack offers premium safety standards at every lock position. The RBJ25000 is over-engineered to easily raise 11,340-kg. (25,000 lbs.) in seconds flat.
Features
11,340-kg. lifting capacity
Rubber contact pads
Stackable adapters
High-pressure hydraulic power unit
Optional air-line kit
Rise
A
- Max. Height + Pad Only:
23
B
- Max. Height + Pad + Adapter:
26
C
- Min. Height + Pad Only:
17
D
- Min. Height + Pad + Adapter:
18
Time to Full Rise:
45 seconds
Power Unit
Motor:
Air-Hydraulic Pump
Shipping
Dimensions:
36" x 22" x 21" / 914 mm x 559 mm x 533 mm
Included commercial-grade air-hydraulic pump requires 125 psi and 10 – 20 CFM.
Note: Not all BendPak lift models meet the standards as prescribed by ANSI/ALI ALCTV-2017 or ANSI/UL 201. Consult www.autolift.org for a complete list or contact BendPak via contact@bendpak.com.