RBJ15000
SKU# 5175031
6,804-kg. Capacity / Rolling Bridge Jack
---
Our 6,804-kg. capacity bridge jack is made just for the HDS-35 four-post lift. This particular car lift is truly made for massive trucks and commercial equipment. Check out the RBJ15000 jack if you need to perform full wheel service on heavy-duty vehicles.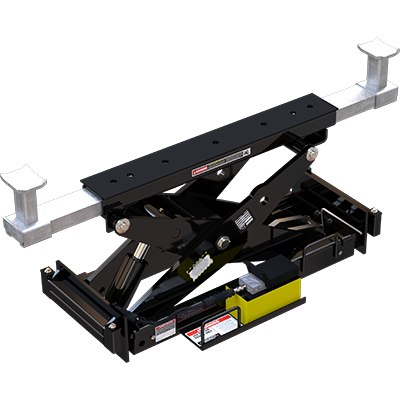 Lift 6,804-kgs. for Full Wheel Service Capability
The RBJ15000 bridge jack is capable of lifting half of a 13,608-kg. truck or commercial bus. The HD-35 car lift is a heavy-duty machine meant for professional shops that deal with massive, specialty equipment. If you have a truck lift, you have easy access to the undercarriage but can't get to the wheels. A rolling bridge jack opens the door to new service opportunities, such as wheel balancer, wheel alignment and tire changer equipment.
Rubber contact pads
BendPak bridge jacks feature rubber contact pads that are tougher than the rest. Resilient, sturdy and long-lasting, they never mark up or scratch your vehicle chassis or undercarriage. The jack is low-profile, so the pads fit comfortably underneath low-stance cars.
Stackable adapters
While the pads sit low enough for low ground-clearance vehicles, high-clearance vehicles have a tendency to lose lift with frame-engaging jacks. BendPak solves this issue with stackable adapters that come standard with every bridge jack. Better yet, two jacks allow you to lift a massive 13,608-kg. vehicle completely off its wheels.
High-pressure hydraulic power unit
The power unit to this jack is completely pneumatic-hydraulic. A small airline is attached to the bridge jack and is controlled with an ergonomically designed foot pedal. Two bridges jacks can share a single airline with the addition of BendPak's exclusive, optional airline kit.
Three lock levels
Raise your jack to three different heights—whatever is most comfortable for you. The work you do varies, so if all you need is to lift the wheels a few inches, just enough to remove them, BendPak makes it easy. Rolling bridge jacks also give a little more raise for extra undercarriage clearance and comfort.
Features
6,804-kg. lifting capacity
Rubber contact pads
Stackable adapters
High-pressure hydraulic power unit
Optional air-line kit
Rise
A
- Max. Height + Pad Only:
23
B
- Max. Height + Pad + Adapter:
26
C
- Min. Height + Pad Only:
14
D
- Min. Height + Pad + Adapter:
17
Time to Full Rise:
45 seconds
Power Unit
Motor:
Air-Hydraulic Pump
Shipping
Dimensions:
36" x 22" x 21" / 914 mm x 559 mm x 533 mm
Included commercial-grade air-hydraulic pump requires 125 psi and 10 – 20 CFM.
Note: Not all BendPak lift models meet the standards as prescribed by ANSI/ALI ALCTV-2017 or ANSI/UL 201. Consult www.autolift.org for a complete list or contact BendPak via contact@bendpak.com.