E3.7K3H2 Power Unit
SKU# 5585320
32 L (8.5 Gal) Reservoir, 2400 PRV, 2.5 HP Motor, 208-230V / 50-60 Hz / 1 Ph, UL/ETL Listed
---
In our five-decade history, we have gained unrivalled knowledge of hydraulic power unit design, and the result has been a series of high-performance hydraulic power packs designed to handle the heaviest applications.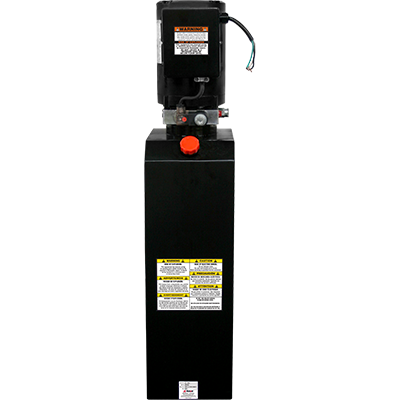 Massive 32 L (8.5 Gallon) Tank and 2.5 HP Combine for Your Lifting Pleasure
We took a look at our 2.5 HP hydraulic power unit design and asked our engineers how we could "turn it up to 11," so to speak. So why "turn up" when our power units already top the industry in smooth lifting? For one, we always look for ways to lift more efficiently. We took our hydraulic power unit with the largest motor and redesigned an 8.5-gallon tank for it. More fluid means more pressure can be exerted counter to the weight of a heavy vehicle. The largest, heaviest commercial trucks and SUVs that our car lifts can handle, including our multi-stacking parking lifts, can be serviced by this hydraulic power unit. Keep in mind, this particular unit's 2,400 psi pressure relief valve is specially optimised to handle high-pressure situations, so you're always covered when lifting the big stuff.
Operators can use this hydraulic power packs for both low-rise and full-size car lifts, including all of our vehicle parking systems, dock lifts and levellers, scissors lifts, material handling tables, tailgates, freight elevators or other applications that demand high performance and superb quality.
When "down" button is pressed, the car ​lift this power unit is mounted on will require less electricity in descent than when it rises. This is accomplished by the hydraulic power unit's precision engineering, which accounts for the pull of gravity on the ​lift. Additionally, the entire case of the unit is sealed, protecting any internal parts from weather, oil, dust, debris, etc. To top it all off, this power unit works in a temperature range of -25 – 79°​C. That's pretty incredible, if you think about it.
Our commitment to quality spans the entire production process, from engineering and manufacturing to packaging and shipping. Throughout every step of the manufacturing process, we utilise clean-room technologies for high-precision checking of all component parts going into our hydraulic power units. Our post-production examination procedures are structured to assure reliable performance and durability before any unit is packaged and shipped to customers around the globe.
Features
Pumps feature high mechanical and volumetric efficiency, low noise level
End head prepared for lift-hold-lower applications using our standard manual lowering valve or solenoid cartridge valves
Totally enclosed motors are suitable for use in humid environments or dusty, contaminated atmospheres. UL Recognized and CSA Certified* AC electric motors feature heavy gauge steel frame and base and high-quality ball bearings.
Torque load remains constant throughout the range of operation
Power up, gravity down function
Heavy-duty start switches with a high IP-protection class and silver-plated contacts meet tough demands for a long service life
Cartridge-style relief valves meet tough demands for dependability and life expectancy
Equipped with black plastic and steel reservoirs
Vertical mounting
Equipped with oil level dipstick
High performance cartridge check valve is standard
Most premium grade petroleum-based fluids can be used. Optimum operating viscosity range is 15 - 68 cSt
Minimum recommended temperature is -25ºC (-13ºF)
Maximum recommended temperature is +80ºC (+175ºF)
12-month warranty
Specifications