R76ATR
SKU# 5140140
Tire Changer / Tilt-Back / Right-Tower Single Assist / 762 mm Capacity
---
The R76ATR is a brilliant time saver. Its tilt-back tower allows you to operate different tire-and-wheel combos without adjusting the duck head, and the swing-arm design with tower assist ensure stiff sidewalls are never a problem. RimGuard™ clamps extend 254 mm – 762 mm for maximum versatility.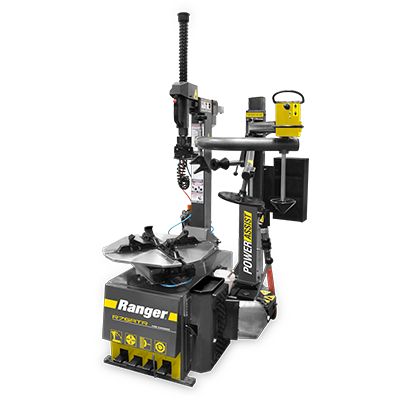 Tilt-Tower Tire Changer Design with Power Assist
When it comes to your tire repair business, Ranger's R76ATR has everything you need for safer, faster tire changes, even when working with tricky aluminum wheels. Extraordinarily easy-to-use, adjustable RimGuard™ clamps extend as far as 254 mm – 762 mm, and the tilt-back tower saves significant time when loading a new set of wheels—no more adjusting the duck head to match each wheel's diameter. The assist tower helps change low-profile and run-flats (anything with a stiff sidewall), and it holds the bead in the drop-center, protecting the tire. A centering cone further assists with external clamping, and a specialized saucer/roller combo offers yet another line of defense against stubborn beads.
Our most specialized, versatile tire changer
Ergonomic controls are sensibly placed to minimize excessive reaching, walking or bending, resulting in more jobs per day and increased profits. Other time-saving features include a multi-profile traveling drop-center tool, top bead assist rollers, lower bead lifting disc and a nylon non-marring wheel restraint device. These important tire shop tools are designed to dramatically reduce effort, increase safety and help minimize operator fatigue. A large 762 mm capacity turntable features adjustable, hardened-steel RimGuard™ wheel clamps. These provide an internal clamping capacity of 228 mm - 711 mm and external clamping capacity of 254 mm- 762 mm.
Electric turntable
A high-torque electric turntable drive features increased speed and reversible direction for quicker tire removal and installation. Controlled speed gives low profile and run-flat beads time to relax and reduces the risk of tire damage.
Adjustable RimGuard™ wheel clamps
Durable, adjustable RimGuard™ wheel clamps are made from hardened steel and accommodate wheels from 228 mm up to 762 mm and feature internal and external multi‐teeth jaws with vertical mounting bolts that make replacement fast and simple.
Advanced clamp positioning
Versatile clamp positioning allows for improved control when clamping wheels. Position clamps exactly where you need them within the entire clamping range. No need for the clamps to cycle the full range.
Easier bead lubrication
A geometric tabletop makes bead lubrication easy. Operators are able to visibly inspect the lower bead during tire mounting and inflation.
Bead-breaker design
A completely new and proprietary bead-breaker design features bilateral pneumatic accelerators for lightning-fast bead-breaker speeds in both directions. A 100% stainless steel cylinder body means no more worrying about moisture contamination from corrosion. Other exclusive design features include a multi-axis, adjustable blade for multi-angle tire capacity, a large, dual-flange axle that eliminates blade flex and premature failure, and adjustable blade settings that help accommodate a larger variety of tire and wheel combinations.
Enhanced bead-breaker ​blade
Enhanced bead-breaker ​blade features rugged box frame construction that increases the mechanical strength, as well as service life and overall performance. A large rubber bump-stop assures smooth return to help reduce shock loading and minimize wear on the pneumatic cylinder, guides and associated moving parts.
Balanced flywheel
A balanced flywheel reduces vibrations during operation, as well as stress on the machine as a whole. In essence, well-balanced flywheels keep our tire changers running smoothly for years of zero or low-maintenance operation.
Simple foot-pedal control
Rather than heavy, clunky cast iron, we make our foot pedals from forged steel that is durable enough for daily use in fast-paced shops and tire centers. The snap action spring return offers extremely accurate and safe operation, while the foot-pedal control valves are complete with multi-link rod connections for non-binding plunger movement and precise bilateral control.
Right-side tower drop-center design
Right-side assist tower features a multi-profile traveling drop-center tool that holds stubborn sidewalls in the drop-center area of the wheel for swift, precise mounting. A single lower-bead lifting disc can be used to unseat stubborn lower beads or to elevate tires for tool placement. A power-drop top bead assist roller helps hold difficult top beads in place during removal and in installation of tough sidewall tires. These important tire shop tools dramatically reduce the effort required to change difficult, low-profile tires and help minimize operator fatigue. Upfront trigger control and articulating arm allow for variable tire and wheel configurations. A heavy-duty, tri-flange, cast-iron assist tower carriage features linear way bearings for maintenance-free operation.
Tilt-back tower design
Ranger uses a tilt-back tower design for this tire changer because a tilt-back tower offers more ground clearance, as well as easier removal and inflation of tires. If you're using like sets of tires and wheels, a pneumatically locked tool head will remain in place on the tower return, allowing for more rapid setup on your next job.
Advanced drive belt system
The drive belt on the R76ATR tire changer is crafted with convex sidewalls that structurally carry and disperse stress (wear) throughout the unit's structure. Oil, weather, age, etc. do not affect belt performance, because flex-bonded cords and flex-weave covers protect the system at all times.
Stainless steel and aluminum pneumatic cylinders
All pneumatic cylinders prevent the tire changer from overly vibrating, reducing friction and contributing to the long lifespan of the equipment. End-of-stroke cushions are included to extend the life of all seals, as well as the wear band and piston rods. And of course, the entire cylinder system on the tire changer is self-lubricating and low-maintenance throughout the course of ownership.
Multi-function mount and demount head
The equi-dimensional shape of the hardened steel mount/demount head lets you change functions without moving the tool head. The remarkably smooth surface gently glides tire beads during mounting/demounting and prevents expensive tire damage. Additionally, a nylon tool head comes standard. Protect your customers' expensive alloy rims and wheels from marring or damage when mounting with our durable nylon tool head that comes as a standard accessory.
Spring-assisted tool shaft
In order to prevent wheel damage, Ranger's mount/demount tool heads feature hardened-steel horizontal outrigger support arms, as well as a rigid 45 mm spring-assisted hexagonal vertical tool shaft. These standard features keep the tool head in the precise position you set it during service.
Guide bearings for all moving parts
Ranger takes special care of all moving parts in our tire changers. Linear guide bearings make it easy to adjust both vertical and horizontal wheel settings. The horizontal arm's hardened lower roller guide assists in maintaining an even-tempo for the arm's oscillating movements. Durable rubber bump-stops ensure a safe return during tilt-back operations and lessen shock loading. Wear is minimal on tower guides and other moving parts.
Foot-controlled tire inflator
Tire changers require two hands to operate, so we keep both of your hands free with our easy-to-use foot pedal tire inflator. A push-button air pressure dump valve is integrated into the unit, letting you release tire pressure as necessary.
TurboBlast™ bead seating
Ranger's TurboBlast™ bead seating system efficiently shoots a burst of air between the tire and rim, thus seating beads quickly without doing damage to the tire structure. For a more controlled air discharge, the system features a nylon discharge barrel with a contoured tab that locks against the rim.
Motorcycle clamps (optional)
If your shop services motorcycles, or you'd like to expand your business, Ranger offers an optional series of turntable clamps specifically designed to cater to motorcycle wheels and tires.
Features
4 Clamps (Internal / External)
Dual Pneumatic Cylinders
Adjustable Pneumatic Blade
Tilt-Back Tower Design
Vertical Shaft / Tool Head Positioning
Inflation System
Inflation Gauge & Integrated Air Dump Valve
Inflation Pressure Regulator/Limiter
Water Filter
Oiler / Lubricator
Air Regulator
Bead Tool/T​ire Iron
Alloy-Steel Mount-Demount Head
Nylon Mount-Demount Head
Large Soap Bucket
Soap Brush
TurboBlast™ Bead Seating System
Tool Tray / Bin Storage
Motorcycle Turntable Clamps (optional)
R76ATR Specifications
Style
Style:
Tilt-Back Tower Design
Assist
Assist Type:
Single-Tower Assist
Motor
3 HP (220 VAC 50-60 HZ)
Drive System Type
Electric / Hydraulic
Air Requirement
110-175 PSI (8-12 BAR)
Wheel Clamping Method
4 Clamps - Internal / External
Table Clamping System
Dual Pneumatic Cylinders
Bead Breaking System
Adjustable Pneumatic Blade
Power Assist Tower(s)
Single / Right-Side
Bead Lifting Roller(s)
Single / Right-Side
Upper Bead Assist Roller
Single / Right-Side
Vertical Shaft / Tool Head
Pneumatic / Locking
Powerful Bead Seating System
TurboBlast™
Internal Rim Clamping Capacity
254 mm - 762 mm (10" – 30")
External Rim Clamping Capacity
229 mm - 711 mm (9" – 28")
Turntable Tire Width Capacity (Mounting)
102 mm – 457 mm (4" – 18")
Bead Breaker Tire Width Capacity (Demounting)
38 mm – 406 mm (1.5" – 16")
Maximum Tire Diameter
1,092 mm (43")
Shipping Weight
440 kg (970 lbs.)