R980AT
SKU# 5140147
Tire Changer / Swing Arm / Single-Tower Assist / 533 mm Capacity
---
The R980AT saves an impressive amount of space, making it ideal for small or cramped tire shops. Because it utilizes a swing-arm design and doesn't tilt back, it can be installed flush against a wall. An assist tower will help with stiffer sidewalls, run-flats and other low-profile tires. 762 mm clamping ability.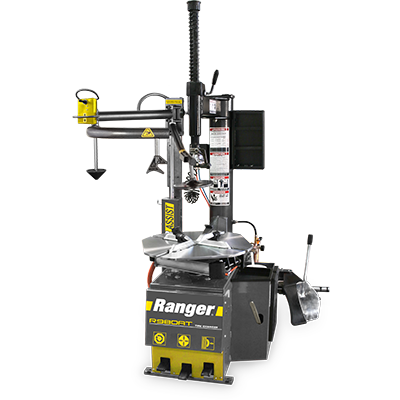 Power Assist Perfection + Tire Changer Protection
When you need a tire changer that will get the job done on virtually all commuter and passenger vehicles, including pick-up trucks and race cars, the space-saving R980AT might be exactly what you need. It features an assist tower to help unseat stiff, low-profile tire beads and run-flats. A centering cone it holds the bead in the drop-center, further helping protect the tire during external clamping procedures. This model is a perfect addition to full-service repair bays and general tire shops because it accommodates a wide range of tire-and-wheel combinations.
Power assist tower
The swing-arm on the R980AT is one of this tire changer's most useful features. When dealing with run-flats and stubborn beads, the power assist tower will safely secure the edge of the tire, moving along with the activated turntable. The bead will almost always seat without a struggle. Try this on a stubborn bead without the swing-arm, and you'll be at it for a while, wasting your precious time.
Electric turntable
A high-torque electric turntable efficiently spins tires to seat or remove beads. With reverse-direction foot pedal controls, you're in total charge of your tire changing operation. The turntable is the only electrical component in the tire changer (everything else is air-powered), and it requires very little support or maintenance over time.
Traveling drop-center top-mount helper / swing-in bottom helper disc
Tough sidewalls? No problem. A traveling drop-center tool makes changing tires easy. Ranger tire changers offer increased safety and efficiency, and the drop-center tool is essential to the entire operation. A swing-in disc can also help loosen beads by using safe pneumatic power that won't damage your tires.
Updated electric motor
Ranger motors have it all: rugged copper rotor construction, high-quality bearings, thermal-cool epoxy insulation and durable rolled steel frames.
Upfront controls
Foot pedal controls make for hands-free operation of the turntable, and all pneumatic locks and switches are easy to reach.
Stainless steel and aluminum pneumatic cylinders
To ensure a low-friction environment, steel and aluminum cylinders work together to reduce machine vibrations. End-of-stroke cushioning protects seals, wear bands and pistons bands from excessive forces, prolonging the life of the tire changer.
Balanced flywheel
Balanced flywheels also help reduce vibrations in your equipment. The less stress on your machine, the longer it lasts.
Bead-breaker design
The bead-breaker's speed is significantly increased due to our included bilateral pneumatic accelerators. They're just as effective in reverse too! The cylinder won't react if moisture is detected in the air. This eliminates any chance of rust or corrosion due to condensation or extreme humidity. A multi-axis, adjustable blade permits multi-angle tire capacity, while the large, dual-flange axle prevents the blade from flexing or failing.
Enhanced bead-breaker blade
Your Ranger tire changer features a powerful bead breaker ​blade that won't stress the rest of the machine as it breaks beads, and it returns smoothly when it detaches from the tire. This smooth return reduces shock loading and wear on the cylinders.
Multi-function mount and demount head
An equi-dimensional, hardened alloy steel mount and demount head assists tire beads during all tire changer operations. Protective plastic covers ensure steel never contacts the wheel, protecting custom and high-performance wheel types at all times. A 100% polymer head is also interchangeable with the steel head.
Pneumatic control valves
Industrial-grade, 45-micron, pneumatic control valves feature die cast and machined bodies constructed from zinc and aluminum. High-performance polyurethane seals and self-lubricating Teflon® piston guides help make your tire changer stronger and longer-lasting. Valve plungers feature muffled extrication ports that blow away dirt and other contaminants each time the valve goes into the release position.
Adjustable RimGuard™ wheel clamps
Ranger's exclusive RimGuard™ wheel clamps come standard on the R980AT tire changer, and this massive turntable allows them to expand 30". Dual multi-tooth jaw sets permit internal and external clamping, and the vertical-mount design reduces the time you spend on each tire.
Easier bead lubrication
Your R980AT tire changer has a geometric tabletop that makes bead lubrication fast and easy to inspect.
Simple foot-pedal control
No heavy, rusted-out cast-iron foot pedals here! Forged steel is long-lasting, lightweight, durable and won't corrode over time. The snap-action pedals immediately return to starting positions when released. The pedals' high responsiveness prevents tire tears and considerably speeds up operations. Multi-link rod connections support non-binding plunger movement and better bilateral control.
Pneumatic tubing
High-pressure polyurethane pneumatic tubing is outfitted with a seamless bore for better flow rates. The tire changer also benefits from high abrasion resistance, high burst tolerance and maximum kink resistance.
TurboBlast™ bead seating
Ranger's TurboBlast™ bead seater is a Ranger tire changer exclusive. It simply forces air into tires with stubborn beads, seating them quickly when simple inflation won't do the trick. A nylon discharge barrel has a locking tab that sits right on the edge of the rim. This design makes it easy to aim and control the intense air burst.
Maintenance-free gearbox
You'll enjoy your tire changer's hands-off gearbox. It never needs maintenance and has a massive oil and grease reservoir for improved heat dissipation and component lubrication. Internal baffles and a constant seating stress flange gasket assure positive, leak-free venting. Also to your benefit, Ranger prefers precision helical gears in our tire changers instead of loud, clunky spur gear transmissions.
Standard wheel service accessories
Get more with your tire changer purchase. We include a soap bucket and brush, plastic wheel protector kit with turntable jaw covers, bead-breaker blade boots, specialized mount/demount head covers and a hardened steel tire iron and bead lever tool.
Sealed electrical components
None of the electrical terminals, auxiliary switches or motor enclosures are left unprotected. Dust and other shop contaminants are kept out too. The internal cavity of your tire changer will always be clean—another way we extend the life of your equipment.
Advanced drive belt system
The R980AT has a drive belt that evenly disperses wear and improves belt support. Flex-bonded cords and flex-weave covers keep away oil, heat and other contaminants that threaten the efficiency of the machine.
Spring-assisted tool shaft
A 45 mm spring-assisted hexagonal vertical tool shaft and hardened-steel horizontal outrigger support arm ensure the mount-demount tool head remains stable and precisely aimed.
Foot-controlled tire inflator
Inflate tires without lifting a finger. The tire changer features a sure-grip clip-on valve chuck on the inflation hose (for hands-free operation), and an air pressure dump valve lets you release air from the tire.
Motorcycle clamps (optional)
Your Ranger R980AT tire changer is more than capable of handling motorcycle tires. Motorcycle clamps are sold separately and increase your shop's service capabilities.
Features
Air Requirement 140 - 165 psi (10-11 BAR)
Wheel Clamping Method
4 Clamps - Internal / External
Table Clamping System
Dual Pneumatic Cylinders
Bead Breaking System
Pneumatic Blade / Dual Settings
Power Assist Towers
Single Assist Tower
Tool Holder
Manual Lock
Inflation Gauge With Integrated Air Dump Valve
Inflation Pressure Regulator/Limiter
Water Filter
Oiler / Lubricator
Air Regulator
Breaker Bar
Large Soap / Lubricator Bucket
Brush
Tower Design
Rigid Fixed / Swing Arm
Bead Lifting Roller(s)
Single Lifting Roller
Alloy-Steel Mount/Demount Head
Plastic-Polymer Mount/Demount Head
Upper Bead Assist Roller
Travelling Drop-​Centre Hold Down Device
Inflation Restraint Device
Bead Seating System
Turbo Blast / Bead Seating
Tool Tray / Bin Storage
Motorcycle Turntable Clamps (Optional)
R980AT Specifications
Style
Style:
Fixed Tower Design
Assist
Assist Type:
Single-Tower Assist
Motor
3 HP (220 VAC 50-60 HZ)
Drive System Type
Electric / Air
Air Requirement
140-165 PSI (10-11 BAR)
Wheel Clamping Method
4 Clamps - Internal / External
Table Clamping System
Dual Pneumatic Cylinders
Bead Breaking System
Pneumatic Blade / Dual
Tower Design
Rigid Fixed / Swing Arm
Power Assist Towers
Single Assist Tower
Bead Lifting Roller(s)
Single Lifting Roller
Bead Seating System
Turbo Blast / Bead Seating
Internal Rim Clamping Capacity
254 mm - 762 mm (10" - 30")
External Rim Clamping Capacity
229 mm - 711 mm (9" - 28")
Turntable Tire Width Capacity (Mounting)
102 mm - 457 mm (4" - 18")
Bead Breaker Tire Width Capacity (Demounting)
38 mm - 330 mm (1.5" - 13")
Maximum Tire Diameter
1,270 mm (50")
Shipping Weight
363 kg (800 lbs.)
Shipping Dimensions
1,295 mm x 1,143 mm x 1,854 mm (51'' x 45'' x 73'')