Tuf-Pads (Round)
SKU# 5700227
Replacement Polyurethane Tuf-Pad / Slip-Over / Round / SET OF 4
---
These polyurethane tuf lift pads outfit your BendPak two-post lift with extra carriage-gripping capabilities. Textured surface reduces migration, and the slip-over design makes installation a snap. Round design offers extra multi-directional grip.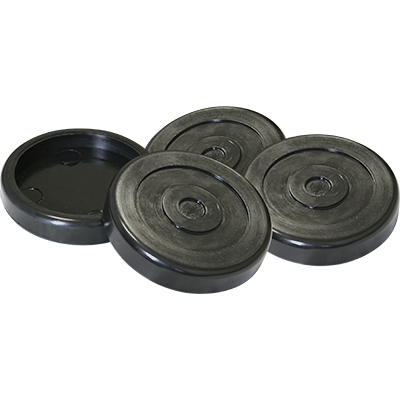 Longer-Lasting, Professional-Grade Contact Pads
BendPak's round Polyurethane Tuf‐Pads™ for two-post lifts feature a specially formulated hardness elastomer that exhibits outstanding resistance to gouging, cutting and abrasion, as well as chemical and solvent exposure. This durable, wear-resistant polymer compound extends the lifespan of the contact pads, which helps increase workplace safety and reduces operating costs.
In addition to its durability, the Tuf-Pads' thick rubber construction protects from any damage to the chassis frame of your vehicle. The round design is ideal for the concaving unibody frame of your vehicle, and the Tuf-Pads' textured rubber surface also extends the grip strength of your lift adapter, ensuring that your car stays put while you work. Tuf-Pads grip the chassis frame further reducing any chance of movement.
Available in sets of ​four, Tuf-Pads are designed to fit BendPak adapter sets and accessories such as the Screw Lift Pads, and the Lift Pad Assembly. Their round, slip-over design also makes replacement quick and easy. These replacement sets allow you to keep your two-post lift in working order no matter how much work it sees. Tuf-Pads are the heavy-duty accessory that outfits any two-post lift with the capability for success.
Features
Sold in sets of four
Highly resistant to gouging
Resistant to cutting
Abrasion resistant
Oil and solvent resistant
Higher load bearing capacity
Tear resistant
Heat and cold resistant
Replaces earlier BendPak contact pads made of natural rubber
Tuf-Pads (Round) Specifications