Lift Pad Assembly (60 mm)
SKU# 5215760
Lift Pad Assembly / 60 mm Pin and Polyurethane Tuf-Pad / SET OF 4
---
These drop-in, non-screw type rubber lift pad assemblies outfit your BendPak two-post lift with extra carriage-gripping capabilities. Textured surface reduces migration, and the drop-in design makes installation a snap.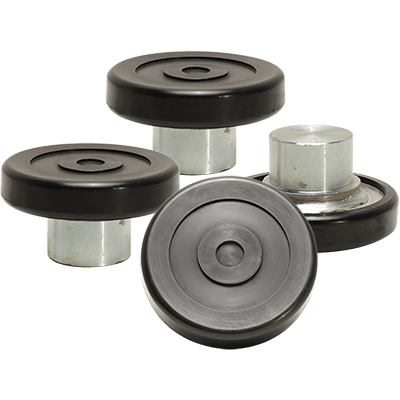 BendPak Lift Pads are Drop-n'-Go
The round Lift Pad Assembly is the ideal option for any two-post lift that sees heavy action. Included with most two-post lifts, the Lift Pad Assembly is perfect for the majority of your two-post lift needs.
Most modern day vehicles are made with a unibody construction, which can make it difficult for some types of lift pads to access the lifting points. The Lift Pad Assembly's round construction is ideal for multi-directional support of your unibody lifting points, which provides you with a safer, more secure lift. The Lift Pad Assembly comes complete with four contact pads for each of your car lift's arms, and are available in sets of four.
Outfitted with a wear resistant, rubber Polyurethane Tuf-Pad, these heavy-duty adapters were over-designed to withstand heavy-duty projects. The thick Tuf-Pad also protects the underbody from any potential scratches, and its rubber texture gives an extra-grip to the chassis frame of your vehicle. Lift Pad Assemblies come standard with most later-model BendPak two-post lifts, and attach easily to any lifting arm or two-post accessory equipped with 35 mm or 60 mm diameter fastener pegs. This adaptable, versatile, Lift Pad Assembly is the only contact pad assembly most two-post lifts will ever need, and will work for nearly any project in your shop.
Features
Works with any BendPak two-post ​​lift
Thick rubber construction
Textured surface for extra grab
Will not scratch the vehicle
Easy drop-in design
​127 mm diameter for enhanced stability
Lift Pad Assembly (60 mm) Specifications