Community
Borla Exhaust
In the spring of 2010, automotive exhaust system experts, Borla invited some members from the BendPak team to their impressive Oxnard facility for a live demonstration of their ATAK™ (acoustically tuned applied kinetics) muffler technology. After a short trip down the 126 freeway and a tour of the Borla warehouse (which contained at least three of our own BendPak four-post lifts) our ears were treated to the beautifully deep roaring of ATAK mufflers on a 2010 Chevrolet Camaro.

Obviously the guys at Borla couldn't divulge all of their muffler secrets, but they did drop a couple informational nuggets about what contributes to their exhaust system superiority. ATAK mufflers are built with Borla's patented multi-core technology, which already yields better flow performance than a straight piece of pipe. In a Borla ATAK muffler, the specific configuration, perforation patterns, dimensions and amount of those inner cores are varied by Borla's engineers to create an optimal acoustic experience.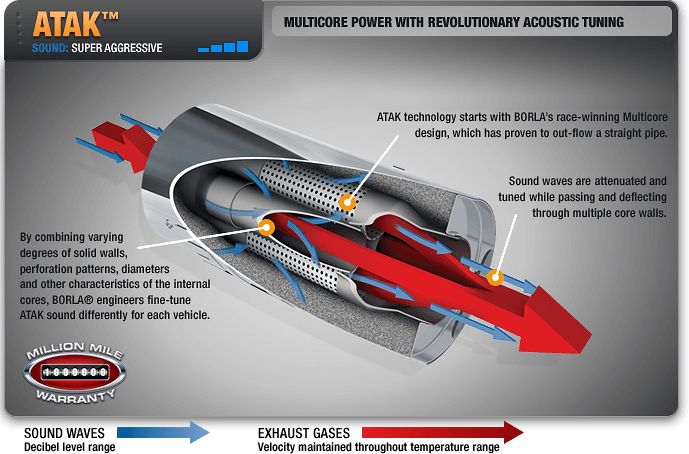 Additionally, each Borla exhaust system is custom built for a specific automobile year and model. So, while you can use a single BendPak car lift to repair, enhance and store a variety of cars and trucks, each Borla exhaust system is unique to its corresponding vehicle. This gives Borla engineers an incredible level of control—every Borla ATAK muffler is optimized for the acoustical properties of a specific car. Things like cabin shape, undercarriage shape, the distance from the exhaust manifold to the bumper, engine bay configuration and engine generated frequencies for all RPM ranges are considered when crafting Borla ATAK mufflers.
Also, due to the high level of customization that goes into each system, Borla exhausts bolt right on to a vehicle the same way the factory system does. Many auto enthusiasts can install their new exhaust system themselves at home just by using jack stands or a car lift. Best of all, Borla exhaust systems are certified street legal in 50 states and will not violate factory or dealership warranties.
Borla began around the same time as BendPak, and they have decades of exhaust and muffler experience under their collective belts. Their exhaust system products have the well-deserved reputation of superiority from providing increased fuel economy, horsepower gains and an unmistakably impactful sound that seems to shake the ground. The new ATAK muffler that we witnessed last Friday builds upon that proud tradition as their best sounding product yet.
Words cannot do justice to the awesome growl ATAK technology can give your vehicle. Neither can a recording, but it will whet your appetite to get an earful of the real thing. Check out the excellent Borla ATAK exhaust system video below... then go hear one in person.