XPR-10S
SKU# 5175395
4,536-kg. Capacity / Symmetric Clearfloor / Adjustable Width / Screw Pads
---
The XPR-10S two-post lift offers exceptional direct-drive lifting performance. This industrial-strength car lift guarantees cutting-edge technology, top of the line materials, a design that's ahead of its time and a 4,536-kg. lifting capacity.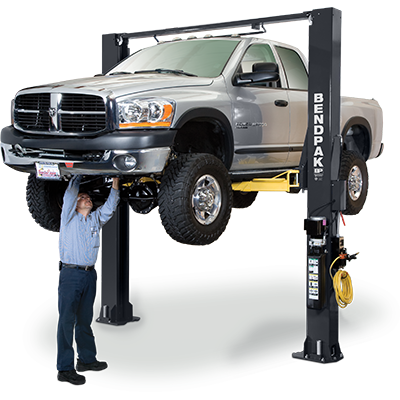 XPR-10S Two-Post Lift Offers More Power, More Options
The XPR-10S is a reflection of our commitment to a produce car ​lift of the highest quality. Featuring the most advanced engineering in the industry, this lift is built to safety standards well above normal OSHA/ALI/ETL requirements.
Every BendPak ​lift offers an abundant roster of options and accessories that allow you to fully tailor the lift to your unique circumstance. In addition to these features, you'll be impressed with the long list of standard features and capabilities packed into the structure, parts and components.
When you buy a BendPak two-post lift, you can expect a significant boost in performance and life expectancy. No one surpasses us in quality or safety, which means your BendPak XPR-10S might be the last lift you ever purchase.
Why choose a symmetric lift
Our XPR-10S symmetric two-post lift features an adjustable top beam to accommodate wide or narrow installation setups. This unique configurable design allows you to choose the best setting for your specific space or vehicle lifting requirements. The highly sophisticated yet simple and dependable XPR-Series design requires very little service or maintenance for an overall lower cost of ownership.
Direct-Drive two-post ​lift technology
The XPR-10 two-post ​lift features low-pressure HVLP direct-drive cylinders, eliminating the need for lifting chains or screw mechanisms most commonly found on other lift designs. Dual HVLP low-pressure cylinders minimize leakage and offer better reliability, smoother operation and fewer maintenance costs throughout the life of your lift. High volume and low pressure equates to less workload placed on the entire hydraulic system. Direct-Drive technology is preferred on commercial-grade car ​lifts, as it has it has fewer moving parts than a chain-over-roller cylinder configuration. Pressurized hydraulic fluid flows from the power unit to the hollow cylinder rods, entering the cylinder body and filling its internal cavity. The pressure of the hydraulic fluid extends the piston rod downward, raising the cylinder body and lift carriages. A dual-synchro equalization system maintains equal lifting and provides operators with a stable, level vehicle working condition.
Two-stage telescoping screw pad assembly kit
The XPR-10S features double-telescoping screw pads with gouge and tear-resistant polyurethane pads to help increase workplace safety and reduce operating costs. A set of our 63 mm stacking adapters is included with the purchase of a ​lift.
Features
4,536-kg. lifting capacity
Expandable top beam accommodates wide or narrow drive‐thru configuration
Double‐telescoping screw pads offer increased versatility
Padded overhead safety shutoff bar
Telescoping arm design for more versatile arm positioning
Single‐piece columns
Single‐point safety release
Drop‐end arms provide a lower pad height
Dual hydraulic direct‐drive cylinders
Oversized 1,346 mm tall carriage for superior strength and durability
Electric / hydraulic power system
Large, ​432 mm x 483 mm A36 steel base plate
Self‐lubricating dura‐glide UHMW polyethylene bearing system
Safety locks in each column spaced every 76 mm
Plated arm restraints and arm pins for rust prevention
Heavy‐duty ​13 mm aircraft‐quality equalizer cables
Oversized cable sheave diameter reduces cable fatigue
4‐piece 63 mm stackable adapter set comes standard
Triple‐telescoping front arms
ETL Approved
XPR-10S Specifications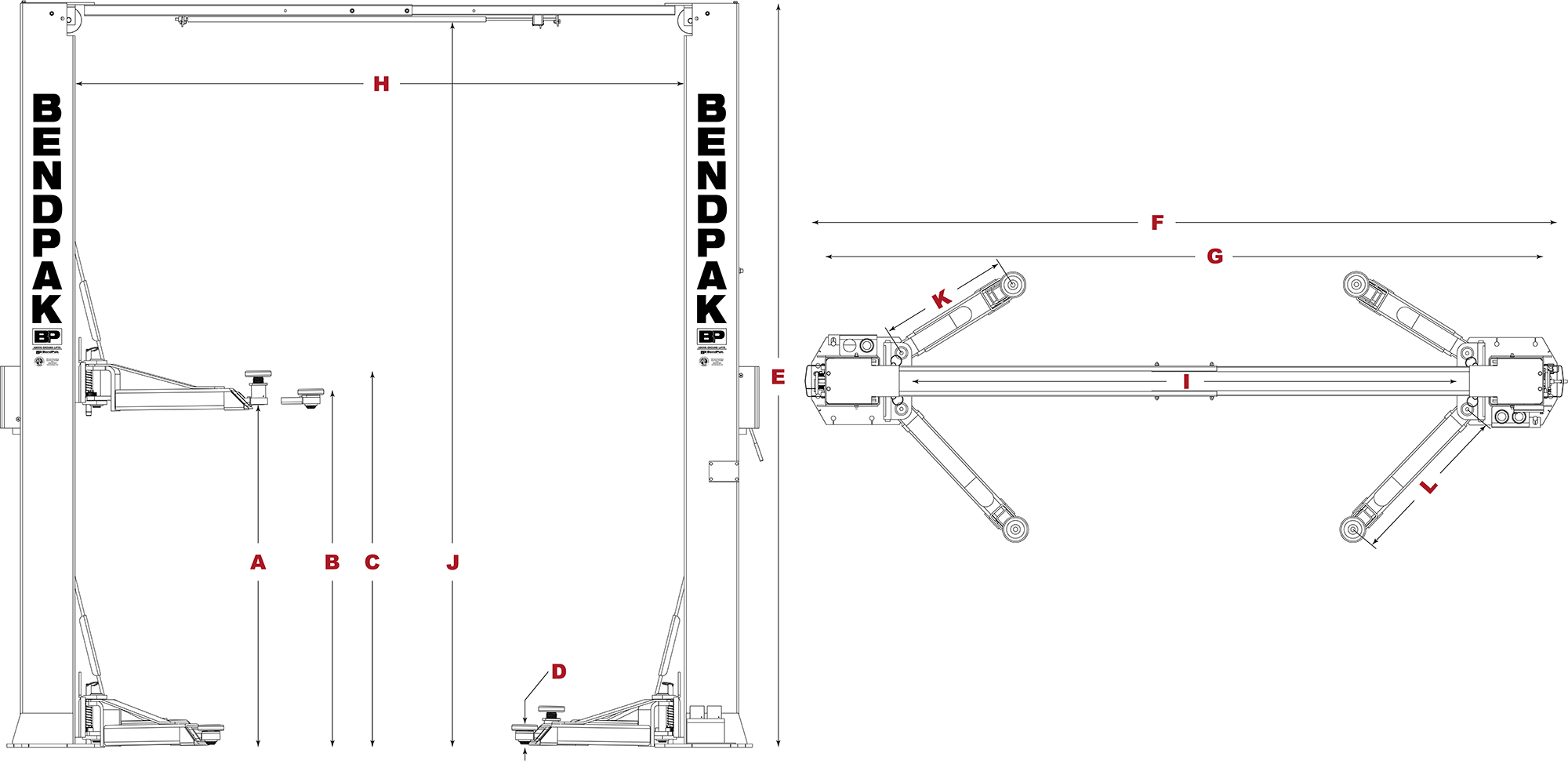 Capacity
*Max Capacity / Front Axle
5,000
*Max Capacity / Rear Axle
5,000
Rise
C
- Rise + Pad + 63 mm Adapter:
77.5
Inside Dimensions
I
- Drive-Thru Clearance:
Arms & Pads
K
- Front Arm Reach: (MIN)
27.5
K
- Front Arm Reach: (MAX)
51.5
L
- Rear Arm Reach: (MIN)
34
L
- Rear Arm Reach: (MAX)
54.5
Power Unit
Motor:
220 VAC / 60 Hz / 1 Ph
Note: Not all BendPak lift models meet the standards as prescribed by ANSI/ALI ALCTV-2017 or ANSI/UL 201. Consult www.autolift.org for a complete list or contact BendPak via contact@bendpak.com.