BL-5000SLX
SKU# 5175376
2,268-kg. Capacity / 533 mm Maximum Rise / 76 mm Lowered Height / 1,778 mm Frame Length
---
The BL-5000SLX is arguably our most versatile and popular portable car lift model. Its impressive lift point spread, incredible safety features and 2,268-kg. lift capacity are perfect for many vehicle types and sizes.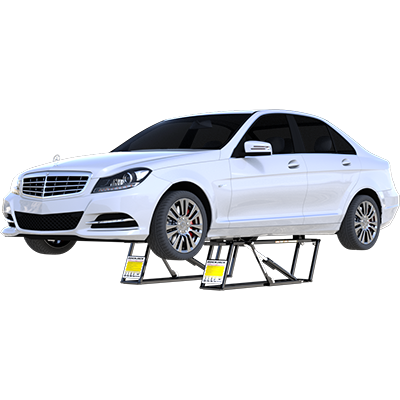 The Ultimate Home Car Lift
This is the car ​lift that many QuickJack shoppers explore first, as it's more or less our "standard" size and model. It's extremely versatile, portable, lightweight-yet-rugged, and rigorously third-party CE Certified safe up to 2,268-kg. Unless you have a light-duty truck or SUV (explore the BL-7000SLX and truck adapter set) or extremely small-wheelbase vehicle (explore the BL-3500SLX), this lift is probably for you.
The BL-5000SLX is beloved by countless owners for use on their daily drivers and high-end sports cars like Ferrari, Mercedes, Porsche, etc. Trust it with your car, and trust it with your life! Rugged urethane wheels make it easy to pick up by hand and glide to your next destination; they make transferring your garage ​lift in and out of storage fast and pain-free. Since each frame operates independently, fluid pressure is controlled by a flow divider to ensure equal pressure in each frame. This eliminates the chance of uneven rise. Once both frames are locked in place, QuickJack provides open-center access that no other lift on the market can offer.
QuickJack is intended for professionals and DIY'ers, but it's engineered with BendPak's dedication to safety, ruggedness and reliability. There's nothing "hobbyist" about the quality of this steel. All components are meant for heavy-duty use by serious mechanics, and a host of optional accessories make this great ​lift even more versatile. Hardened rubber pinch-weld lift blocks are perfect for unibody vehicles. An optional, removable adapter kit extends the reach of your ​lift by 152 mm, making the BL-5000SLX the same length as one of our EXT models.
We encourage you to explore your options with QuickJack—there are endless lifting possibilities, and the BL-5000SLX is the perfect place to start your search for the right lift.
Features
2,268-kg. capacity
From stow to go in less than 60 seconds
Dual-position automatic safety lock bars engage automatically as the ​lift rises
Dual locking positions: mid level and full rise
Extended, cantilevered rubber block trays provide increased rubber block reach
Portable power unit features a remote push-button control for simple operation
Steel mounted urethane wheels provide effortless rolling of jack frames on floor
Remote pendant control features a 4-metre cord
Power unit features a built-in hydraulic flow divider for precise equalized lifting
Open-center design for clear under car access
Quick-connect/disconnect hoses for fast and convenient set-up
Convenient handles allow for easy positioning of the jack frames
Strong 14-gauge welded steel frames
It's a jack you can use when you need it then conveniently store out of the way
Provides quick, wheels-free convenience for brake and tire service and clear undercarriage access of all types of vehicles
Low-profile jack frames fit under most race cars
Powerful hydraulic cylinders eliminate the need for screw mechanisms
Integrated power-assist canisters increase the lowering speed
Hydraulic cylinders feature integrated velocity-fuse safety valves
A convenient metal carrier with handle keeps the power unit protected and easily mobile
Includes an eight piece set of adjustable and stackable rubber lift blocks to support cars at precise locations for increased stability and safety
Detailed installation, maintenance and safety instructions accompany each QuickJack system
Durable powder coat finish
Specifications
Lifting Capacity
2,268 kg (5,000 lbs.)
(B) Lowered w/ Small Block
97 mm (3.8")
(C) Raised (Frame Only)
447 mm (17.6")
(D) Raised (Small Block)
467 mm (18.4")
(E) Raised (Large Block)
487 mm (19.2")
(F) Raised (Stacked Blocks)
542 mm (21.3")
(G) SUV Adapters
516 mm (20.3")
(H) SUV Adapters (w/ Pin)
592 mm (23.3")
(I) Lifting Point Spread - Max
1,524 mm (60")
(J) Lifting Point Spread - Min
749 mm (29.5")
(K) Frame Width
278 mm (11")
(L) Frame Length
1,778 mm (70")
Frame Weight
35 kg (76 lbs.)
Power Unit Weight
16 kg (35 lbs.)
Shipping Weight
96 kg (212 lbs.)