BL-7000SLX
SKU# 5175380
3,175-kg. Capacity / 533 mm Maximum Rise / 89 mm Lowered Height / 1,803 mm Frame Length
---
For the ultimate combination of lifting power and portable convenience, there's no besting the BL-7000SLX. Light trucks and SUVs are easily supported with this reinforced frame design.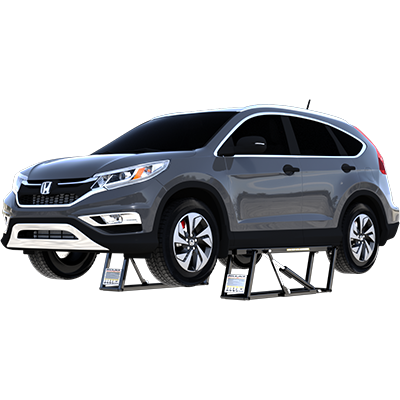 A Truly Portable Truck and SUV Lift
If you want to see true power in action, you need to see the BL-7000SLX lift a Chevy pickup in only 30 short seconds. It's not just that QuickJack gets trucks in the air quickly that impresses virtually everyone, it's how stable, how fast and how smooth QuickJack works. In order to eliminate obstructing cross bars seen on other lifts, this fully electric-hydraulic system is demandingly engineered with reinforced steel frames, as well as a built-in flow restrictor to regulate the pressure output of each frame's cylinder. The end result is unprecedented portable lifting perfection.
This lift is the "big brother" in the SLX series. It's a little thicker in its collapsed position, which means it sits a mere 3.5" inches off the ground. For reference, you can slide these frames under your Miata and safely lift it. That's just how low-profile it is. The frames, despite being the largest in the SLX series, are still easy to roll and stow in tight spaces.
We highly recommend the optional truck adapter set, which offers extra lifting height for high-clearance vehicles. If you're using this model to lift both big trucks and small cars, meaning you need QuickJack to accommodate a wide range of wheelbases, you'll also want to pick up our removable frame extension adapter kit. The adapter requires zero installation and easily supports up to 7,000 lbs., expanding QuickJack's lift point spread a full 6".
The BL-7000SLX is our highest-capacity standard length ​lift. If you need longer frames, we also make EXT (extended-length) lifts in 2,268 and ​3,175-​kg. capacities. With QuickJack, it's never been easier to put the perfect car ​lift in your home or shop.
Features
​3,175-kg. capacity
From stow to go in less than 60 seconds
Dual-position automatic safety lock bars engage automatically as the ​lift rises
Dual locking positions: mid level and full rise
Extended, cantilevered rubber block trays provide increased rubber block reach
Portable power unit features a remote push-button control for simple operation
Steel mounted urethane wheels provide effortless rolling of jack frames on floor
Remote pendant control features a ​4-metre cord
Power unit features a built-in hydraulic flow divider for precise equalized lifting
Open-center design for clear under car access
Quick-connect/disconnect hoses for fast and convenient set-up
Convenient handles allow for easy positioning of the jack frames
Strong 14-gauge welded steel frames
It's a jack you can use when you need it then conveniently store out of the way
Provides quick, wheels-free convenience for brake and tire service and clear undercarriage access of all types of vehicles
Low-profile jack frames fit under most race cars
Powerful hydraulic cylinders eliminate the need for screw mechanisms
Integrated power-assist canisters increase the lowering speed
Hydraulic cylinders feature integrated velocity-fuse safety valves
A convenient metal carrier with handle keeps the power unit protected and easily mobile
Includes an eight piece set of adjustable and stackable rubber lift blocks to support cars at precise locations for increased stability and safety
Detailed installation, maintenance and safety instructions accompany each QuickJack system
Durable powder coat finish
Specifications
Lifting Capacity
3,175 kg (7,000 lbs.)
(B) Lowered w/ Small Block
102 mm (4")
(C) Raised (Frame Only)
462 mm (18.2)
(D) Raised (Small Block)
471 mm (18.6")
(E) Raised (Large Block)
493 mm (19.4")
(F) Raised (Stacked Blocks)
548 mm (21.6")
(G) SUV Adapters
526 mm (20.7")
(H) SUV Adapters (w/ Pin)
602 mm (23.7")
(I) Lifting Point Spread - Max
1,524 mm (60")
(J) Lifting Point Spread - Min
749 mm (29.5")
(K) Frame Width
318 mm (12.5")
(L) Frame Length
1,803 mm (71")
Frame Weight
44 kg (96 lbs.)
Power Unit Weight
16 kg (35 lbs.)
Shipping Weight
110 kg (242 lbs.)