MDS-6EXT
SKU# 5175192
2,722-kg. Capacity / Mid-Rise Scissor Lift / Open-Center / Extended Platform
---
You haven't experienced state-of-the-art lifting convenience until you've used a BendPak mid-rise scissor lift. This family of 2,722-kg. capacity mid-rise lifts comes loaded with adjustable arm assemblies, safety lock bars with multiple lock positions.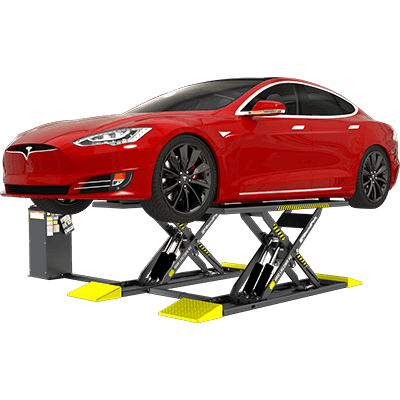 Get an Extended-Length Car Lift for Longer Wheelbases
The next generation of electric vehicles has arrived, and it didn't go unnoticed by us that the lifting points of these vehicles are very different. Using long-wheelbase vehicles (which includes some very popular electric cars) as our point of reference, we designed the MDS-6EXT mid-rise lift to accommodate longer lifting points that better reach the extreme edges of the vehicle underbody. Along with the flush-mount MDS-6EXTF, these two models maintain their open-center design, just like our standard MDS-6LP and MDS-6LPF models.
Add or remove ramps at your leisure
Clipping on a set of extended approach ramps turns your flush-mount mid-rise lift into a approach lift. The ramps are long enough to accommodate low-stance vehicles with ease, and they make it easier for vehicles with larger tires to glide on without difficulty.
Stronger lift from a collapsed position
The MDS-6EXT has a pneumatic kicker that literally boosts the lift platforms for the first 152 mm of lift. This is important because a scissor lift's convenience also creates a mechanical disadvantage that we found a way around. In other words, being able to lower the lift a mere 101 mm off the ground makes the physics of lifting heavy machinery difficult. This is especially true when ensuring this lift occupies as little space in your shop as possible. Therefore, air-powered "rocket boosters" are installed that assist the hydraulics in the initial lifting phase. They never need maintenance and will ensure your lifting life is easier than ever. It's pretty cool that air rockets are on your lift, if we say so ourselves.
Four hydraulic cylinders
All four hydraulic cylinders on this car lift work in unison to create an even lift at all times. A built-in flow divider ensures the each hydraulic hose receives equal pressure. After the initial pneumatic assistance, the cylinders work on their own to achieve about 1,143 mm of lift in seconds flat.
Solid-steel safety lock bars
While the lift rises, the safety arms lock automatically and continuously. When secured in place, the mechanical locks take all the pressure off the hydraulic system, ensuring zero chance of failure due to fluid leaks.
Convenient stainles-steel pneumatic cylinders
Instead of spring releases, the MDS-6EXT features air lock releases that instantly disengage the lock upon descent. They require almost zero maintenance and are absolutely as safe as spring devices. Require 50 PSI, 10 CFM air source during installation.
A push-button safety lock release system
The single push of a button instantly releases the air locks and permits safe, efficient descent. The flow divider ensures the ramps remain level at all times during use.
Hinge-point features Zerk grease fittings
Grease fittings are necessary to keep the critical wear areas from degrading due to friction. BendPak's self-lubricating Zerk fittings do just that, and they rarely need maintenance. Over time, you'll mostly forget they exist. However, you will enjoy how well your lift runs year after year.
Durable, cushioned rubber contact blocks
The MDS-6EXT mid-rise lift comes with a full set of rugged rubber lift blocks. These blocks are meant to withstand heavy use and abuse over many years of service. Each block is treaded to make sure it stays exactly at the manufacturer-recommended lift point of the vehicle you're lifting.
Three locking positions
With multiple lock positions available, you choose the height appropriate for the job. Whether it's a few inches of rise for brake service or the full extension to feel comfortable underneath the lifted vehicle, the choice is yours.
Detailed installation and maintenance instructions
Every MDS-6EXT mid-rise lift comes with detailed instructions for use. This includes safety decals and placement information, as well as training placards to help get your trained on proper lift technique. Ensuring proper maintenance protocol is life-saving and will extend the lifespan of your lift.
Choose flush-mount
The MDS-6EXTF extended-length, flush-mount, mid-rise lift is the ideal solution for quick-lube stations looking to install a car lift flush over their work pits. If your shop wants to be ready for longer-wheelbase vehicles, no matter how low the suspension, you can't do better than this BendPak.
NOTE: The lift platform and contact blocks allow lifting of most unibody and frame contact undercarriages at recommended manufacturer pick‐up points on most vehicles. Be sure to compare your vehicle specifications, including ground clearance and overall height, with the specifications shown before you purchase.
Features
2,721-kg. lifting capacity
Open-center design
Solid-steel safety lock bars
Multiple lock positions
Hinge-point with Zerk grease fittings
Low-profile design
Rubber blocks included
Removable ramps
Specifications
Lifting capacity:
2,722 kg (6,000 lbs.)
Lifting height:
930 mm (36.6")
Lifting height + Blocks:
968.5 mm (38.1")
Lift platform dimensions:
484 mm x 2,000 mm (19" x 78.7")
Width between platforms:
1,018 mm - 1,168 mm (40" - 46")
Overall width:
484 mm (19")
Overall length:
2,650 mm (104.3")
Lowered height:
110 mm (4.3")
Motor:
110 or 220 VAC / 60 Hz / 1 Ph
Shipping weight:
765 kg (1,686-lbs.)
Shipping dimensions:
2,032 mm x 1,549 mm x 609 mm (80'' x 61'' x 24'')