MDS-6LPF
SKU# 5175227
2,722-kg. Capacity / Mid-Rise Scissor Lift / Open Center / Flush Mount
---
With nearly 1,143 mm of rise from the flush-mounted position, the MDS-6LPF is a world-class performer in the mid-rise pad lift class. There's no better way to get this much power and height from a fully collapsed, zero-footprint design.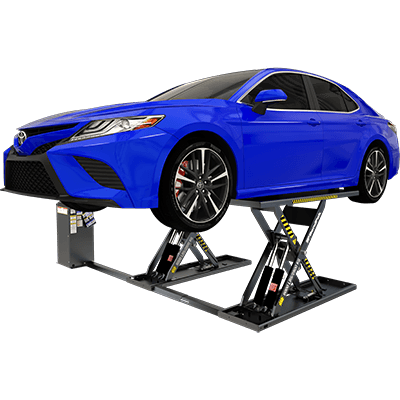 The MDS-6LPF Walks the Walk
If you're looking to flush-mount your lift in the floor for a smooth sub-surface installation, be sure to choose the MDS-6LPF. It shares all the same features of the MDS-6LP but is more ideal if you want your lift to collapse perfectly parallel with your flooring.
Stronger lift from a collapsed position
A pneumatic "kick" powers the lift up from the collapsed height, which for a flush-mount means it goes from zero-footprint to full rise in about 45 seconds. This extra boost ensures a more even lift in the early inches, and the hydraulics take over from there.
Four hydraulic cylinders
We put enough power in this scissor lift to ensure it handles that 2,722-kg. load without a hitch. Fluid traveling to all four cylinders goes through a flow divider to ensure equal pressure at all times. The platforms are always going to rise and descend simultaneously every inch of the way.
Solid-steel safety lock bars
With three locking positions to choose from, the MDS-6LPF offers incredible work height versatility. If you've got a pit, the mid-rise design becomes a full-height service lift.
Convenient stainless-steel pneumatic cylinders
Instead of spring releases, which tend to wear over time, our flush-mount design features air cylinders pressurized to 50 psi, 10-CFM. A simple hand pump or air compressor will have the cylinders ready to go in seconds.
A push-button safety lock release system
The push of a button releases all locks simultaneously and quickly lowers the scissor lift platforms down to their flush-mounted starting position.
Hinge-point features Zerk grease fittings
Zerk grease fitting are long-lasting, self-lubricating and simple to maintain. They'll virtually last forever with minimal care.
Durable, cushioned rubber contact blocks
Hard rubber blocks come standard with your lift purchase. No small, dinky pads here. These rugged lifting tools will protect your vehicles' frames and are guaranteed not to slip when properly placed during lifting procedures.
NOTE: The lift platform and contact blocks allow lifting of most unibody and frame contact undercarriages at recommended manufacturer pick-up points on most vehicles. Be sure to compare your vehicle specifications, including ground clearance and overall height, with the specifications shown before you purchase.
Detailed installation and maintenance instructions
We include a full installation and training/service manual, along with safety decals and stickers, for your convenience.
Features
Each lift platform features four solid steel-scissor frame support bars, making it one of the strongest mid-rise lifts in its class
Dual master hydraulic cylinder combines with dual equalizing cylinders to provide a safe and level
Soli-steel safety lock bars engage automatically during ascent
Convenient stainless-steel pneumatic cylinders simultaneously release safety locks during descent with a simple push of a button. (NOTE: Requires min. 50 psi, 10-CFM air source at time of installation.)
A push-button safety lock release system is operated away from the lift and allows operators to safely deactivate the locks without the need to push or pull cumbersome release bars or lock release handles
Hinge point features Zerk grease fitting to allow lubrication at critical wear areas
Comes standard with four durable cushioned-rubber contact blocks, permitting fast vehicle setup
Three locking positions allow technicians to work at different working heights to increase productivity and minimize fatigue
Powder coat finish provides a long lasting durable finish
Flush-mount design for in-ground installation in lube shops, full-service bays and home garage environments looking for a zero-footprint lift
Specifications
Lifting capacity:
2,722 kg (6,000 lbs.)
Lifting height:
991 mm (39")
Lifting height + blocks:
1,041 mm (41")
Lift platform dimensions:
484 mm x 1,701 mm (19" x 67")
Width between platforms:
1,018 mm to 1,168 mm (40" to 46")
Overall width:
484 mm (19")
Overall length:
1,701 mm (67")
Motor:
110 or 220 VAC / 60 Hz / 1 Ph