RWS-1B
SKU# 5156100
Portable Bubble Balancer
---
The Ranger RWS-1B bubble wheel balancer offers precision and accuracy when balancing automotive and light truck wheels, even on the go.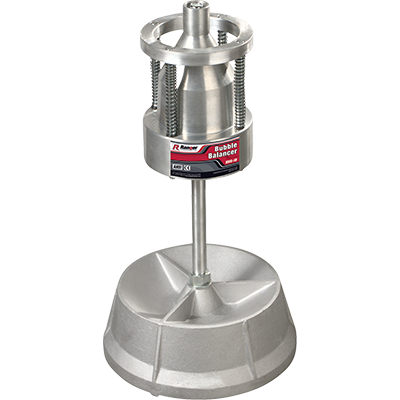 Balance Wheels on Any Budget, Anywhere
The portable RWS-1B bubble wheel balancer offers uncompromising sturdiness and balancing accuracy for car and light truck wheels. Equipped with a self-levelling stand, the RWS-1B requires no extra levelling legs, so it's ready to go anytime, anywhere. The self-aligning, spring-loaded cone and plated steel guided rods make short work of any balancing task, while the hardened pivot pin and cast pivot seat provide unparalleled durability. Throw in the fact that the head cone is made of die-cast aluminium, and you can rest assured that this portable wheel balancer is capable of handling more than its fair share of overtime, be it in the shop or out in the field.
Features
Rugged die-cast aluminium head cone
Easy-to-use self-levelling stand / no need for levelling legs
Built-in weight-storage compartments
Self-aligning, spring-loaded cone
Plated steel guide rods with zinc support springs
Hardened cast pivot seat
Cast aluminum base
Recessed circular level bubble
6061 extruded aluminum ASTM B 221 shaft
Hardened pivot pin for maximum durability
Specifications
Hub Hole Diameter
39 mm - 114 mm (1.5" – 4.5")
Calibrated at
90°, 180°, 270°, 360°
Bubble Sensitivity
.788 sec per 2 mm
Overall Height
584 mm (23")
Overall Width
305 mm (12")
Shipping Weight
6 kg (14 lbs.)
Shipping Dimensions
483 mm x 330 mm x 203 mm (19" x 13" x 8")