RIC-4716
SKU# 5150315
4-Bar Tire Inflation Cage
---
The RIC-4716 inflation cage is a crucial, life-saving piece of equipment that must be used during the inflation of a tire. Tire explosions are deadly, and only a ruggedly constructed tire cage can prevent catastrophic damage in a worst-case scenario.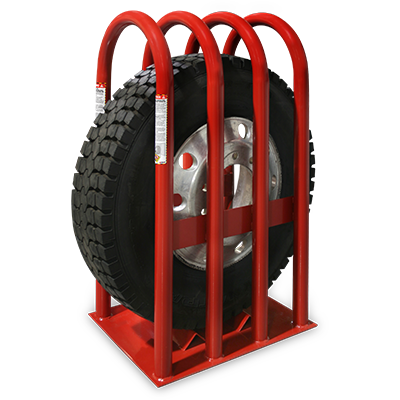 The Tire Inflation Cage You Trust
The RIC-4716 inflation cage is designed using 60 mm diameter, high-yield, seamless steel tubing with expansion properties to ensure strength, durability and safety. The gradual upper-arched mandrel bent tube design yields maximum space and is engineered to withstand and contain wheel and tire projectiles under extreme tire ruptures, preventing potential injuries or deaths. The RIC-4716 stands ​ tall and ​533 mm wide and features four welded-steel bars in order to meet the demands of all wheel service shops. It can handle tires with a maximum width of ​406 mm and maximum diameter of 1,193 mm, delivering full-capability performance. A solid-steel welded-steel base features a full-width angle-iron wheel cradle to keep the wheel safely contained within the inflation cage during all inflation procedures.
IMPORTANT NOTE: Exploding tires have a high potential for severe injury and death. Tire inflation safety cages are a mandatory precaution for safe tire inflation. tire inflation cages provide valuable protection and exceed the OSHA Standard 29 CFR 1910.177 for servicing multi-piece and single-piece rim wheels. ALWAYS follow all warning and product instructions when using any inflation cage in order to prevent potential injuries or deaths.
The checklist below (click link) covers regulations issued by the U.S. Department of Labor, Occupational Safety and Health Administration (OSHA) under 29 CFR 1910.177.
Features
Accommodates hub assemblies up to 241 mm wide
Installs on all Ranger wheel balancers with a 36 mm shaft
Designed to balance wheels with a centre-hole diameter from 16 mm to 32 mm
Kit comes with universal wheel clamp, shaft, centering cones, spacers and spin-on nut
71 mm diameter, high-yield, seamless steel tubing
4-Bar welded-steel construction
Solid-steel welded-steel base
Four tubular steel base frame supports keeps cage elevated off the floor to prevent rust and corrosion
Full-width angle-iron wheel cradle
Specifications
Max Tire Width
406 mm (16")
Max Tire Diameter
1,194 mm (47")