Clip-On Silencer
SKU# 5150048
Clip-On Rotor Silencer / Fits RL-8500 and RL-8500XLT
---
Use a Ranger clip-on rotor silencer for added durability and convenience in all brake lathe operations.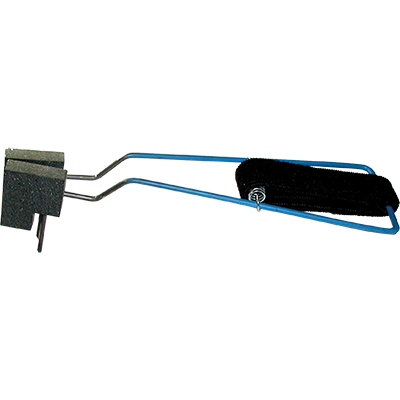 Silent Brake Resurfacing with No Tools Added
A clip-on rotor silencer is a convenient way to reduce the noise and friction of your resurfacing operations. It's easy to install and replace for different jobs and/or lathes. This OE approved universal clip-on brake lathe silencer works on most ​brake lathes and even some on-car lathes.
The clip-on silencer is designed to give you a smooth, clean cut. Simultaneously, the no-tools-required clip-on feature saves you valuable setup time. It effectively stops the chatter and deflects debris downward into the chip tray to reduce eye injury and cleanup. The strap keeps the silencer in place throughout the cut, so wandering is no longer an issue. No weights required.
Need a place to store the lathe silencer? No problem. The strap design also provides you with the convenient option of keeping your silencer on the lathe when it's not in use. The revolutionary notch design means you no longer have to adjust your cutting tips out. Just clip on and go! It's that simple.
Features
Eliminates vibration while cutting
Improves safety by deflecting chips toward the floor and away from operator's face
No tools needed, snaps on in seconds
Stays securely in place until removed
Works on vented and non-vented rotors
Both easy to use and affordable
No maintenance required
Replace every 3 to 4 months (depending on usage)
Clip-On Silencer Specifications