RWB-1TD
SKU# 5145336
Heavy-Duty Teardown Work Bench w/ Fluid Catch
---
The Ranger RWB-1TD is a combination workbench, teardown table and storage center. It's a versatile workstation with all the features that are essential to any well-run garage or workshop.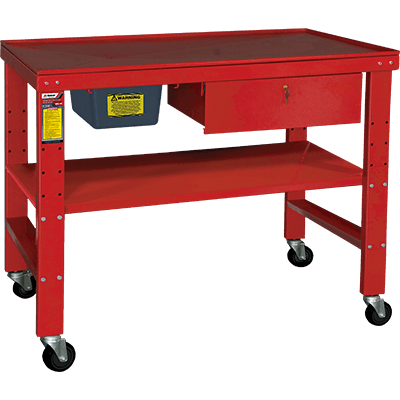 Combination Work Bench with Fluid Catch
When you need a sturdy combination workstation, look no further than Ranger. Heavy-duty casters easily support the rated ​227-kg. capacity, and with two locking and two swivel casters, there's no fear of your workbench sliding around as you work. The casters are ultra-high-quality, so there's no "squeaky wheel" syndrome or deviating rolling patterns. Your cart moves straight and around corners with ease, because it pushes in the direction you want it to every time.
With a high-quality shelf, lockable drawer and a polyethylene fluid catch, this workbench offers the best of all worlds. Over 2.74 sq. m. of work area and a ​227-kg. working capacity make this unit perfect for preparing and working on projects of all sizes.
The unique, removable fluid container helps capture leaking fluids when working on engines and transmissions; its polyurethane design will last forever, as the whole structure is totally non-leaking and immune to virtually every liquid you can throw at it in the shop.
The wide-bodied, built-in shelf is completely height-adjustable for maximum comfort and versatility. Think of this workbench as the support beam for your tools, your business and all your automotive hobbies.
To ensure weatherproofing and durability over time, we don't simply slop on red paint that would chip away in time. An electrostatically applied powder coat finish creates that glossy red look Ranger Products is known for worldwide. The coating is applied over 14-gauge steel, which is more rugged than other industry offerings. 14-gauge steel strikes a balance between girth and portability, durability and practicality. It won't dent from heavy hammer swings, and it won't slow you down when you need to move the tabletop to a different location. We put these workbenches in our own shops, or we wouldn't be selling them to you.
Features
Glossy, red finish
Lockable heavy-duty drawer
227-kg.. working capacity
Heavy-duty 102-mm casters - 2 swivel & 2 locking swivel
Electrostatic oven-baked powder coat
Adjustable working height
Removable polyethylene fluid drain for easy clean up
14 gauge table top
​19 mm liquid containing rim
Specifications
Drawer Dimensions
24" x 18" x 5.5" (609 mm x 457 mm x 140 mm)
Table Top Dimensions
48" x 32" (1,219 mm x 813 mm)
Removable Drain Dimensions
20" x 12" x 6" (508 mm x 305 mm x 152 mm)
Shipping Weight
210 lbs. (114 kg)
Shipping Dimensions
34" x 50" x 9" (864 mm x 1,270 mm x 229 mm)