RTJ-1100
SKU# 5150442
1/2-Ton (499 kg.) Capacity Transmission Jack
---
Compact, upright transmission jack with a maximum lift capacity of 499-kg. Rugged construction, 610 mm base and overload safety, this jack can never going drop unexpectedly due to overload or hydraulic failure.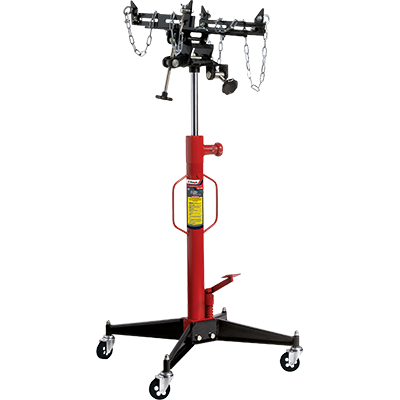 Great Power and Extended Height
Built with the same heavy-duty materials as our larger models, the Ranger RTJ-1100 allows you to safely and easily remove, transfer and install transmissions, transaxles and other drive-train components weighing up to 499-kg. The unit features a built-in safety overload valve for your protection and a foot-operated pump for hands free operation. All components are ruggedly built to ensure many years of simple service.
Small storage area? No problem! The 610 mm base makes this one of Ranger's most space-efficient designs. We know that even large garages and shops have a lot of equipment to lug around, so we're bent on making our transmission jacks as space-efficient as possible. Roll it anywhere for easy storage in seconds flat.
You're sure to be pleased with the stability and overall security of its construction. Dual push/pull handles make getting the transmission jack positioned a cinch, while the chain anchors we employ are some of the most rugged restraints you'll ever encounter for this type of job.
We're especially proud that we're able to give you a full 1,829 mm of lift without sacrificing your personal safety. It's made possible by Ranger's exclusive two-stage design. But don't worry: you'll never see a Ranger transmission collapse in the off-chance of an overload. No matter how high you extend the transmission cradle, you're protected by the hydraulic overload safety system. Compare Ranger transmission jacks with any other brand and you will see why we're America's favourite. You'll also love that we've been in business longer than most, so we can take care of any issues faster and more reliably than our competition.
Features
Foot-operated pump
Hand control release valve
Alloy-plated single-stage ram
Heavy steel construction for maximum durability
Heavy-duty steel swivel casters
Heavy-duty chain anchors
Sealed hydraulics prevents contamination
Extra wide base with swivel casters
Built-in safety overload valve
Specifications
Lifting Capacity
1,100 lbs. (499 kg)
Lowered Height
45" (1,143 mm)
Raised Height
72" (1,829 mm)
Base Dimensions
24" x 24" (610 mm x 610 mm)
Shipping Weight
120 lbs. (55 kg)
Shipping Dimensions
12" x 15" x 45" (305 mm x 381 mm x 1,143 mm)