RS-500D
SKU# 5155097
Professional Spray Wash Cabinet With Skimmer / Deluxe / Dual-Heaters / Low-Water Shutoff
---
Clean it better with Ranger! This 189-L (50-gal) capacity spray wash cabinet rapidly degreases dirty parts, including larger truck/SUV engine components. Comes with a free bucket of detergent.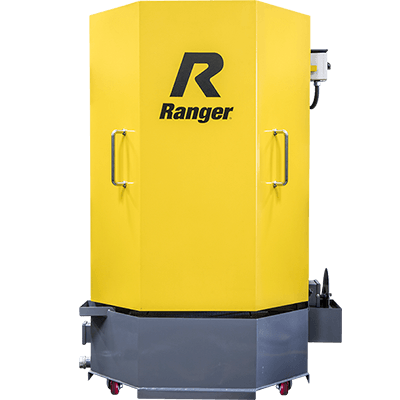 Powerful, Safe and Rapid Hot Wash Spray Cabinet by Ranger
A large cabinet size and solution tank makes the RS-500D versatile and productive. By using an octagonal full-opening door, we've enhanced access to the turntable to enhance the operator's loading capabilities. Simple operating controls, brass nozzles, a gasket-free door and a high-capacity 265 lpm pump demonstrate Ranger's commitment to enhanced performance and productivity without a single sacrifice in quality. Like all Ranger spray wash cabinets, the RS-500D is built to last. We constructed the cabinet and door with heavy-duty 12-gauge steel and then coated it with an industrial two-step primer and powder coat finish. All-around performance, durability and improved operator convenience make the RS-500D the definitive choice among professionals worldwide.
Fast-release door latch / gasket-free door
Swift-release door latch comes built-in for technician convenience. The gasket-free interlocking door keeps the cleanser material free from contaminants and inside the tank, not your floor.
Neoprene door seal
A leak-proof neoprene door seal creates an edge-to-edge seal, providing secondary water and steam containment. Messy spills and unwanted evaporation of your valuable aqueous cleansing solution are dramatically reduced by as much as 35%. Because steam doesn't escape, the spray wash cabinet better retains water levels and improves cleaning efficiency.
Movable filter basket
The cabinet includes a robust trap filter to secure large particles greater than 3 mm. Filter basket is removable for unfettered access to the cleansing solution tank and easy maintenance.
Multi-directional sprayers
Industrial-strength multi-directional spray jets are located below, above and on the sides to wash away set-in grime.
Steel oil skimming system
Parts washers by Ranger include a stainless-steel oil skimmer that miraculously separates oil and grime from the water to increase the viable longevity of the detergent solution cleanser. Oil and other contaminants are directed via downspout into holding containers.
Contamination-proof cabinet welds
Full perimeter welds on the inside shelf of the cabinet perfectly adjoin and seal the cabinet wash area from the detergent tank, preventing unwanted debris from seeping directly into the recirculating tank below. Even tiny, microscopic debris that can clog the pump and spray nozzles is redirected to the debris trap and filter, eliminating the chance of equipment downtime due to contamination.
Stainless steel nozzles
Instead of pipe-tree and drilled holes, Ranger parts washers include replaceable spray nozzles made of stainless steel. These sprayer nozzles have a sharply articulated spray grid to give users a high-quality cleaning experience and performance that doesn't result in the corrosion of your parts washer pieces.
Low water shutoff
A low water cut-off switch eliminates equipment downtime due to heater and pump damage. An industrial-grade stainless steel float located in the detergent tank rises when the water tank is full and gradually descends as water evaporates. When water levels are too low, the washer instantly shuts off, preventing irreversible pump-seal damage and heating coil burnout.
Dual heaters
Two water heaters ensure your spray wash cabinet reaches optimal washing temperature within seconds. A smaller, energy-efficient secondary heater acts as a detergent pre-warmer when turned on in order to keep the water primed and ready for washing. During washing cycles, a larger primary heater instantly activates, quickly heating the cleaning solution for optimum cleaning efficiency.
NEMA-rated electrical panel
A sealed, water-resistant, NEMA-rated electrical box plays a critical role in electrical management of the parts washer. A well-organised electrical system features easily identifiable circuits for the control breakers, water tank thermostat and timers for both oil skimmer and turntable operation. Smart circuitry prevents nuisance breaker tripping and enhances overload/overheat detection and protection. A proprietary audible and visual alarm activates when the low-water sensor detects unsafe operating conditions. When water levels are too low, the washer will remain inoperable until the water level is restored and the button reset by the operator.
Double-pole circuit breaker
The Eaton Cutler-Hammer 20/30 amp Quadplex Double-Pole Type BR Circuit Breaker features a 2-pole, 20 amp breaker for the heater and a separate 2-pole, 30 amp breaker for the motor and pump combination.
Non-marring casters
Urethane casters are preferred over steel because they're hard, durable and completely safe to use on all flooring. Casters are easy to lock and release. Weather and adverse shop conditions are no impediment to the functionality and longevity of these casters.
Durable turntable
The system behind the parts washer turntable is friction-drive, helping to eliminate potential motor damage by reducing the risk of component jamming inside the cabinet.
Industrial casters and convenient tank drain
Heavy-duty rubber swivel casters provide sensible manoeuvrability. Ranger parts washers include built-in pipe drains to eliminate sludge from the floor of the parts washer tank.
Safety switch and timer dial
A door switch turns off the washing cycle when the door is opened, while a variable 60-minute timer allows for different wash cycle times to be set manually.
Removable tree rack and components basket
The quick-mount parts tree rack and hanging component parts basket is ideal for the cleaning of smaller components. Use the parts tree and basket in conjunction with parts on the turntable and you'll tackle more parts cleaning in less time. The centre tree rack can be easily removed to provide additional clearance.
Extra accessories come standard
All Ranger parts washers come with a removable parts rack, small parts basket and ​11 kg of detergent.
Commercial-grade pump / motor combination
Every Ranger parts washer features a centrifugal pump specifically engineered for parts washing applications. Located at the rear of the cabinet, the pump body and protective cover are comprised 100% ductile cast iron, and silicon carbide seals protect all sensitive machinery within. Stainless steel impellers and screw nuts won't rust out on you, while Nitrile NBR O-rings and carbon steel brackets close out the incredibly efficient and sound design of the power unit.
Hot cleaning
Fast heating is accomplished via a nickel-based, alloy-sheathed heater element specifically designed for heated parts washing applications.
Thermostat
Adjustable set point thermostat features a heating range up to 80°C.
Double-pole circuit breaker
The Eaton Cutler-Hammer 20/30 amp Quadplex Double-Pole Type BR Circuit Breaker features a 2-pole, 20 amp breaker for the heater and a separate 2-pole, 30 amp breaker for the motor and pump combination.
Aluma-Klean soap removes oil, stains and grease with ease
Ranger's Aluma-Klean spray-wash detergent is a mild parts cleaning soap designed to clean aluminium, stainless and other delicate parts without whitening the surface. Aluma-Klean parts cleaning soap is not a solvent, but rather a non-foaming, low pH, mild-alkali, water-soluble, powdered detergent especially formulated for high pressure heated parts washing systems. Incredible cleaning action removes grease, oil, baked on stains, carbon, protein and even some paints.
Features
Heavy-duty steel construction
Safe aqueous operation: No harsh chemicals
189-L tank
Dual water heaters for quick startup
Heated cabinet w/ adjustable thermostat
High-power spray jets clean parts fast
Automatic low water shutoff
Removable tank screen
Stainless oil skimmer
Removable parts tree
Powder coat finish
Stainless steel nozzles
Full opening octagonal door
Large drain pipe
Heavy-duty casters
Friction-drive turntable system
Neoprene-sealed wash cabinet
Contamination-proof interior welds
Gasket-free door
Small parts basket
Stainless steel handles
Free bucket and soap included
Specifications
Overall height:
66" (1,676 mm)
Inside height:
43" (1,092 mm)
Inside width:
32" (813 mm)
Turntable diameter:
30" (762 mm)
Recommended floor space:
44" x 43" (1,118 mm x 1,092 mm)
Load capacity:
500 lbs. (227 kg)
Steel construction:
12 Gauge / .109 thickness
Pump output:
75 psi @ 70 gpm
Motor:
1 HP / 220 VAC / 60 Hz / 1 Ph
Water temperature:
0 - 190°F
Shipping weight:
750 lbs. (336 kg)
Shipping dimensions:
36" x 44" x 68" (914 mm x 1,118 mm x 1,727 mm)