VMX-10120V-603
SKU# 5179108
V-Max Elite Air Compressor / 10 HP / 454 L (120 gal) Vertical Tank / 208-230V, 60 HZ 3-Phase
---
Meet the enormous BendPak V-Max Elite™ 10120V-603 3-phase air compressor system. When it comes to pure air power and reliability, there's no such thing as a more solid investment.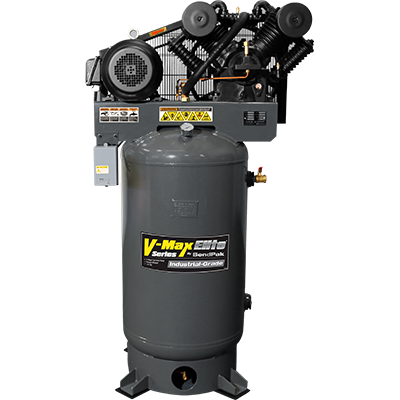 All Craft, No Compromise: The V-Max Elite 10120V-603
This V-Max Elite air compressor is a top-of-the-line air delivery system designed for maximum efficiency under every load condition. Like others in the V-Max Elite series of air compressors, the 10120V-603 features an extreme-duty, four-cylinder pump made of 100% cast iron. These rugged two-stage lubricated reciprocating compressors are made to shine on even your busiest days, including everything from automotive and body repair to manufacturing and industrial applications.
V-Max air compressor pump
This massive V-Max pump comes standard with splash lubrication and a V-4 finned cylinder configuration for 360° cooling. Heavy-duty, disc-type valves have been engineered for absolute reliability, and users can even access them without having to perform complicated valve maintenance procedures or remove the cylinder. A built‐in intercooler and air‐cooled after-cooler chills the air to bring down the temperatures and keep condensation to a minimum. Still, at its heart, the V-Max Elite 10120V-603 air compressor is all about big air with comparably little noise due to slower RPM speeds and a two-stage design.
Cooling fan
All V-Max Elite air compressors run at noticeably slower speeds, thanks to their massive, energy-efficient pumps. We do this to reduce operating temperatures and maintenance costs while increasing overall efficiency. When making an air compressor purchase, it's always a good idea to consider the power it consumes along with the general ​upkeep you'll have to perform to keep it running. The true cost of ownership is more than the purchase price. Electric power costs add up based on the horsepower needed to produce the air required. The more air you can produce per horsepower, the less power is required to meet your air demands. ​When you stack what the V-Max 10120V-603 can achieve next to the other guys, it isn't hard to see that no one can touch the value of a V-Max Elite air compressor by BendPak.
Features
10 HP energy-efficient motor
Extra-quiet, low-RPM pump
Cast-iron V-Max Elite pump features simple splash lubrication for total reliability and a "V-4" finned cylinder configuration that provides 360° cooling
Proven air-cooled design is economical, reliable and environmentally friendly
Two compression rings and one oil control ring provide excellent oil control and high efficiency air delivery
Dual drive belts require less belt tension resulting in less load on pump bearings, longer belt life and low vibration
Fully-enclosed belt guard
Cast-iron pump and heads are more stable under heavy workloads and do not warp from heat like aluminium cylinders with a pressed-in sleeves do
ASME rated tank
Large surface area and cooling fins on cylinders and forced-air after-cooler provides efficient heat dissipation for lower operating temperatures and dryer air. Compressor runs cooler, oil life is extended and maintenance is reduced
Tapered roller main bearings provide full contact and support of the crankshaft and needle-type piston pin bearings properly distribute bearing loads
Precision balanced flywheel has forced-air fan blades for optimum compressor cooling and life
Magnetic starter provides thermal overload protection and minimizes start loads providing long life and trouble‐free operation
ASME rated safety valve protects the compressor from overpressure and safeguards the operator
Balanced flywheel and counterbalanced crankshaft results in nearly vibration-free operation
Readily accessible disc-valves do not require disassembly of compressor piping, for easy accessibility and reduced maintenance cost and downtime
Corrosion resistant tubing for coolers, separators and valves for longer life and reduced maintenance
Oversized ductile iron crankshaft provides extra strength and longer wear
High-density, die-cast aluminium alloy rods minimise reciprocating weight
Rugged cast iron oil reservoir has convenient sight gauge glass, large oil drain and convenient fill cap
Automatic pressure switch provides auto start and stop
Integrated pressure unloader valves are built into the intake valve assembly on the compressor head, reducing internal pump heat from initial start-up compression
Pressure gauge with service valve
Oversize replaceable air filters
VMX-10120V-603 Specifications
Motor
Amp Draw:
36-30A @ 208/230V - 16A @ 460V
Recommended Breaker:
40A @ 208/230 - 25A @ 460V
Shipping
Weight:
1,219 lbs. (554 kg)
Dimensions:
44" x 30" x 79" (1,120 mm x 750 mm x 2,007 mm)