CoolCharge
SKU# NEW!
AC-134A R-134A Recovery, Recycling, and Recharging Machine / Automatic / Meets UL 1963 & SAE J2788 / Includes Vacuum Pump
---
Ranger makes vehicle A/C recovery, recycling and recharging faster and easier than ever. The easy-to-use AC-134 CoolCharge machine evacuates and recovers 95% of old coolant and recharges vehicle A/C systems within +/- 0.5 oz. of the desired charge.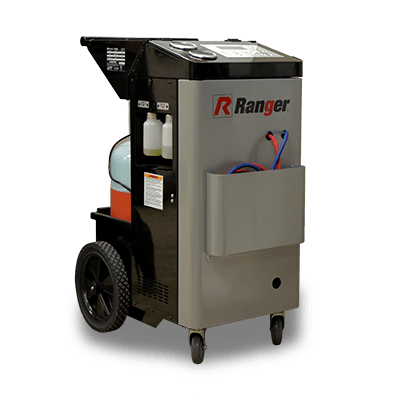 Ranger AC-134 CoolCharge: Program, Connect, Done
There's nothing easier than programming your A/C settings and walking away to let the machine do its job. The same intuitive thinking that Ranger has brought to more shops worldwide than arguably any other name in the garage equipment business is proud to offer an A/C charging machine to match your needs and busy lifestyle. Especially during the summer months, vehicles are going to need A/C service. Older vehicles will need this performed more regularly, due to leaks and system inefficiencies. That's why you need a fast, reliable way to recharge those drained systems. While the machine works, your techs can perform other inspections and truly provide the best possible customer care in your region. It all starts with Ranger!
The fully automatic AC-134 CoolCharge lets you do just that. This premium A/C machine recovers, recycles and recharges air conditioning better faster, safer and more completely than other brands. Since user convenience is key, a large display faces upright on the machine and an optional print features lets you provide results for both you and your customers.
The automatic CoolCharge is 100% programmable, so there's no standing over and babysitting the automated recharge and recovery process. Oil that is drained during operation is stored internally in a container, and the simple LCD display will indicate how much needs to be returned to the vehicle system. The filter quality and refrigerant levels are also automatically monitored by the machine. Functions will cease in the event the filter is too dirty or the refrigerant level becomes too low to service the vehicle. One shop might only need a single A/C machine because the unit is completely portable. Massive 305 mm back wheels and lockable 102 mm front casters allow you to easily maneuver the machine virtually anywhere in seconds flat and conveniently lock it in place with a foot-activated switch.
Don't waste time with inferior recovery machines that waste resources, inefficiently recover coolant and cost you more to use in the long run. Ranger's AC-134 CoolCharge is the only A/C machine your business will ever need to service most cars, trucks, SUVs and buses (hybrid vehicles excluded).
Features
Meets UL 1963 & SAE J2788 Standards
Refrigerant: R134a
Flushing function for rapid discharge of used coolant
Electric database
Car, truck, SUV and bus compatibility
Does NOT service Electric/Hybrid & A/C Systems
Manual & full auto modes included
Automatic oil discharge
Programmable vacuum for faster recharge and recovery
Oil injection: Solenoid/visual
Refrigerant charge: Automatic with electronic scale
A/C Pressure adjustment
Operation record for total convenience
Specifications
Compressor Flow Rate:
1/3 HP / 12 cc
Vacuum Pump:
70 L/min / 0.05 mbar / Dual Stage
Filter Drier:
710 cc / Double
Tank Capacity:
50 lbs. (23 kg)
Manometers:
3.5" (80 mm) Pulse-free Class 1
Tank Manometers:
1.5" (38 mm)
HP & LP Pressure Transducers:
No
Display:
4" x 1.5" (102 mm x 38 mm) LCD
Front Wheels:
4" (102 mm) Casters w/ Locks
Rear Wheels:
12" (305 mm) Rubber Tread
Unit Weight:
221 lbs. (100 kg)
Operating Temperature:
41°F to 104°F, 5°C to 40°C
Languages:
English, French, Spanish, Chinese