XPR-18CL
SKU# 5175409
8,165-kg. Capacity / Two-Post Lift / Clearfloor / Standard Arms
---
Shops that work on massive fleets and vehicles need a powerful car lift with a small footprint. BendPak's 8,165-kg. capacity XPR-18CL offers the most extraordinary lifting capacity of any two-post lift we make, which means you get the best column, carriage and frame component construction we offer.
The Beast with Two Posts
With an XPR-18CL two-post car ​lift, you will service an incredibly diverse array of vehicles. High-capacity two-post ​lifts are commonly known as "all-service" lifts. Given their versatility, they're the most common lift type found in professional shops. And, because they're going to be in so many shops, it's important that the XPR-18CL can lift any vehicle that falls well under the max weight capacity. This means the telescoping arms will adjust to fit under race cars and other low ground-clearance vehicles.
In addition to smaller cars and light trucks, it will also lift oversized equipment: trailers, farming equipment, commercial trucks, etc. The columns are built wide enough to accommodate just about any vehicle up to 8,165 kg., making the XPR-18CL ideal for service shops that want to be prepared for the anything. For a smaller footprint, extreme power and majestic durability and safety, you can't do better than the BendPak XPR-18CL.
Clearfloor convenience
Hydraulic lines on heavy-duty ​lifts are best kept up and out of the way. With our Clearfloor design, there's no risk of massive vehicles running over cables and damaging the integrity of your lift.
Dual Direct-Drive technology
BendPak's dual-cylinder Direct-Drive technology offers superior hydraulic ​lift. Each reinforced steel column holds a hydraulic cylinder to ensure a safe, even lift every time. Heavier two-post lifts are ideal for Direct-Drive technology because there's no need for what would have to be a massive chain-over system.
Industrial-grade hydraulic cylinders
If you've never bought a BendPak Dual Direct-Drive hydraulic ​lift before, you're in for a treat. The hydraulic cylinders never leak, due to superior construction and attention to detail during the most delicate phases of the manufacturing. The chrome rod is made of C-1045/50 micro-alloy and plated to a minimum of .001" diametrically. This results in a high-durometer rod seal that is machine-loaded at a crucial, delicate phase of construction to prevent any fluid leakage. A urethane rod wiper provides exclusion protection. BendPak is careful to design and test our car lifts to go beyond ASTM specifications, and our powerful, no-leak hydraulic cylinders are one of the top-mentioned reasons customers come back to buy from us time and time again.
Super-duty telescoping arms
The XPR-18CL two-post lift is durable enough to lift a massive amount of weight. However much space between the garage floor and your vehicle's lift points, our smart, telescoping design and no-scratch pads make every lift safe and easy.
Low-profile, dropped-end frame contact pads
This ​lift services sports cars and low-profile compact vehicles, no problem. If we raised the lift capacity but lost the ability for our powerful ​lift to service more commonly used vehicles, we'd be limiting what you can do with our lifts. BendPak's heavy-duty ​lifts are always sure to expand your lifting potential.
16-Piece adapter set / standard
While our XPR 9 and 10 Series two-post ​lifts have been refitted with new 63 mm screw pad assemblies, we know that heavy-duty lifting applications call for specialty adapters. BendPak stands at the forefront of innovation, from our massive, signature lift columns to our less-talked-about adapter kits. Nothing goes overlooked, and with a 16-piece adapter set, you never have to worry about being unable to reach a lift point on your vehicle frame. The included set includes four ​76 mm and four ​152 mm stackable adapters, four polyurethane pads and four cradle pads.
Lowered arm tube supports
This lift is designed with lowered arm tube supports to ensure ease-of-access with every vehicle type.
Automatic arm restraints
Rest assured that your heaviest lifting applications are secure on a BendPak two-post ​lift. Automatic restraints are powerful enough for massive trucks and trailer up to 8,165 kg., yet nimble enough to reach under delicate, easily scratched sports car chassis. The XPR-18CL is versatile enough to handle almost any vehicle you need to work under.
Taller lift carriages
The 1,346 mm lift carriage is essential for heavy lifting. Our competitors' designs often feature lower columns and don't compensate for loss the structural integrity in their engineering (a.k.a., they rip you off). The XPR-18CL is designed to safely lift massive vehicles, so we know the value in telling you the truth. We don't cut corners on design.
Maintenance-free load bearings
BendPak uses UHMW (ultra-high molecular weight polyethylene) load bearings because they're virtually indestructible and never require operator maintenance.
Single-piece columns
All of BendPak's two-post lift columns are made from a single piece of steel in order to better distribute weight down the beam and extend the life of your ​lift.
Single-point safety release
An easy-to-reach, single-point release is ergonomically located for your convenience. Immediately and safely stop all procedures at any time during ascent and descent.
On the level
A commercial truck is a heck of a thing to lift, and any disproportionate weight displacement would be disastrous. Whatever you're lifting on the XPR-18CL, BendPak's unique dual-syncho equalization system is specifically designed to keep heavy vehicles balanced as they rise.
Auto shutoff
Any vehicle that touches the overhead structure will trigger the entire operation to shut down. It's just another way BendPak works to ensure your safety.
High-speed hydraulics
BendPak's ​10 mm hydraulic lines deliver along with a high-flow pump and integrated AC power-unit. In other words, we lift you up and get you down fast.
Choose Extended Height
The XPR-18CL-192 is our tallest and highest-capacity car ​lift. Extended-length columns mean the tallest heavy-duty vehicles can be serviced in your shop without sacrificing any of our crucial safety features and performance expectations.
Features
8,165-kg. lifting capacity
Padded overhead safety shutoff bar
Extended height top-beam provides greater overhead clearance
Single-point safety release
Dual direct-drive hydraulic cylinders
Dual-synchro equalization system for equal lifting
Oversized 1,346 mm tall carriage for superior strength and durability
Electric / hydraulic power system
Oversized A36 steel base plates
Self-lubricating dura-glide UHMW polyethylene bearing system
Safety locks in each column spaced every 76 mm
Plated arm restraints and arm pins for rust prevention
Heavy-duty 13 mm aircraft-quality equalizer cables
Oversized cable sheave diameter reduces cable fatigue
Durable, rubber lift pads with stackable adapters
Multi-piece adapter set includes four ​152 mm stackable adapters, four ​76 mm stackable adapters, four polyurethane contact pads and four frame cradle pads. Ideal for trucks and vans with running boards or auxiliary fuel tanks.
Convenient storage is included for truck and van adapters
Versatile drop-in contact pads with stackable adapters
XPR-18CL Specifications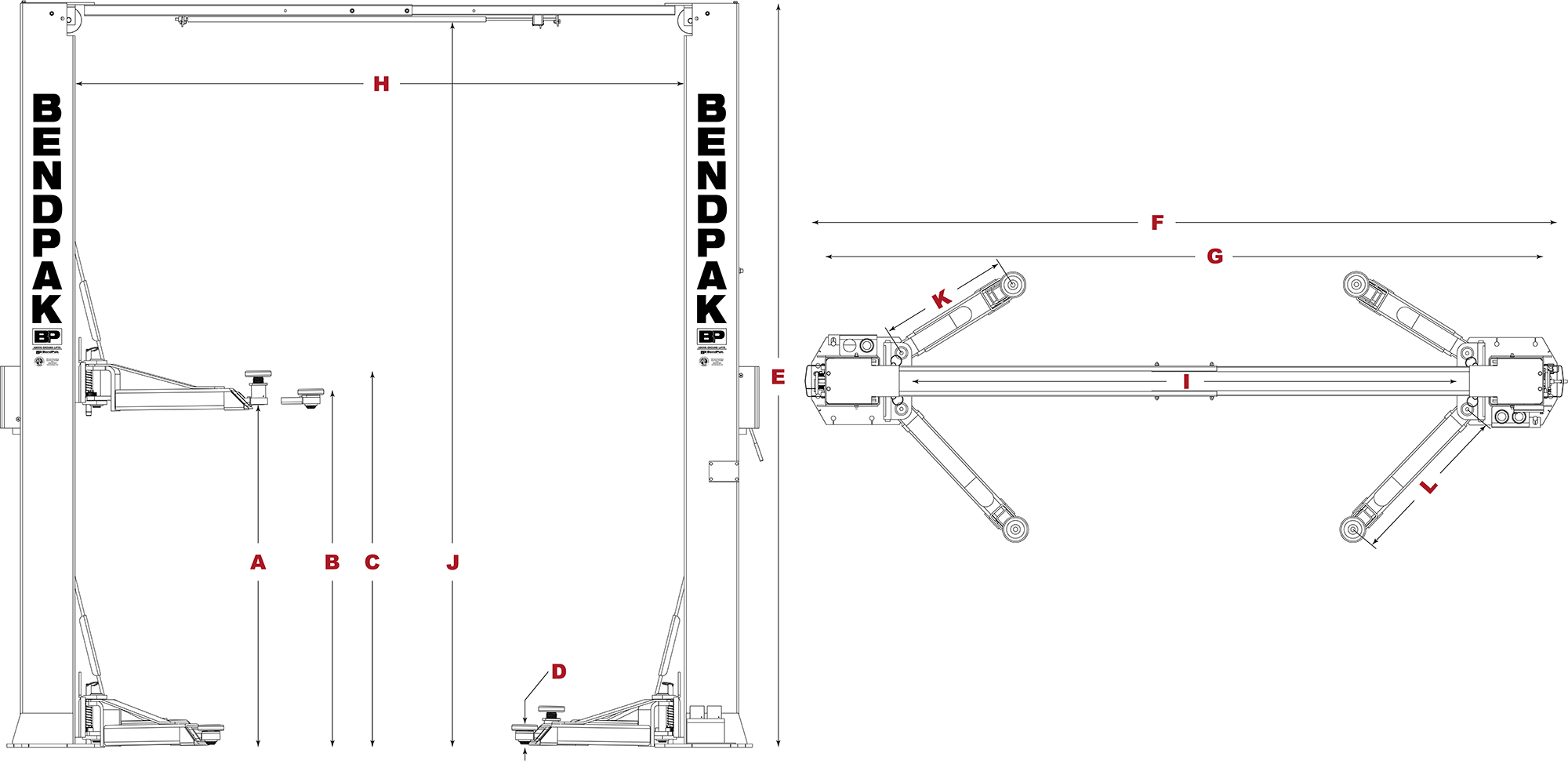 Capacity
*Max Capacity / Front Axle
9,000
*Max Capacity / Rear Axle
9,000
Rise
C
- Rise + Pad + 63 mm Adapter:
80
Time to Full Rise:
45 seconds
Inside Dimensions
I
- Drive-Thru Clearance:
Arms & Pads
K
- Front Arm Reach: (MIN)
39
K
- Front Arm Reach: (MAX)
60
L
- Rear Arm Reach: (MIN)
39
L
- Rear Arm Reach: (MAX)
60
Power Unit
Motor:
220 VAC / 60 Hz / 1 Ph
Note: Not all BendPak lift models meet the standards as prescribed by ANSI/ALI ALCTV-2017 or ANSI/UL 201. Consult www.autolift.org for a complete list or contact BendPak via contact@bendpak.com.