GP-7
SKU# 5175992
GrandPrix Series 2-Post Lift / 3,075-kg. Capacity / 3,810 mm Overall Height
---
Our standard-height GP-7 is fit for garages with 4 metre ceilings and offers a full 1,981 mm max rise. These dimensions are similar to other two-post lifts, but the GP-7 offers a much slimmer profile than other lifts. This makes it ideal for narrow garages looking to fit more lifts in a limited space.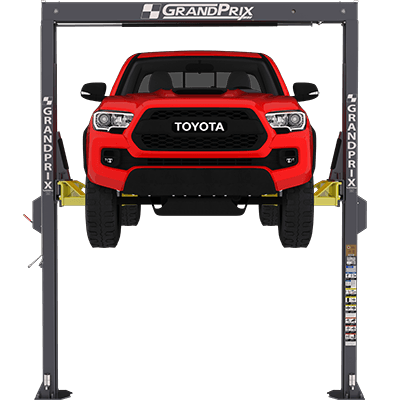 Full Height and Slim Posts Save Space
With its small footprint, optimal lifting height, speedy lifting times and incredible safety features to guarantee your protection, the GP-7 is a clear-cut revolution in engineering. It all starts with the design. The super-slim car ​lift columns are capable of lifting up to 3,175 kg. with incredible ease. In fact, vehicles will reach a max lifting height of ​1,981 mm twice as fast as other ​lifts. This is possible thanks to a hydraulic cylinder that runs through the overhead crossbar, which acts in tandem with dual aircraft lifting cables to provide lifting force from two sources. For every inch of cylinder extension, the lift carriage rises 2 inches. The obvious benefit of this is reduced downtime and faster turnaround. We don't have to tell you that means higher profits and happier techs.
More lift, less steel
This ​lift is tailor-made for both commercial shops and home garages with high ceilings. The thinner posts won't take up much space as your other equipment, making it perfect for lifting low-clearance cars and light trucks while your other lifts handle the heavy-duty business.
Four lifting cables
The quad cable system is another exclusive feature of the GP-7. While two cables act as part of the lifting process, the others are simply redundant backups in the worst-case and entirely unlikely case that the other(s) should fail, develop slack or break. The GrandPrix is so well designed that lifting procedures would be completely uninterrupted. That means two cables could be entirely dysfunctional and the GrandPrix would experience zero negative effects. No other car ​lift combines safety and efficiency in such a slim profile. Kind of remarkable, don't you think?
Single overhead cylinder
Other two-post ​lifts feature dual hydraulic cylinders, one in each column. These cylinders are the reason lift columns are so wide—the steel has to accommodate the hydraulics. Since the GP-7 has only one cylinder overhead and uses four cables to assist with lifting, we could significantly reduce the width of the columns. If using half the amount of cylinder force seems like we're "cheating," consider this: ALI Certified four-post ​lifts generally use a single cylinder as well, and they use two lifting cables, whereas the GP-7 uses four! If anything, this lift doubles down on its safety precautions.
Bi-metric™ arms
These incredible versatile arms permit both symmetric and asymmetric loading. Some prefer more door clearance when they load vehicles, so the Bi-metric design permits asymmetric angling. Other prefer center-loading, so the symmetric angles may be more desirable. This dual-configuration approach lets you choose how you load a car based on the space available to you.
Features
3,175-kg. lifting capacity
Telescoping Low-Pro™ arms for sports cars
Bi-metric asymmetric & symmetric arm configuration
Lowered arm tube supports
Automatic arm restraints
Single release-point operation
Taller lift carriages
Automatic safety locks
Single hidden hydraulic cylinder
(2) redundant safety cables
Multiple lock positions
GP-7 Specifications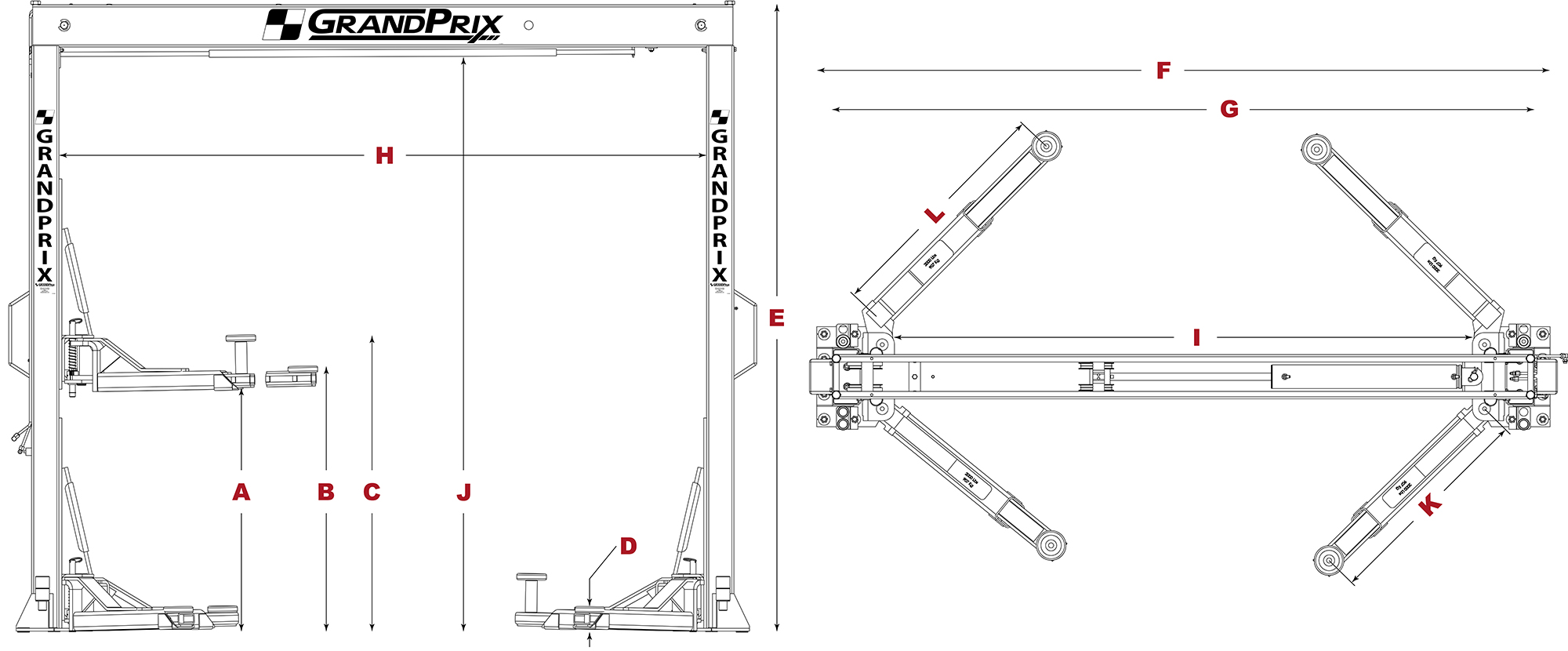 Capacity
*Max Capacity / Front Axle
3500
*Max Capacity / Rear Axle
3500
Rise
C
- Rise + Pad + 63 mm Adapter:
86.5
Time to Full Rise:
55 seconds
Inside Dimensions
I
- Drive-Thru Clearance:
Arms & Pads
K
- Front Arm Reach: (MIN)
26
K
- Front Arm Reach: (MAX)
42
L
- Rear Arm Reach: (MIN)
28
L
- Rear Arm Reach: (MAX)
47.5
Power Unit
Motor:
220 VAC / 60 Hz / 1 Ph
Note: Not all BendPak lift models meet the standards as prescribed by ANSI/ALI ALCTV-2017 or ANSI/UL 201. Consult www.autolift.org for a complete list or contact BendPak via contact@bendpak.com.