BL-7000EXT
SKU# 5175218
3,175-kg. Capacity / 533 mm Maximum Rise / 89 mm Lowered Height / 1,905 mm Frame Length
---
For more lift capacity and lift point reach than any QuickJack model we make, there's no substitute for the BL-7000EXT. Its reinforced frame offers 3,175-kgs. of reliable lift and a lifetime of enjoyment servicing longer light-duty trucks, SUVs, older models and anything else longer wheelbases.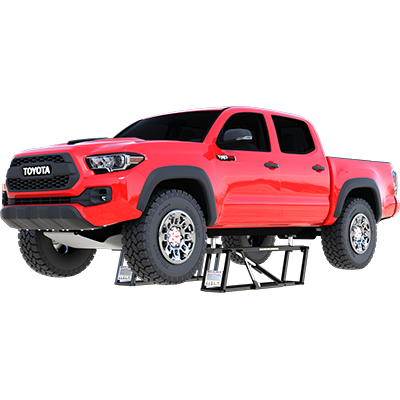 Extended-Reach and Extreme Lifting Power
The BL-7000EXT is a remarkable achievement in engineering. Its 1,905 mm overall length offers an impressive 1,676 mm lift point spread, ensuring longer vehicles can be secured at the manufacturer's intended jack points. With other portable lifts, this can be difficult or even impossible. Given the sheer length of some vehicles, there are even mid-rise lifts that can't accommodate longer vehicles. In particular, this remains a problem for small businesses and home garages that can't fit or afford a full-size two-post or four-post lift. It's our aim to provide the best solutions possible to wrenchers in every walk of life, and the EXT series is our way to bring more mechanics than ever into the QuickJack family.
What about safety? For many, safety is the most stressful part of working on heavy vehicles, and jack stands are polarizing safety features in the industry. Some see them as a lifeline in case something goes wrong with the lifting apparatus, while others are simply sick and tired of busting out the floor jack and lining up stands. QuickJack's EXT series doesn't just make life easier: it's the only truly portable open-center lift that's also safer than jack stands. In fact, the two automatic mechanical locks act as built-in jack stands. The extended frames of the EXT displace the weight of the vehicle across a much, much larger surface area than could ever be possible with jack stands. This reduces wear on the frames, as opposed to stands, which get beat up relatively quickly. QuickJack's BL-7000EXT guarantees safety-first, safety always. No jack stands required.
Features
3,175-kg. capacity
Extended lifting point spread
From stow to go in less than 60 seconds
Dual-position automatic safety lock bars engage automatically as the lift rises
Dual locking positions: mid level and full rise
Extended, cantilevered rubber block trays provide increased rubber block reach
Portable power unit features a remote push-button control for simple operation
Steel mounted urethane wheels provide effortless rolling of jack frames on floor
Remote pendant control features a 13-ft. cord
Power unit features a built-in hydraulic flow divider for precise equalized lifting
Open-center design for clear under car access
Quick-connect/disconnect hoses for fast and convenient set-up
Convenient handles allow for easy positioning of the jack frames
Strong 14-gauge welded steel frames
It's a jack you can use when you need it then conveniently store out of the way
Provides quick, wheels-free convenience for brake and tire service and clear undercarriage access of all types of vehicles
Low-profile jack frames fit under most race cars
Powerful hydraulic cylinders eliminate the need for screw mechanisms
Integrated power-assist canisters increase the lowering speed
Hydraulic cylinders feature integrated velocity-fuse safety valves
A convenient metal carrier with handle keeps the power unit protected and easily mobile
Includes an eight piece set of adjustable and stackable rubber lift blocks to support cars at precise locations for increased stability and safety
Detailed installation, maintenance and safety instructions accompany each QuickJack system
Durable powder coat finish
Specifications
Lifting Capacity
7,000 lbs. (3,175 kg)
(B) Lowered w/ Small Block
4" (102 mm)
(C) Raised (Frame Only)
18.2 (462 mm)
(D) Raised (Small Block)
18.6" (471 mm)
(E) Raised (Large Block)
19.4" (493 mm)
(F) Raised (Stacked Blocks)
21.6" (548 mm)
(G) SUV Adapters
20.7" (526 mm)
(H) SUV Adapters (w/ Pin)
23.7" (602 mm)
(I) Lifting Point Spread - Max
66" (1,676 mm)
(J) Lifting Point Spread - Min
37.4" (951 mm)
(K) Frame Width
12.5" (318 mm)
(L) Frame Length
76" (1,930 mm)
Frame Weight
101 lbs. (46 kg)
Power Unit Weight
35 lbs. (16 kg)
Shipping Weight
262 lbs. (119 kg)