BL-5000EXT
SKU# 5175217
2,268-kg. Capacity / 533 mm Maximum Rise / 76 mm Lowered Height / 1,905 mm Frame Length
---
Made for long wheelbases, the BL-5000EXT is our 2,268-kg. capacity extended-length QuickJack model. The frames are 152 mm longer and offer 152 more mm of reach to let you safely contact your vehicle's OEM jack points.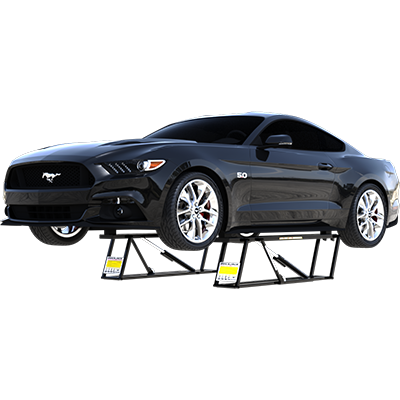 This Extended-Reach Car Lift Handles 2,268-kgs. with Ease
While the majority of vehicles can be safely lifted with one of our SLX models, some vehicles are simply longer—not necessarily heavier. Owners of these cars need look no further than the BL-5000EXT, an extended-length car lift that rolls and stows just like an SLX but offers 6 inches of extra reach. Also just like the SLX, durable rubber blocks slide along extended lift trays, and the entire system is backed by the same incredible safety certification as our other models. There's virtually no difference in operation or setup—all QuickJack lifts work the same! You'll find instant joy replacing floor jacks and stands with something that sets up in about a minute, lifts in about 30 seconds and offers a safer work environment than those old stands ever could.
There are differences between the SLX and EXT models, however. A standard BL-5000SLX or BL-7000SLX offers a 1,534 mm lift point spread, while an EXT increases that reach to 1,676 mm. Professionals will rejoice over this model as much as DIY'ers, because there's finally a way to get longer cars in the air when your other lifts are busy, or there's no room in the bay for a full-size lift. Plus, no bigger car lift can boast a stow-to-go operation time in 60 seconds (or even less)! Perfect for paint booths, quick-lube stops and those who perform full wheel service on a daily basis.
An EXT QuickJack model may not be appropriate for smaller vehicles, given the 75" overall length of the BL-5000EXT. But since there hasn't been a low-profile, fully electric-hydraulic, completely open-center portable lift that fits longer wheelbases—until now—it's an incredible replacement for jacks and stands in almost any situation.
Features
2,268-kg. capacity
Extended lifting point spread
From stow to go in less than 60 seconds
Dual-position automatic safety lock bars engage automatically as the lift rises
Dual locking positions: mid level and full rise
Extended, cantilevered rubber block trays provide increased rubber block reach
Portable power unit features a remote push-button control for simple operation
Steel mounted urethane wheels provide effortless rolling of jack frames on floor
Remote pendant control features a 13-ft. cord
Power unit features a built-in hydraulic flow divider for precise equalized lifting
Open-center design for clear under car access
Quick-connect/disconnect hoses for fast and convenient set-up
Convenient handles allow for easy positioning of the jack frames
Strong 14-gauge welded steel frames
It's a jack you can use when you need it then conveniently store out of the way
Provides quick, wheels-free convenience for brake and tire service and clear undercarriage access of all types of vehicles
Low-profile jack frames fit under most race cars
Powerful hydraulic cylinders eliminate the need for screw mechanisms
Integrated power-assist canisters increase the lowering speed
Hydraulic cylinders feature integrated velocity-fuse safety valves
A convenient metal carrier with handle keeps the power unit protected and easily mobile
Includes an eight piece set of adjustable and stackable rubber lift blocks to support cars at precise locations for increased stability and safety
Detailed installation, maintenance and safety instructions accompany each QuickJack system
Durable powder coat finish
Specifications
Lifting Capacity
5,000 lbs. (2,268 kg)
(B) Lowered w/ Small Block
3.8" (97 mm)
(C) Raised (Frame Only)
17.6" (447 mm)
(D) Raised (Small Block)
18.4" (467 mm)
(E) Raised (Large Block)
19.2" (487 mm)
(F) Raised (Stacked Blocks)
21.3" (542 mm)
(G) SUV Adapters
20.3" (516 mm)
(H) SUV Adapters (w/ Pin)
23.3" (592 mm)
(I) Lifting Point Spread - Max
66" (1,676 mm)
(J) Lifting Point Spread - Min
37.4" (951 mm)
(K) Frame Width
11" (278 mm)
(L) Frame Length
75" (1,905 mm)
Frame Weight
80 lbs. (36 kg)
Power Unit Weight
35 lbs. (16 kg)
Shipping Weight
220 lbs. (100 kg)