PLT-6S
SKU# 5175220
2,722-kg. Capacity / Parking Platform / Special Order
---
BendPak's PLT-6S parking lift was designed for both commercial and residential use and is the perfect car parking solution when ceiling clearances are limited and vehicle heights are restricted. Each PLT-6S parking lift features dual hydraulic lifting cylinders a high-strength safety lock system.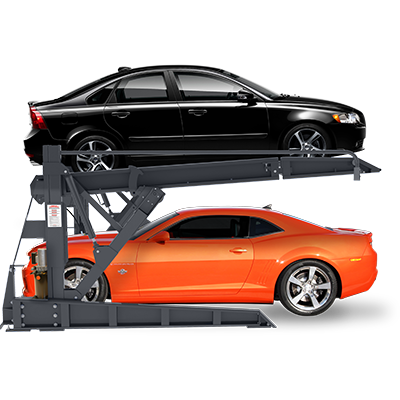 Hydraulic Power that Frees You from the Chains
For many parking lift operators, the appeal of hydraulic lifts is too great to ignore. For one, there are no chains, cables, cable sheaves, etc. that require periodic maintenance. The hydraulic system requires very little in terms of user-end upkeep and tends to last for many years. As long as the hoses are intact and the fluid levels are right, there's not much service that needs to be done—ever!
Not only that, but hydraulic lift systems are extraordinarily safe. While it's extremely rare for anything to go wrong on a BendPak car lift, cables are the most common culprits when it comes to malfunctioning lifts. Take away the chain/cable system and you eliminate most of the moving parts of your parking lift, as well as many of the problems you could potentially encounter. With 2,722-kg. of hydraulic lifting power, the PLT-6S is sure to be one of your favorite lifts.
Minimum footprint
There's no point in designing a parking lift that's too big to fit in most garages. Even garage spaces with low ceilings can accommodate the PLT-6S, and in fact, many people turn to us because they want the same quality and service record BendPak offers on our other car lifts. After all, we have a reputation and we're not afraid to use it.
Dual hydraulic cylinders
Forget the chain-over lift. Forget the cables and cable sheaves. While many of our lifts feature these systems, and they're incredibly safe the way we've designed them, it's sometimes nice to let the hydraulics do all the work. An integrated flow divider prevents the cylinders from ever collapsing: in a worst-case scenario (i.e., hose rupture), the fluid will slowly leak out of the cylinder(s) and the ​lift will gradually descend to the ground. However, this can't happen once the lift is locked in place, so you and your vehicles—top and bottom—are completely safe at all times with this parking lift.
Automatic safety locks
Multiple lock points let you decide how high to park your lift. Your vehicles are equally safe at any point of engagement, and the locks release when the ​lift is lowered. Hydraulic pressure controls the platform and ensures a balanced descent.
Wide base support
The base support on the PLT-6S is just enough to keep the ​lift stable without adding steel that clogs up your floor space. The parking lift is over-engineered to easily handle the rated 2,722-kg. lift capacity, and the two-post structure never wobbles or shakes during operation.
Push-button on/off function
A cantilevered torsion bar extends off the ​lift and contains the push-button UP and DOWN control. This ergonomically designed control is easy to reach and adjustable to multiple heights.
Features
​2,722-kg. lifting capacity
Accommodates cars and small SUVs
Heavy steel locks automatically engage at full-rise
Manually operated lock release
Dual hydraulic lifting cylinders
Cantilevered design with lateral torsion bar
No chains or cables
Individual, or single multi-unit power unit configurations
For commercial or residential applications
Manually operated lock release
Hydraulic safety valves (velocity fuses)
Available in 110V or commercial 220V power options
PLT-6S Specifications
Style
Style:
Two-Post Parking Lift
Overall Width
2,497 mm (98.3")
Overall Length
3,899 mm (153.5")
Overall Height
1,880 mm (74")
Platform Width
2,010 mm (79.1")
Platform Length
3,427 mm (134.9")
Platform Rise
1,286 mm (50.6")
Ramp Rise
1,599 mm (62.9")
Leg Length
2,509 mm (98.8")
Standard Motor
220 VAC / 60 Hz / 1Ph
Note: An air supply (minimum: 30 psi / 3 CFM) is may be required for the safety-lock mechanisms to disengage. It is solely the responsibility of the end-user to provide, install and maintain the air supply.
Note: Not all BendPak lift models meet the standards as prescribed by ANSI/ALI ALCTV-2017 or ANSI/UL 201. Consult www.autolift.org for a complete list or contact BendPak via contact@bendpak.com.