3 Important Reasons to Install a Parking Lift at Home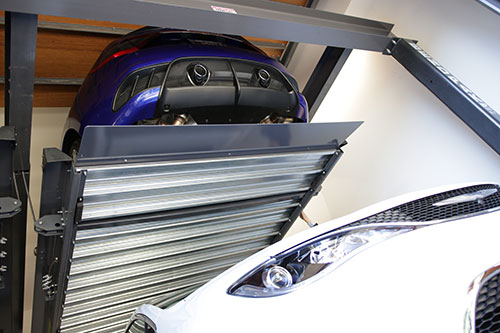 Parking lifts are gaining popularity in homes nationwide. While auto repair enthusiasts might prefer two-post hoists and four-post hoists, many Americans (who may or may not be car collectors) are looking for space-conscious ways to increase their parking abilities. Parking lifts are the natural solution to this problem. For vehicle owners with more than two cars, trucks or SUVs, a PL-6K series double-wide parking lift or triple-wide parking lift is an even better solution. Here's why.
1. Public storage is expensive
Public storage lockers are expensive short-term fixes for a long-term problem. If you need more parking space and you don't have a lift, your options are few: park in the street (parking violations, anyone?), park in the driveway (and shuffle vehicles around every morning) or rent storage space. Not only is the latter option expensive, it's a pain to go to and from the storage locker. It takes at least two people each time, and it sucks time out of your day. On the other hand, parking lifts make car storage easy, and you'll save money in the long run over expensive public storage facilities.
2. Parking lifts make better use of space
The sophisticated design of the PL-6K series permits the lift decks to rise and descend independently of each other. Not only does this allow for fast, secure storage in the comfort of your own home, it means less shuffling of your cars each morning. Think about it: rather than pull cars in and out of the driveway just to access the one or two you need to reach, you can pull what you need off the bottom row without touching the others. No shuffling whatsoever.
Plus, a more organized garage means the rest of your property is free of clutter. Whether it's a basketball hoop for the kids, extra guest parking or a cleaner-looking driveway, parking lifts utilize the empty, wasted space above your cars and create new opportunities for you and your family. It might not be a car you elevate, either. Boats, ATVs, heavy boxes and/or bulky items (e.g., Christmas trees) are tough to take in and out of storage. If you've got the stuff but not the space, a BendPak PL-6K parking lift is a smart storage solution.
3. Protect your property from theft, weather and the unknown
Vehicle thefts occur in neighborhoods throughout the country. In 2014, nearly 700,000 vehicles were reported stolen, which comes down to a grand theft auto every 46 seconds. Out of the 10 most crime-ridden cities (auto-related), eight are in California. Whether or not you think your neighborhood is safe, parking lifts offer superior peace of mind. Even if a thief managed to get into your garage, good luck to anyone trying to steal a '67 Mustang off the top platform of a parking lift. You'd hear it coming a mile away. The point is, it's wiser to protect your investments—don't leave it up to chance.
Inclement weather is cause for big repair bills for those unlucky enough to catch the broad side of a tree trunk during a storm, or for those who find out the hard way that golf ball-sized hail and Maserati don't mix. You'll sleep better knowing your property is protected indoors, regardless of the price tag of said property.
If you live in cold weather, you know what a series of winters can do to your axles. Goodbye, totally accurate wheel alignments; hello, rusty undercarriage. The frigid air isn't great for the rest of your vehicle, either. Just listen to that engine (try to) turn when it's minus-five and falling. Garages protect against corrosive road salt, and they add a little heat and insulation in the winter. Not to mention, if you've ever scraped a windshield at six in the morning on a Monday after shoveling a path for your car in the driveway, you know how meaningful it is to be able to pull right out of your garage and skip all that cold and misery. Warm-weather dwellers have problems of their own, of course. Heat is more than just uncomfortable. Hot car components can burn your skin—young children are especially susceptible—and aren't particularly healthy for your tires, radiator and fluids.
In addition to the weather, the outdoors can be a dangerous place. Every day, vehicles are scratched, bumped or otherwise damaged due to careless drivers, angry exes (just kidding), over-excited children and even animals. We hope you never live to see the day a ground squirrel crawls up and into the hood of your truck and gets caught on a timing belt. Better get a parking lift instead.
To help you out, we at BendPak offer the PL-6K series to let you store four to six vehicles in a compact space like no other hoist we've ever seen.