PL-7000DLX
SKU# 5175229
7,000-lb. Capacity / Two-Post Parking Lift / Deluxe / SPECIAL ORDER
---
The PL-7000DLX is the deluxe version of the PL-7000XR. The approach ramp is longer and wider, a galvanized diamond-plate platform replaces the powder coat on the XR, and other enhancements and modifications improve product durability and operator convenience.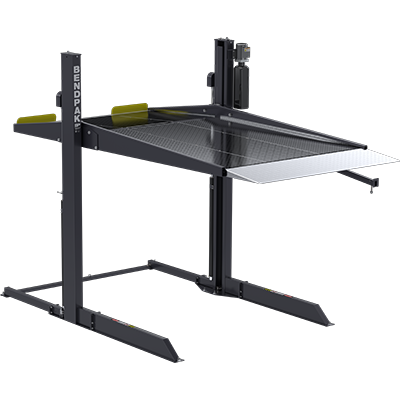 BendPak's Upgraded Version of a Classic
For garages that want a little extra reinforcement built into the bones of their parking lift, especially in heavy-use garages and commercial environments, the deluxe PL-7000DLX is an upgrade over the ever-reliable PL-7000XR. We lengthened and widened the approach ramps; designed sturdier galvanized diamond plate platform; added bolt-on, strengthened diamond plate center panels; raised the control arm; and we lengthened and reinforced the front legs to lessen tension load on the front anchors. These upgrades result in a more durable and easier-to-use version of one of the safest and most reliable parking lifts ever made.
Minimum footprint
Two-post parking lifts are popular because they service one purpose: parking vehicles in tighter spaces. Unlike wider four-post lifts that double as parking lifts, the PL-7000DLX has all the lifting height while taking up less space in your garage. This makes them ideal for both home users and professionals who want to stack multiple ​lifts side-by-side without an inch of room to spare. The units can be staggered or installed in an even row.
Lengthened and reinforced front legs
The PL-7000DLX features lengthened and reinforced front legs that lessen the pull-out tension load on the front anchors. The front legs extend ​483 mm farther than the PL-7000XR.
Galvanized diamond plate platform
The deluxe galvanized platform on the PL-7000DLX is a zinc-coated thing of beauty. The galvanization process makes the steel virtually indestructible. Neither weather nor abuse will ever mar or rust out the deck. The diamond-plate is attractive and non-skid, so it offers superior grip for vehicle tires. It's also now secured in place with fasteners. These bolt-on diamond-plate center panels work to strengthen the lift, so the deck stays reliable for many years of extremely low-maintenance service.
Full-width and extended approach ramp
The drive-on ramp has been extended ​635 mm to accommodate low ground-clearance vehicles. The ramp is now full width to make vehicle approach easier, especially for wide vehicles and large tires.
Raised control arm
The PL-7000DLX control arm has been raised to ​1,829 mm for increased drive-under clearance. The increased height also makes the controls easier to access.
Dual hydraulic cylinders
BendPak has perfected the hydraulic lift system. Dual cylinders provide an even lift, while an integrated flow divider on each cylinder controls the lift descent in the extremely unlikely event of catastrophic hose rupture.
Dual synchronization lifting chains
Heavy-duty lifting chains lift evenly and maintain a balanced platform at all times. They're rugged, maintenance-free and self-lubricating, and they run smoothly over carriage bearings that are also durable and completely maintenance-free.
Internal design
All moving parts (e.g., cylinders, chains) are kept within the ​lift structure. No dirt, debris, spills or weather conditions will affect the performance of your ​lift, nor will you risk tangling your clothes or pinching your fingers in the moving chains. This is as much a safety concern as it is designed to provide a more attractive parking lift.
Automatic safety locks
Multiple locking levels let you decide how high or low you're going to park, so even if you operate in a garage with a low ceiling, you can still safely stack your vehicles. The locks release upon descent.
Wide base support
The base support on the PL-7000DLX is only about the length of a car and just wide enough to provide perfect stability, but it doesn't sacrifice crucial safety features for the sake of being compact. In fact, BendPak has built its reputation on making car ​lifts that are extraordinarily safe and tested more rigorously than the competition.
Key-activated on /off function
Key activation puts you in complete control of your parking lift structure. This is a safety feature that's obviously convenient for operators in garages. It keeps the controls in the hands of those certified to use it. It's also great for home users. Kids, pets and foolish friends won't raise or lower the platform just by bumping the buttons.
Features
3,175-kg. lifting capacity parking lift
Full-width and extended approach ramp
Galvanized diamond plate platforms
Bolt-on and strengthened diamond-plate center panels
Lengthened and reinforced front leg lessens tension load on front anchors
Modified (elevated) control arm
Minimum footprint allows multiple installations in limited space
Independent lifting structures allows for staggered installation
Power-unit and controls integrated within lift structure
Freestanding design reduces tax and permit liabilities in most counties
Overhead power unit provides smooth quiet hydraulic operation
Wide-deck platform accommodates pickups, vans and cars
Designed for installation on typical parking surfaces
Durable construction for maximum stability
Dual hydraulic cylinders and heavy-duty lifting chain
Dual synchronization chains keeps the deck level under all conditions
Automatic safety lock
Maintenance-free composite carriage bearings
Maintenance-free self-lubricating chain rollers
Wide-base plate mounts directly on grade, even on asphalt
No special site preparation required for installation
Optional audible/visual descent alarm available
Standard integrated key-activated power on/off switch
PL-7000DLX Specifications
Style
Style:
Two-Post Parking Lift
Overall length:
4,405 mm (190")
Platform length:
4,001 mm (157.5")
Overall width:
2,489 mm (98")
Platform width:
2,165 mm (85")
Overall height:
3,327 mm (131")
Overall rise:
2,159 mm (85")
Motor:
220 VAC / 60 Hz / 1 Ph
Note: An air supply (minimum: 30 psi / 3 CFM) is may be required for the safety-lock mechanisms to disengage. It is solely the responsibility of the end-user to provide, install and maintain the air supply.
Note: Not all BendPak lift models meet the standards as prescribed by ANSI/ALI ALCTV-2017 or ANSI/UL 201. Consult www.autolift.org for a complete list or contact BendPak via contact@bendpak.com.