HD-9XL
SKU# 5175859
4,082-kg. Capacity / Four-Post Parking Lift / Extended Length
---
The HD-9XL is your 4,082-kg. capacity rugged parking lift solution when you need to lift a car or truck with a longer wheelbase. At 4,775 mm, the runways on this four-post parking lift are a little more than a 1/2 metre longer than the ones on our standard-length HD-9.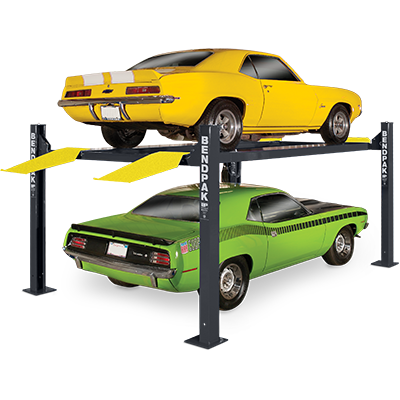 Long Wheelbases Finally Have a Lift of Their Own
The HD-9XL four-post parking lift features that accommodate longer wheelbases. Car collectors who like those long, old Chevys can rejoice: this lift is for them. There are likewise plenty of other long-wheelbase vehicles that will sit more comfortably on this ​lift. Garages need a little more space to accommodate it, but not by much.
Dual-hub cable sheaves
Wider, sturdier cable sheaves reduce friction against the cables and increase the lifespan of the parking lift. These rugged sheaves are more expensive to manufacture, but it's worth every penny, for us and for you, because better sheaves protect both lifts and lives.
Multi-level locking positions
When you're preparing to park on a car lift, it's important to understand the height you need to lock the runways at. The heights of the stacked vehicles, as well as your ceiling height, need to be factored in. Your BendPak has lock positions every few inches. There's so much versatility in how you park, you can fit virtually endless combinations of vehicles.
Heavy-duty aircraft cable
Powerful, aircraft-quality cables each have a 6,350-kg. capacity. So, four of them combined can lift 640% more than the capacity of the car lift. This kind of over-engineering is necessary to ensure your vehicle can be safely left on top of the raised ​lift for as long as you want.
Electric-hydraulic power system
BendPak offers fully integrated electric-hydraulic power units that are always placed within easy reach on one of the parking lift columns. The units never need maintenance and practically take care of themselves for the entire duration of ownership.
Large base plates
Safety systems are worthless without the right structural supports. We're not afraid of a little overkill here and there, so our 254 mm x 305 mm base plates are made so stable, you don't even need to bolt the lift down. This is especially true if you plan on using the caster kit with your car lift.
Caster kit
Add wheels to your ​four-post​ parking lift if you want to adjust where you park. Since the HD-9XL is also a maintenance lift, the casters let you reposition the ​lift for purposes other than parking. Roll it across most flat, smooth surfaces. You can even keep a car parked on top while you move it.
Integrated design
Each BendPak parking lift holds its components within its posts. This maintains a cleaner appearance and prevents accidental damage and wear.
Low-deck runways
When you park on top, you don't want to climb up Mt. Olympus. That's why BendPak runways are low-profile and accommodate virtually any vehicle type. Low ground-clearance cars and low-suspension trucks are welcome to board.
Longer approach ramps
Extending the approach ramps makes loading low ground-clearance vehicles faster and safer. Shorter ramps usually result in scratches to the front bumper.
Automatic safety locks
The HD-9XL four-post parking lift features spring-loaded locks that click into place as the ​lift rises. They lock automatically every few inches, so each time you hear one engage the lock, you know even a catastrophic hydraulic failure will not ruin your day (or life). They also release simultaneously as the lift descends, and a secondary slack-cable detection system prevents operators from raising or lowering the parking lift in the unlikely event that slack develops in one or more of the lifting cables.
Features
4,082-kg. maximum lifting capacity
CE Approved and Certified. Meets or exceeds the standards prescribed by European Standard EN-1493
Wide drive-thru with standard lift height and long runways
Electric-hydraulic power system
Internal "Anti-Sway" slider blocks in each column
Features heavy-duty ​10 mm aircraft cable
Multi-position safety locks in each column
Ramps feature non-skid surface
Runways include rail-kit for optional accessories
Single hydraulic cylinder underneath runway
Oversized self-lubricating cable rollers
Rugged 32 mm roller axles
Adjustable lock ladders
Push-button pneumatic safety release
Optional ​2,041 kg. capacity jacking beam available (Model ​RBJ4500)
HD-9XL Specifications

Style
Style:
Four-Post Parking Lift
A - Min. Runway Height:
114 mm (4.5")
B - Max. Rise:
1,778 mm (70")
C - Max. Lifting Height:
1,892 mm (74.5")
D - Overall Width:
2,800 mm (110.25")
E - Outside Length:
5,029 mm (198")
F - Overall Length:
5,690 mm (224")
G - Height of Columns:
2,235 mm (88")
H - Width Between Columns:
2,555 mm (100.25")
I - Drive-Thru Clearance:
2,197 mm (86.5")
J - Runway Width:
483 mm (19")
K - Length of Runways:
4,775 mm (188")
L - Width Between Runways:
952 mm (37.5") or 1,127 mm (44-3/8")
M - Runway Centerline:
1,435 mm (56.5") or 1,610 mm (63-3/8")
N - Outside Edge of Runways:
1,918 mm (75.5") or 2,092 mm (82-3/8")
Time to Full Rise
50 seconds
Lock Spacing
Every 102 mm (4")
Motor
220 VAC / 60 Hz / 1 Ph
Note: An air supply (minimum: 30 psi / 3 CFM) is may be required for the safety-lock mechanisms to disengage. It is solely the responsibility of the end-user to provide, install and maintain the air supply.
Note: Not all BendPak lift models meet the standards as prescribed by ANSI/ALI ALCTV-2017 or ANSI/UL 201. Consult www.autolift.org for a complete list or contact BendPak via contact@bendpak.com.