HD-7 Series
SKU# 5175510
3,175-kg. Capacity / Four-Post Parking Lift
---
The HD-7 Series parking lifts are ideal for the average home garage, which also means one or more units will easily fit in commercial shops. These parking lifts will hold many light trucks and SUVs, and their approach ramps are also well-suited for low-profile cars.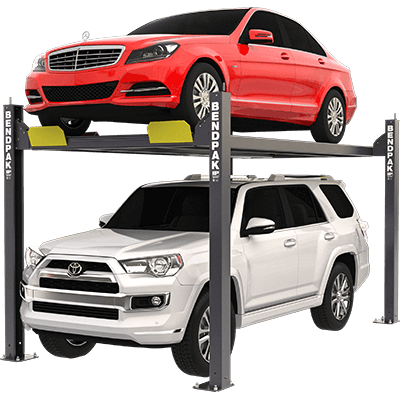 A Versatile and Compact 3,175-kg. Parking Lift
A parking lift is one of the best ways to save space. Home owners love the extra room their lifts offer, and commercial parking garages know that enough parking lifts can effectively double their garage space and their bottom lines. The only way to add parking spaces, other than a car lift, is to expand the physical boundaries of your property (e.g., in-ground ​​lifts). Our lifts are made to outlast whatever vehicle(s) you stow on them. They require very little maintenance over their entire lifespans, and they look sleek and attractive in any setting. This is an important consideration for professionals who know customers make value judgments based off appearances: organized, efficient parking is a no-brainer. Homeowners will enjoy the sophisticated look too. The HD-7 parking lift components are all internally routed for both safety and improved aesthetics.
Dual-hub cable sheaves
By doubling the cable-run surface area on our cable sheaves, we've created a safer, longer-lasting product for your shop or garage. The extra engineering involved comes at our own expense, but we never believed at doing things on the cheap.
Multi-level locking positions
Four safety locks securely and automatically engage at multiple lock levels as the parking lift rises, and a pneumatic safety release disengages the locks simultaneously when the structure descends.
Heavy-duty aircraft cable
Make no mistake, with cables collectively rated over 822% of the overall lift capacity of this parking lift, you're always getting the best, in quality and attentive design features. Over-engineering is our M.O. In fact, each aircraft-quality stainless steel cable is rated for 6,531-kg. and is fully enclosed in the car lift columns.
Electric-hydraulic power system
Easy-to-reach controls are standard for BendPak's integrated electric-hydraulic power systems. They require zero maintenance on the user end.
Large base plates
254 mm x 305 mm base plates provide your parking lift with a strong, stable foundation.
Caster kit
Optional 4-piece caster kit can be fitted for use with or without a vehicle on the structure, offering maximum versatility wherever you operate your car lift.
Integrated design
Lifting cables, airlines, safety latches and sheaves are all contained within the parking lift columns. This keeps them safe from weather, chemicals and other accidents. It also makes for a cleaner look. Plus, parking lifts that are placed side-by-side will never run the risk of rubbing cables and/or damaging crucial lift components. Loose clothing won't get tangled in any moving parts.
Low-deck runways
Our low, 114 mm runways easily accommodate low-bodied sport and race cars, as well as every vehicle you can name that weighs less than ​3,175-kg.
Longer approach ramps
A longer approach ramp eliminates undercarriage damage and increases the range of vehicles this car lift can handle.
Automatic safety locks
Aircraft-quality stainless steel and aluminum pneumatic cylinders release all four locks simultaneously with the simple push of a button. The spring-loaded safety locks automatically engage continuously as the lift is raised. For added safety, a secondary lock system acts as a slack-cable device that engages in the unlikely event of cable failure.
Secondary slack-cable locks
Four safety locks release with the push of a button and safely allow your vehicle to descend. Each descent is even and controlled, and if you need to raise the car ​lift mid-descent, the safety locks will automatically engage again as the lift rises. A secondary slack-cable device engages if cable slack is detected at any point during lift operation. This critical safety piece is a guarantee that every possible step is taken by our team to make the HD-7 the safest parking lift possible.
Choose wide or narrow
Wide and narrow options ensure maximum versatility for your garage space. The four-post lift is equally serviceable indoors and out, and multiple units (you can even mix and match types) stack side-by-side to increase your parking capacity without demanding much floor space.
Features
​3,175-kg. lifting capacity
High lift with short runways
Electric-hydraulic power system
Single hydraulic cylinder mounted underneath runway
Internal anti-sway slider blocks in each column
Oversized self-lubricating cable rollers
High-speed lifting
Features heavy-duty ​10 mm aircraft cable
Rugged ​32 mm roller axles
Multi-position safety locks in each column
Adjustable lock ladders
Ramps feature non-skid surface
Push-button pneumatic safety release
Optional ​2,041-kg. capacity rolling jacking beam available (Model RBJ4500)
HD-7 Series Specifications

Style
Style:
Four-Post Parking Lift
A - Min. Runway Height:
114 mm (4.5")
B - Max. Rise:
2,083 mm (82")
C - Max. Lifting Height:
2,197 mm (86.5")
D - Overall Width:
2,534 mm (99.75")
E - Outside Length:
4,420 mm (174")
F - Overall Length:
5,080 mm (200")
G - Height of Columns:
2,540 mm (100")
H - Width Between Columns:
2,280 mm (89.75")
I - Drive-Thru Clearance:
1,943 mm (76.5")
J - Runway Width:
483 mm (19")
K - Length of Runways:
4,166 mm (164")
L - Width Between Runways:
952 mm (37.5")
M - Runway Centerline:
1,435 mm (56.5")
N - Outside Edge of Runways:
1,918 mm (75.5")
Time to Full Rise:
35 seconds
Lock Spacing:
Every 102 mm (4")
Motor:
220 VAC / 60 Hz / 1 Ph
Note: An air supply (minimum: 30 psi / 3 CFM) is may be required for the safety-lock mechanisms to disengage. It is solely the responsibility of the end-user to provide, install and maintain the air supply.
Note: Not all BendPak lift models meet the standards as prescribed by ANSI/ALI ALCTV-2017 or ANSI/UL 201. Consult www.autolift.org for a complete list or contact BendPak via contact@bendpak.com.