PCL-18B (Set of 6)
SKU# 5175293
48,988-kg. Capacity / Mobile Lift System / 208-230-190V / 50-60 Hz, 3 Ph / Set of 6
---
This PCL-18B mobile column lift system comes in a set of 6. When combined, the system lifts up to 48,988-kg. Ideal for three-axle vehicles. Sets of 2, 4 and 8 are available.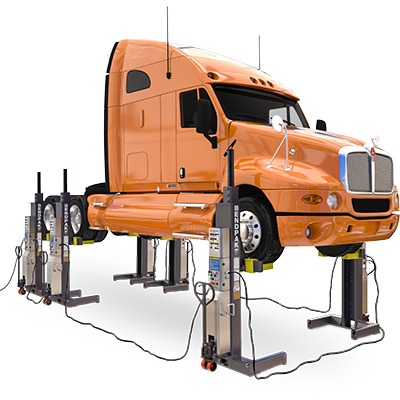 Set of 6 Mobile Column Lifts
With 6 mobile column lifts in a single setup, you have the ability to lift up to 48,988-kg. Despite so much lifting power, each column is easy to stow away in minutes flat after the vehicle is lowered. Safety and user control is paramount, so all lifts will be connected via a single control panel and can be stopped simultaneously with the push of a button.
Features
8,165-kg. individual column capacity / 48,988-kg. maximum system capacity
Meets or exceeds the standards prescribed by ANSI/ALI ALCTV-2011
Two, four, or six column configurations can accommodate heavy duty trucks and light duty passenger vehicles
208-240V, 3-phase main power system - optional voltages available upon request
SINGLE, PAIR or TEAM operation
For a standard four-column set, just three 9 metre cables are used leaving the front or back of the lift clear of cable obstructions
Simple operation, long service life and minimum maintenance
Intuitive controls allow the lift to be fully programmed and controlled from any column
Control systems feature 24-volt safety circuitry
The PLC and main system components are standard off-the-shelf brands rather than proprietary printed circuit boards or controls, which can be very expensive to service or replace
Smart electronics feature self-diagnostics and self-calibration functions
Sealed and enclosed linear potentiometers feature precision potentiometric output and high-frequency response for precise synchronization and communication of all columns throughout all operation cycles for precise, level lifting
Variable height limit settings can be programmed for shops with low ceilings or when specific vehicle service requirements necessitate specific rise heights
Two-speed lowering option – turtle or rabbit speed settings
Each column is equipped with a warning light and audible alarm for critical warning alerts
Emergency shut-off switches on each column quickly shut off power to the lift in the event an unsafe condition is detected by the operator
Separate key lock enclosure on each column
Electronics are multi-fuse protected
An enclosed electric-hydraulic power system that ensures quieter operation is better suited for sound-sensitive areas
Pallet-jack style steering wheels enable the columns to be lowered firmly on the floor vs. constantly loaded spring-type steering wheels that can cause columns to roll when unladen by the weight of a vehicle
Low-mounted power units and cylinders means a lower center of gravity, making the columns easier to move and less likely to topple vs. screw-drive systems with heavy overhead motors and drive systems
Extended forks accommodate wide tires and deep wheel configurations
Multi-width wheel forks with locking pins accommodate the widest range of wheels, eliminating the need for specialty wheel adapters
Tandem 203 mm diameter polyurethane covered steel wheels with sealed roller bearings easily roll over dirt and debris
Heavy-duty steel carriage rollers feature turned, ground and polished axle pins
Manual safety override valves on each column permit the lift to be lowered in the event of a power outage without the need for manual hand cranks
Durable forklift pockets provide simplistic handling when moving the lift columns from one facility to another
Inverted hydraulic cylinders feature an integrated safety valve to prevent accidental uncontrolled lowering in the event of oil pressure loss
Multiple, automatic, independent safety locks spaced every four inches ensure safe operation
Space-saving design, reduced column weight and a tight turning radius provides improved mobility
Use the lift to place vehicles on tall jack stands then use the columns to raise another vehicle in an adjoining bay
Durable powder-coat finish
Specifications
Lifting Capacity
8,165 kg (18,000 lbs.)
A - Overall Height (RAISED)
2,565 mm (101")
B - Overall Height (LOWERED)
3,721 mm (146.5")
C - Max. Lifting Height
1,889 mm (71.5")
D - Overall Depth
1,238 mm (48.75")
E - Overall Width
1,143 mm (45")
F - Chassis Length
819 mm (32.25")
G - Min. Lifting Fork Width
241 mm (9.5")
H - Max. Lifting Fork Width
889 mm (35")
I - Lifting Fork Length
292 mm (11.5")
Turning Circle
1,016 mm (40")
Column Weight
657 kg (1,450 lbs.)
Shipping Weight
657 kg (1,450 lbs.)