MD-6XP
SKU# 5175730
2,722-kg. Capacity / Mid-Rise Frame Lift / Portable
---
You haven't experienced state-of-the-art portable lifting convenience until you've used the BendPak MD-6XP mid-rise scissor lift. This 2,722-kg. capacity portable mid-rise pad lift comes loaded with adjustable arm assemblies, safety lock bars with multiple lock positions and free set of truck adapters.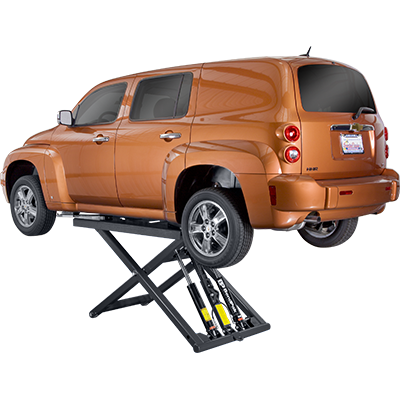 Middle-of-the-Road Height, Top-of-the-Line Design
When it's time to add some much needed versatility and productivity to your professional shop or home garage, your first stop should always be a BendPak car lift. Our 2,722-kg. capacity mid-rise scissor lift is designed to fit nicely into narrower bays and won't take up much of your precious floor space. Thanks to its small footprint, even shops that don't suffer from small work areas will benefit from its ability to be placed just about anywhere without getting in the way. This state-of-the-art scissor lift comes well-equipped with adjustable arm assemblies and an all-important multi-position safety lock bar to give your lifting jobs the dynamic flexibility necessary for the best possible result. Easily and reliably adjust your lift to any secure position.
The true benefit of the mid-rise lift series, however, is their portability. Each car ​lift features a portable power unit and cart, so wherever you need to work is where your mid-rise lift will be. And since they are designed specifically to engage a vehicle's frame, the mid-rise lift offers a seamless lifting experience. Your BendPak comes with a free set of truck adapters. It's just another way that BendPak maximizes your garage's full potential. You can always trust BendPak for increased durability, safety and productivity.
Solid steel-frame support bars
Four support bars make this the strongest mid-rise lift in its class. Easily and safely perform wheel and brake service while finding easy access to your vehicle's suspension. This is an ideal lift to quickly raise vehicles and work on most components. The MD-6XP is also great for detailing vehicles at a more comfortable height.
Dual master hydraulic cylinder
A hydraulic cylinder with a built-in flow divider ensures a safe, even rise and descent with every use. This is important—even single-platform pad lifts require an equal balance of pressure to prevent vehicle tipping and ensure weight is evenly applied across the lift platform.
Powerful safety lock bars
Safety arms engage automatically during ascent, a crucial safety feature that essentially makes ​lift failure impossible. The safety arms are over-engineered to withstand worst-case emergency situations. Even if you lose complete hydraulic fluid pressure due to a leak or hose rupture, mechanical safety locks ensure the platform won't won't budge an inch.
Convenient stainless-steel pneumatic cylinders
Rather than fit our mid-rise lift with bulkier spring releases, we've installed lighter air cylinders that simultaneously release the safety locks during descent with a simple push of a button. (NOTE: Requires min. 50 PSI, 10-CFM air source at time of installation.) The cylinders are easy to maintain and provide an absolutely safe and controlled descent with each use.
A push-button safety lock release system
Operator controls are located away from the ​lift and allow safe deactivation of the locks without the need to push or pull cumbersome release bars or lock release handles. The ​lift functionality is already perfected by our engineers. For your convenience, all you need to do is press the Down button, and watch as the platform fully descends in seconds flat. We couldn't have made it any easier.
Hinge-point features Zerk grease fittings
Our Zerk fittings feed lubrication at critical wear areas, which is essential for not only the longevity of your ​lift, but the low-maintenance guarantee that we built our reputation on. Your mid-rise lift won't need much service for the many years you will own it.
Durable, cushioned rubber contact blocks
Durable rubber blocks come standard with this car ​lift. They're not like the rubber blocks and flimsy rubber pads you're accustomed to seeing: these blocks are robust, textured for better hold and safe to use on virtually every vehicle type.
Multiple locking positions
More lock positioning gives technicians the ability to work at different working heights. Plus, if you're detailing or doing wheel service, the full extension may not be preferable. Whatever height you prefer, this ​lift offers increased vehicle access without sacrificing portability.
Detailed installation and maintenance instructions
Included with every ​lift are graphic safety decals, maintenance decals, vehicle lifting point guide and a safety instruction placard to train personnel on proper safety procedures and maintenance guidelines. We highly recommend you learn the safety features, warnings, do's, don'ts, etc. FRONT-TO-BACK before installing or operating your mid-rise lift.
NOTE: The lift platform and contact blocks allow lifting of most unibody and frame contact undercarriages at recommended manufacturer pick-up points on most vehicles. Be sure to compare your vehicle specifications, including ground clearance and overall height, with the specifications shown before you purchase.
Features
​2,722-kg. lifting capacity
Perfect for servicing light-duty trucks and cars
Portable motor cart serves as tow handle to easily move lift from bay to bay
Adjustable arm assemblies
Safety lock bar with multiple lock positions
Fast and efficient operation
Truck adapters included free of charge
Specifications
Lifting capacity:
2,724 kg (6,000 lbs.)
Lifting height without adapters:
1,219 mm (48")
Lowered height:
121 mm (4.75")
Motor:
115/208 or 230 VAC / 50-60 Hz / 1Ph
Shipping weight:
387 kg (852 lbs.)
Shipping dimensions:
2,134 mm x 1,041 mm x 686 mm (84" x 41" x 27")