LR-60P
SKU# 5175728
2,722-kg. Capacity / Low-Rise Scissor Lift / Portable
---
The LR-60P includes UHMW rollers that make this an incredibly portable and versatile low-rise pad lift. It has all the same great features as the LR-60, including multiple safety locks, rubber lifting blocks, dropped crossbar and heavy-duty steel channel frame.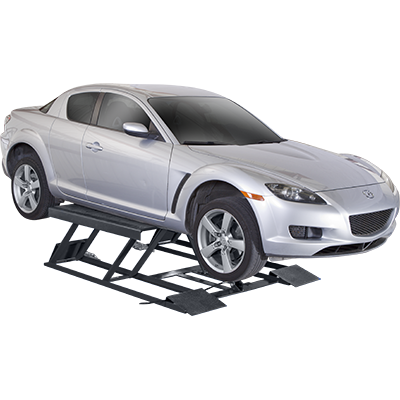 Choose "P" For Portable
High-density UHMW rollers make the LR-60P a conveniently portable low-rise lift. If you're regularly shifting car ​lifts to different service bays or have limited space you need to diversify, a portable lift will make your garage operations that much easier. These amazingly durable wheels, and they're practically indestructible. One person can easily move the LR-60P around shops or garages, and the wheels should never wear or need replacing.
Low-profile height
The LR-60P offers portability without adding bulk. The ​lift collapses to just 102 mm high, so low-stance vehicles have no problem clearing the frame. This small-footprint model is not only ideal for tight spaces, but for garages with limited equipment that need to work in different places around the shop, or simply store the lift out of the way.
Single-point safety release
With the push of a button on the control panel, dual locks release on each frame of the LR-60P. The control panel keeps operators at a safe distance during descent, ensuring efficiency, peace-of-mind and a safe, smooth-running lift at all times.
Dropped crossbar
A dropped crossbar makes it easier to drive up and onto the frames. The center portion of each frame rises to engage the vehicle's OEM jacking points. Since the crossbar improves stability without slowing or hindering operations, Wheel service and suspension work become a cinch.
Rugged steel channel frame
A steel channel runs along the base of the LR-60P. The added stability makes this an ideal lift for busy, active bays. With a five-year standard warranty and superior engineering put into the design, we guarantee you'll work without worry for as long as you own your BendPak.
Industrial-grade hydraulic cylinder
Integrated into the single hydraulic cylinder is a one-piece, pilot fitted, machined steel piston that is wrapped with specially designed, pressure loaded U-cup piston seals, backups and wear bands that virtually eliminate any fluid bypass.
Solid rubber lift blocks
This portable low-rise pad lift includes a set of durable hard-rubber blocks. They take all the use and abuse you can throw at them for years of maintenance-free lifting. We don't even bother with or offer those thin, flimsy pads that damage your customers' vehicles or get torn to shreds after a few uses.
Features
2,722-kg. lifting capacity
Tow handle makes it easy to move lift from bay to bay
Electric / hydraulic power system
Multi-position safety locks
Rubber lifting blocks included
Dropped cross bar for added clearance
Heavy-duty steel channel frame
Specifications
Lifting capacity:
2,724 kg (6,000 lbs.)
Max lifting capacity front axle:
1,361 kg (3,000 lbs.)
Max lifting capacity rear axle:
1,361 kg (3,000 lbs.)
Max lifting height:
660 mm (26")
Max lift height + 1.5" blocks:
699 mm (27.5")
Max lift height + optional 3" blocks:
737 mm (29")
Overall pad length:
1,346 mm (53")
Overall width:
1,791 mm (70.5")
Overall length:
2,083 mm (82")
Lowered height:
102 mm (4")
Lift pad dimension:
457 mm x 2,591 mm (18" x 52")
Motor:
115/208 or 230 VAC / 50-60 Hz / 1 Ph
Shipping weight:
370 kg (814 lbs.)
Shipping dimensions:
2,083 mm x 1,778 mm x 508 mm (82" x 70" x 20")