HDS-35
SKU# 5175166
15,876-kg. Capacity / Four-Post Lift/ Standard
---
BendPak's HDS-35 four-post car lift is not to be trifled with. This heavy-duty lift handles Class 8 - 9 trucks and equipment, which includes full-size flatbeds and construction equipment. The extra lift capacity means that drivers may not need to unload cargo before lifting their trucks.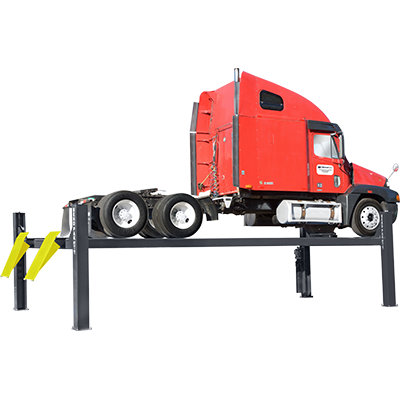 Heavy-Duty Lifting, With or Without a Full Load
While BendPak's HDS-27 series offers good four-post truck lift capability, the HDS-35 series is where you go when circumstances demand a car lift with extraordinary strength and incredible versatility. For instance, a flatbed truck that weights 11,340-kg. may actually overload the HDS-27. It all depends on the distribution of weight on the vehicle's axles. That's where our HDS-35 models come in handy.
Extended runways
We extend the runways on our heavy-duty truck lifts to keep your cargo safe. Steep ramps sometimes cause drivers to accidentally hit the pedal too hard and overshoot their target. A gradual climb maximizes loading and unloading convenience, as well as safety.
Dual-hub cable sheaves
Simply put, bigger sheaves and sheave axles make for a sturdier, safer and more powerful lift. We build our four-post lift sheaves 305 mm in diameter, accompanied by 102 mm diameter sheave axles. Functional sheaves are essential to a smooth rise, so you can expect low-maintenance and high-functioning parts for many years to come.
Heavy-duty aircraft cable
Our 19 mm diameter, ​153 mm x ​635 mm galvanized lifting cables have a ​23,133-kg. breaking strength per cable. The four cables alone, without the hydraulic cylinder, offer more than enough power to safely lift your 15,876-kg. truck. All things considered, we over-engineer our components and proudly wear our ALI Certification on the columns of our four-post lifts for all the world to see.
Built-in lubrication
Grease nipples are extremely useful devices because they make the HDS-35 a self-lubricating, auto-maintaining powerhouse. This massive auto lift reduces your maintenance costs (in both time and actual dollars spent) by giving you quality parts, like self-lubricating sheaves, which require only periodic attention.
Flow restrictor
Every BendPak hydraulic cylinder contains an integrated flow restrictor that safely lowers the lift ramps in the off-chance of a hydraulic hose rupture. The last thing you need to worry about in an emergency is a tilting vehicle. With BendPak, your operations will always be worry-free.
Large base plates
Giant 305 mm x 305 mm base plates support all BendPak heavy-duty truck lift columns for additional support and reduced pressure during use. Wider columns make safer lifts, an absolute necessity when lifting some of the heaviest commercial trucks on the road.
Spring-loaded safety locks
These locks engage as the car lift platforms rise. The best part? If your garage is well-organized and meticulously maintained, but there's a tiny slope in your flooring, the HDS-35 contains built-in safety ladders that can be re-positioned until your ramps are flat. BendPak four-post lifts are made to be versatile, and part of that is making sure slight irregularities in your building don't interfere with the success of your shop.
Push-button pneumatic lock release
Stainless steel and aluminum pneumatic cylinders—like our cables—are aircraft-quality for both durability and optimized performance. The locks disengage with a satisfying swoosh that will excite even the most seasoned mechanic or auto pro.
Secondary lock system
In addition to the primary locking system, a secondary system detects cable slack and immediately locks up the entire cable structure the moment slack is detected. This technology has been around on BendPak lifts for so long, we sometimes forget to remind you that many, many manufacturers do not include this crucial safety feature. Yep, there's a reason their cheap stuff gets sold so cheap.
Integrated design
We're dedicated to providing a lift that looks and feels world-class, just as we're much as we're confident that BendPak engineering is the best you'll find anywhere on the planet. It works in our favor that routing all cables, sheaves, axles, airlines and safety latches inside the lift columns also foster a cleaner appearance and improved safety performance. Don't let anyone give you any nonsense about how externally routed structures help you identify problems and improve lift safety. Internal routing protects cables and parts from environmental factors (dirt, debris, oil, etc.), and they are easily inspected. We know this is the safest structural design, so we don't bother making our four-post lift columns any other way.
Adjustable height locking positions
Big trucks come in all shapes and sizes, so it's important that you have a variety of locking heights to adjust as you see fit.
Electric-hydraulic power system
With the push of a button, your hydraulic power unit activates the lift carriage and keeps it moving smoothly until you make it stop. Ergonomic mounting on the column and one-push button controls make four-post lift operation a breeze.
Non-skid runways
Rugged ramp texturing holds vehicles still in cases of oil spills, fluid sprays, rainfall, fog and any other liquid you can imagine. Whatever adverse conditions exist on and around your truck lift, your vehicles aren't slipping anywhere.
Flexible protective conduit
To keep all cables safe from wear, and to prevent accidental electrical shocks, a protective tubing wraps around all our cables and airlines. The conduit is non-conducive to electricity and durable enough to withstand heavy use in busy commercial shops.
Rolling bridge jacks
Four-post lifts are versatile machines, but they require bridge jacks in order for mechanics to perform wheel service. Two bridge jacks are required to lift the entire vehicle; they provide extra clearance and a safe space for wheel rotations and alignments. Truck and SUV adapters are recommended as well. Hydraulic pumps come standard with every rolling jack purchase.
Choose extended length
Get ready to lift some massive vehicles. If you need a 15,876-kg. capacity truck lift that's a little longer, the HDS-35X is just the ticket to smoothly handle wide wheel bases, extended dimensions and virtually every truck in this weight class. Email or call BendPak customer service to discuss your specific lifting needs. Always make sure you get the right car lift for your specific lifting needs.
Features
15,876-kg. lifting capacity
CE Approved and Certified. Meets or exceeds the standards prescribed by European Standard EN-1493
Supersized 305 mm diameter cable sheaves
Galvanized lifting cables
Grease nipples
Single hydraulic under-runway cylinder
Integrated flow restrictor
Durable powder coat
Spring-loaded safety locks
Second lock system on constant guard
Fully enclosed lifting cables
Multiple adjustable height locking positions
Maintenance-free electric hydraulic power system
Conveniently positioned operator controls
305 mm x 305 mm base plates
Non-skid runways
Optional rolling jacks
HDS-35 Specifications

Capacity
*Max Capacity / Front Axle
17500
*Max Capacity / Rear Axle
17500
Rise
Time to Full Rise:
75 seconds
Inside Dimensions
H
- Width Between Columns:
134
I
- Drive-Thru Clearance:
109
Runways
L
- Width Between Runways:
N
- Outside Edge of Runways:
Locking
Lock Spacing:
Every 6" / 152 mm
Power Unit
Motor:
220 VAC / 60 Hz. 1Ph.
Note: An air supply (minimum: 30 psi / 3 CFM) is required for the safety-lock mechanisms to disengage. It is solely the responsibility of the end-user to provide, install and maintain the air supply.
Note: Not all BendPak lift models meet the standards as prescribed by ANSI/ALI ALCTV-2017 or ANSI/UL 201. Consult www.autolift.org for a complete list or contact BendPak via contact@bendpak.com.