HDS-27X
SKU# 5175164
12,247-kg. Capacity / Four-Post Lift / Extended
---
With 8,204 mm runways, the HDS-27X is the first extended-length model in BendPak's super-duty four-post series. As a super-long lift that holds up to 12,247-kg., this incredibly versatile lift accommodates massive Class 7 semi-trucks. There isn't much this lift can't handle.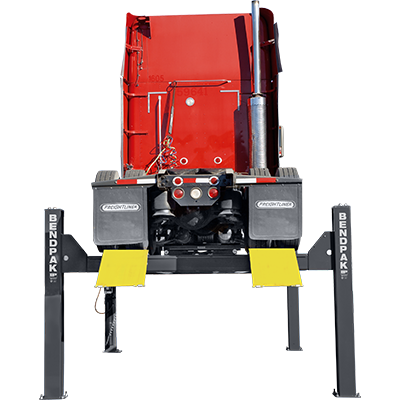 Longer Runways for Semi-Trucks and More
Commercial lifting solutions for semi-trucks and other municipal vehicles fall into a category all their own. That's because vehicles reaching the 12,247-kg. lift capacity begin to develop monstrous proportions. The super-long HDS27X handles stretch limos, semi-trucks, city buses and other super-duty vehicles. In fact, 12,247-kg. should handle a typical garbage truck without a hitch. The best part of being in the heavy-duty maintenance industry is that your competition is relatively low. Most auto shops veer away from servicing commercial fleets. They require specialized equipment (which BendPak makes easy to obtain) and more shop space, which you probably already have covered! If you want to dominate your industry with a reliable commercial fleet of lifts, you'll absolutely need the incredible HDS27X.
Extended runways
Our 8,204 mm runways are absolutely massive. Runways are made wide and rise 1,524 mm in the air, so operators can work on virtually anything in a comfortable standing position.
Dual-hub cable sheaves
To protect your investment, each sheave is a massive ​305 mm in diameter. The equally impressive 102 mm sheave axles greatly extend the lifespan of your car lift by reducing the overall wear on the critical lifting components (cables, sheaves, axles, etc.).
Large base plates
A super-duty lift requires extreme supports. Substantial 305 mm x 305 mm base plates hold up the massive columns on this lift for maximum structural integrity.
Spring-loaded safety locks
Multiple lock positions engage as the lift rises and instantly release upon descent. Operators need not maneuver around the lift, as is the case with other brands' manual release systems. The runway movement is kept level at all times by a built-in flow divider, so operations in fast-paced shops can go on unimpeded by worry about the lifting equipment.
Secondary lock system
With two safety lock systems built into the lift, it's virtually impossible for a well-maintained and properly used BendPak to fail. In the extremely rare and unlikely event that excess cable slack develops, the runways will be caught by the secondary system, the vehicle will remain level, and you will be able to safely fix the problem.
Rolling bridge jacks
Bridge jacks raise the wheels above the runways. Be sure to explore heavy-duty models, such as the RJ15000, a 6,804-kg. jack that's ideal for super-duty vehicles. Two jacks will raise all four vehicles off the runways for full access to the wheels. For many vehicles of this size, two-post lifts are not ideal for efficient and/or safe lifting. Four-post lifts and rolling bridge jacks are often the best way to perform wheel service. The jacks also prevent the need for additional space-consuming machinery.
Features
12,247-kg. lifting capacity
CE Approved and Certified. Meets or exceeds the standards prescribed by European Standard EN-1493
Supersized 305 mm diameter cable sheaves
​Galvanized lifting cables
Grease nipples
Single hydraulic under-runway cylinder
Integrated flow restrictor
Durable powder coat
Spring-loaded safety locks
Second lock system on constant guard
Fully enclosed lifting cables
Multiple adjustable height locking positions
Maintenance-free electric hydraulic power system
Conveniently positioned operator controls
305 mm x 305 mm base plates
Optional rolling jacks
HDS-27X Specifications

Capacity
*Max Capacity / Front Axle
13500
*Max Capacity / Rear Axle
13500
Rise
Time to Full Rise:
75 seconds
Inside Dimensions
H
- Width Between Columns:
134
I
- Drive-Thru Clearance:
109
Runways
L
- Width Between Runways:
N
- Outside Edge of Runways:
Locking
Lock Spacing:
Every 6" (152 mm)
Power Unit
Motor:
220 VAC / 60 Hz / 1 Ph
Note: An air supply (minimum: 30 psi / 3 CFM) is required for the safety-lock mechanisms to disengage. It is solely the responsibility of the end-user to provide, install and maintain the air supply.
Note: Not all BendPak lift models meet the standards as prescribed by ANSI/ALI ALCTV-2017 or ANSI/UL 201. Consult www.autolift.org for a complete list or contact BendPak via contact@bendpak.com.