HDS-27
SKU# 5175162
12,247-kg. Capacity / Four-Post Lift / Standard
---
If you need a bigger, better four-post lift that can handle a 12,247-kg., Class 7 semi-truck, you need the HDS-27. Bigger sheaves and beefier components carry on our legacy of dependability. If your shop services commercial and/or municipal vehicles, this lift is practically mandatory.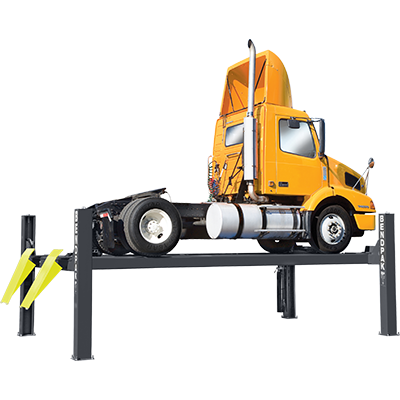 Construction, Municipal and Commercial Vehicles Welcome
This is where our car lifts really step into the next level of lifting. While the HDS-18E is an entry-level lift in the medium-duty truck category, the HDS-27 is well-suited to take your business well beyond the needs of most private drivers. This garage lift brings you into the realm of construction equipment, commercial flatbed trucks, concrete mixers, garbage trucks, buses, etc.
Every BendPak four-post lift, regardless of lift capacity, is made to exacting standards and gets the job done without undue strain or pain on the equipment. When we rate a truck lift at 12,247-kg., that means anything at or under that weight limit is a cinch for our lifts to handle. We superbly over-engineer everything, so you can keep the "biggest and baddest" commercial and municipal vehicles up to code and ready for the next great haul.
Extended runways
Longer runways accommodate a wide variety of vehicle wheelbases, allowing you to steer massive trucks and buses onto our ramps without damaging your vehicle chassis.
Dual-hub cable sheaves
We take the time, cost and effort to bring you the best. Each sheave contained within the runway and cross tubes is a massive 305 mm in diameter, and the sheave axles, at 102 mm in diameter, greatly extend the lifespan of your lift by reducing the overall wear put on these parts. Manufacturing sheave components are even bigger than ones offered by our competition, which ensures superior quality in our product. Additionally, BendPak parts always meet or exceed ALI standards for load bearing and safety.
Heavy-duty aircraft cable
Each of the four, ​13 mm diameter, ​153 mm x ​635 mm ​galvanized lifting cables has a ​6,250-kg. breaking strength, so a four-post lift as massive as this has the engineering to keep your vehicles safe at all times, especially during periods of heavy use. They won't rust out or break apart due to bad weather, chemicals or random, floating garage particulate.
Built-in lubrication
The sheaves and sheave axles are fitted with grease nipples to lubricate the parts as they move. This is an essential feature that is also a form of auto-maintenance, so you have little to do during your periodic service checks.
Flow restrictor
This truck lift provides the best that modern hydraulic technology has to offer. Integrated into the hydraulic cylinder is a flow restrictor that provides a safe, slow descent. This is true even in the extremely rare occurrence of a burst or ruptured hydraulic hose.
Large base plates
Substantial 305 mm x 305 mm base plates support the massive columns.
Spring-loaded safety locks
When the HDS-27 truck lift rises, spring-loaded safety locks engage the moving platforms. Safety ladders are standard and can be adjusted to keep the runways level, which is especially useful for sloped floors.
Push-button pneumatic lock release
The steel and aluminum pneumatic cylinders are aircraft-quality and certified to last for years without service. Lowering the lift release off the locks is done with one push against the pneumatic lock release. Just another simple way we put you in total control of your lift operations.
Secondary lock system
Two locks are better than one! A secondary slack-cable lock engages in case of cable failure, which is unlikely to occur. Still, we prepare our heavy-duty lifts for the worst to keep you working at your best.
Integrated design
Tucked safely into the structure of the four-post lift columns, our lifting cables, airlines, safety latches and cable sheaves are kept away from inclement weather, hazardous chemical erosion and garage dirt/debris. The column structure is the safest and most logical place to conceal the working parts of the lift. Internally routed parts are also crucial to creating the beautiful BendPak aesthetic our customers have come to know and love!
Adjustable height locking positions
Four-post lifts accommodate many different vehicle types, so we've made sure you can adjust the height to suit your needs and safely lock your vehicle in place.
Electric-hydraulic power system
Our car lifts are designed with all operator buttons within reach, so you can raise, lower or shut down the system at any time. One-push button controls make the whole process that much smoother.
Flexible protective conduit
All of BendPak's heavy-duty cables are fitted with a protective casing that is flexible and non-conducive to electricity. Your hoses will be intact and serviceable for many years without service, and the non-metallic tubing will ensure you're never shocked by anything other than the great value of your purchase.
Rolling bridge jacks
Bridge jacks raise the wheels above the runways, which lets operators perform wheel and brake service on the car. Since the HDS-27 Series supports some extremely heavy vehicles, the truck and SUV adapter set is a necessity for wheel/brake service on these lifts. Commercial-grade hydraulic pumps come standard and require 125 PSI and 10 – 20 CFM.
Choose extended length
Some vehicles at the 12,247-kg. lift capacity begin to develop monstrous proportions. Garage trucks, for instance, are wide, tall and feature wide wheel bases. You need a car lift that can handle all those dimensions, plus the weight, without crapping out on you. The super-long HDS-27X may be the better option for your shop. Just be sure to discuss your service needs with a trained BendPak service representative if you need help deciding which 27K four-post lift is right for you.
*Not all BendPak lift models meet the standards as prescribed by ANSI/ALI ALCTV-2011 or ANSI/UL 201. Consult www.autolift.org for a complete list or contact BendPak via contact@bendpak.com.
Features
12,247-kg. lifting capacity
CE Approved and Certified. Meets or exceeds the standards prescribed by European Standard EN 1493
Supersized 305 mm diameter cable sheaves
​Galvanized lifting cables
Grease nipples
Single hydraulic under-runway cylinder
Integrated flow restrictor
Durable powder coat
Spring-loaded safety locks
Second lock system on constant guard
Fully enclosed lifting cables
Multiple adjustable height locking positions
Maintenance-free electric hydraulic power system
Conveniently positioned operator controls
305 mm x 305 mm base plates
Optional rolling jack
HDS-27 Specifications

Capacity
*Max Capacity / Front Axle
13500
*Max Capacity / Rear Axle
13500
Rise
Time to Full Rise:
75 seconds
Inside Dimensions
H
- Width Between Columns:
134
I
- Drive-Thru Clearance:
109
Runways
L
- Width Between Runways:
N
- Outside Edge of Runways:
Locking
Lock Spacing:
Every 6" / 152 mm
Power Unit
Motor:
220 VAC / 60 Hz. 1Ph.
Note: An air supply (minimum: 30 psi / 3 CFM) is required for the safety-lock mechanisms to disengage. It is solely the responsibility of the end-user to provide, install and maintain the air supply.
Note: Not all BendPak lift models meet the standards as prescribed by ANSI/ALI ALCTV-2017 or ANSI/UL 201. Consult www.autolift.org for a complete list or contact BendPak via contact@bendpak.com.