HDS-18E
SKU# 5175968
8,165-kg. Capacity / Four-Post Lift / Standard
---
Ready to lift a bus, dump truck and some truly heavy farm equipment? You may just need the HDS-18E, BendPak's 8,165-kg. capacity four-post truck lift that also handles your low-rise sports cars and compacts with ease.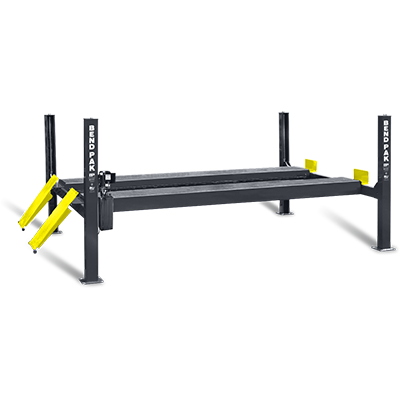 Incredible Truck Lift for Heavy-Duty Lifting
BendPak's HDS-18E four-post lift is engineered to make light work out of heavy lifting. It's built to last and features upgrades that increase safety, durability and productivity. This is the lift that graduates from the class of mid-size trucks, vans and SUVs up to heavy-duty applications. This is a professional car lift that can even handle some industrial and farming equipment. It's also lighter-duty than other lifts in the truck-weight category, so it's not overkill when you don't need, for instance, 20 tons of lift capacity when 9 tons will do just fine.
Extended runways
To accommodate long wheelbases, the HDS-18E offers extended runways that are 6,680 mm front-to-back. This is the first of the heavy-duty models to offer extended runways. All 27K, 35K and 40K lifts are built this way. Better-gripping runways ensure the massive tires on your massive vehicles stay put. If the runways gets slick, their treaded surfaces are still able to grab the wheels without damaging or marring them.
Large base plates
305 mm x 305 mm base plates don't just provide a solid foundation, they inspire the confidence to work on virtually any-size vehicle up to the rated weight capacity.
Dual-hub cable sheaves
Supersized 305 mm diameter cable sheaves within the runway and cross tubes, combined with massive 102 mm diameter sheave axles, dramatically improve cable wear and critical component lifespan, meaning this car lift increases your safety, so you spend less money in service-related expenses down the road.
Heavy-duty aircraft cable
The HDS-18E four-post lift features four ​galvanized lifting cables that do an excellent job of providing abrasion resistance and preventing fatigue.
Built-in lubrication
Grease nipples are located on every sheave and sheave axle to make lubrication maintenance a breeze.
Spring-loaded safety locks
Spring-loaded safety locks automatically engage continuously during rise, and adjustable safety ladders allow for precise runway leveling, even if the posts have been installed on slightly sloped floors.
Push-button pneumatic lock release
A simple push-button pneumatic lock release makes lowering operations simple and fast. Aircraft-quality stainless steel and aluminum pneumatic cylinders will provide years of trouble-free service.
Secondary lock system
A secondary lock system is on constant guard and acts as a slack-cable device in the unlikely event of an unexpected cable failure. Only consider a four-post lift that offers this secondary lock system.
Integrated design
lifting cables, airlines, safety latches and sheaves are all fully enclosed within the structure.
Adjustable height locking positions
Features adjustable locking positions for variable-height parking and infinite leveling.
Electric-hydraulic power system
A maintenance-free electric-hydraulic power system assures ultimate dependability. Despite its size and lifting capacity, all controls on the HDS-18E four-post lift are conveniently located within easy reach.
Optional rolling bridge jack (two makes a set)
Rolling jacks are used to raise the front or rear portion of a vehicle off the car lift's runways, allowing operators to perform efficient wheel and brake service. A pair of jacks allows the entire vehicle to be elevated. Each jack has telescoping arms and frame contact pads that can be extended over the runways and positioned under vehicle lifting points. Each jack features three safety-lock positions and stackable truck and van adapters for increased lifting height and better access to frame contact points on high ground-clearance vehicles. The jacks come equipped with a commercial-grade air-hydraulic pump.
Features
8,165-kg. lifting capacity
CE Approved and Certified. Meets or exceeds the standards prescribed by European Standard EN-1493
Supersized 305 mm diameter cable sheaves
​Galvanized lifting cables
Grease nipples
Single hydraulic under-runway cylinder
Integrated flow restrictor
Durable powder coat
Spring-loaded safety locks
Second lock system on constant guard
Fully enclosed lifting cables
Multiple adjustable height locking positions
Maintenance-free electric hydraulic power system
Conveniently positioned operator controls
305 mm x 305 mm base plates
Optional rolling jacks
HDS-18E Specifications

Capacity
*Max Capacity / Front Axle
9000
*Max Capacity / Rear Axle
9000
Rise
Time to Full Rise:
75 seconds
Inside Dimensions
H
- Width Between Columns:
134
I
- Drive-Thru Clearance:
109
Runways
L
- Width Between Runways:
N
- Outside Edge of Runways:
Locking
Lock Spacing:
Every 6" / 152 mm
Power Unit
Motor:
220 VAC / 60 Hz. 1Ph.
Note: An air supply (minimum: 30 psi / 3 CFM) is required for the safety-lock mechanisms to disengage. It is solely the responsibility of the end-user to provide, install and maintain the air supply.
Note: Not all BendPak lift models meet the standards as prescribed by ANSI/ALI ALCTV-2017 or ANSI/UL 201. Consult www.autolift.org for a complete list or contact BendPak via contact@bendpak.com.