HDS-14X
SKU# 5175173
6,350-kg. Capacity / Four-Post Lift/ Extended / Limo Style
---
The "limo style" HDS14X lift is useful for vehicles that make use of its 5,817 mm runways. Limousines, as well heavy-duty SUVs and trucks, need the extra length, and that's where this heavy-duty four-post lift comes in handy.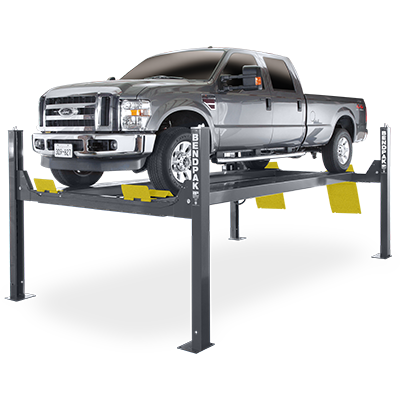 The HDS-14X Offers Extreme Length, Extreme Ease-of-Use
We call this our "limo style" lift because of how much front-to-back clearance it offers. Now your longest vehicles can make it over or under the lift with ease, and because it fits low-profile vehicles as well as heavy, high-stance ones, this lift instantly brings BendPak's unparalleled versatility and legendary craftsmanship right to your garage. If you're familiar with our standard-sized lifts, you know that BendPak equipment is better-built and longer-lasting, no matter the size or weight capacity of the lift.
The HDS-14X is an ideal four-post lift for commercial shops looking to expand their service abilities. The runways are extended ​762 mm more than our standard-length model to a whopping 5,817 mm. The extended approach ramps provide a safe, gradual climb, and an ample 1,778 mm rise permits most mechanics to stand upright to perform oil changes, exhaust service, wheel service and every other undercarriage activity.
Super-long 5817 mm runways
The core of the HDS-14X is its expanded runway length. At 5,817 mm, there isn't much this lift can't handle in its weight class. More vehicles mean more opportunities for profit. Best of all, smaller vehicles fit too, so this one lift alone might be enough to service every vehicle your customers bring in.
Dual-hub cable sheaves
Dual-hub cable sheaves reduce stress, fatigue and wear across the entire structure of the car lift. Large sheaves improve the durability of the entire lift, so this limo style lift utilizes huge, 267 mm diameter cable sheaves within the runway and cross tubes, as well as massive 57 mm diameter sheave axles.
Large base plates
254 mm x 305 mm base plates provide a solid foundation that doesn't excessively clutter your space.
Spring-loaded safety locks
Safety locks are one of the most crucial features of a car lift. BendPak locks engage continuously as the lift rises. The HDS-14X offers adjustable safety ladders, permitting fast, simple runway leveling. This is especially useful when compensating for slope.
Secondary lock system
A cable slack detection system acts as a backup lock, catching and stabilizing the lift platforms in the unlikely development of slack in the cables.
Longer approach ramps
Extended approach ramps decrease the drive-on angle of the vehicle, which is especially useful for low-riding sports cars that might otherwise get scratched or damaged.
RBJ7000 rolling bridge jack
An RBJ7000 3,175-kg. rolling bridge jack is enough to engage the frame of a 6,350-kg vehicle and lift half of it in the air. Rolling bridge jacks are necessary for four-post lift operators looking to maximize their shop capabilities and perform wheel service. BendPak bridge jacks are second-to-none in quality and are highly recommended for all full-service shops.
Features
6,350-kg. lifting capacity
CE Approved and Certified. Meets or exceeds the standards prescribed by European Standard EN-1493
Mid to long-style approach ramps for low ground clearance vehicles
Runways include rail-kit for optional accessories
Single hydraulic cylinder mounted underneath runway
Fully enclosed lifting cables, safety locks and sheaves
Internal anti-sway slider blocks in each column
Pneumatic push-button safety release
Features heavy-duty 13 mm aircraft cable
Safety locks enclosed in columns minimize pinch points
Oversized sheave diameter reduces cable fatigue
Oversized self-lubricating cable rollers
Rugged 45 mm roller axles
Multi-position safety locks in each column
Customizable power unit location
Approach ramps incorporate built-in rear-wheel chocks
Independent backup slack-cable safety latches
Optional drive-thru ramps available
Optional drip trays available
Optional 3,175-kg. capacity rolling jacks available (Model R​BJ7000)
ETL approved
HDS-14X Specifications

Capacity
*Max Capacity / Front Axle
7000
*Max Capacity / Rear Axle
7000
Rise
Time to Full Rise:
60 seconds
Inside Dimensions
H
- Width Between Columns:
120
I
- Drive-Thru Clearance:
98
Runways
L
- Width Between Runways:
N
- Outside Edge of Runways:
Locking
Lock Spacing:
Every 4" (102 mm)
Power Unit
Motor:
220 VAC / 60 Hz / 1 Ph
Note: An air supply (minimum: 30 psi / 3 CFM) is required for the safety-lock mechanisms to disengage. It is solely the responsibility of the end-user to provide, install and maintain the air supply.
Note: Not all BendPak lift models meet the standards as prescribed by ANSI/ALI ALCTV-2017 or ANSI/UL 201. Consult www.autolift.org for a complete list or contact BendPak via contact@bendpak.com.