HD-9XW
SKU# 5175863
4,082-kg. Capacity / Four-Post Lift / Standard Width / High Lift
---
The HD-9XW is a standard width, extra-tall lift that offers ample overhead clearance and enough side room to park light-duty trucks, SUVs and virtually all low ground-clearance vehicles.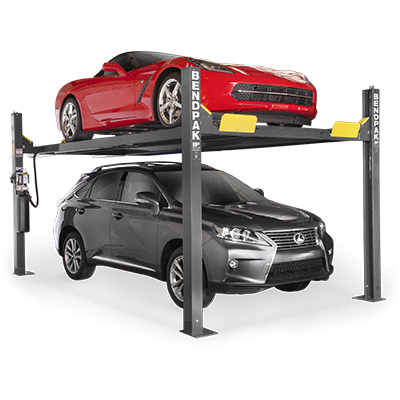 The ​Four-Post ​Lift with Standard Width and Extra Height
When your garage isn't cramped for space, you have more lifting options. The HD-9XW is made for the garage with a generous ceiling and average room on the sides. Unlike our narrow-width HD-9ST four-post lift, this model comfortably holds wide-body trucks and SUVs without you having to worry about scratching up the mirrors or doors. With 2,082 mm of rise out of the runways, you can lift those heavy machines higher, leaving more room for taller mechanics to operate underneath. There's also more room to park high-clearance trucks and SUVs. This eliminates the disappointment of buying a new lift and discovering your taller vehicle won't even fit underneath.
The only way to get more width than this is to check out BendPak's HD-9SW, a super-wide lift. We're proud to be able to say the HD-9XW is arguably one of our most versatile and user-friendly lifts for serious DIY'ers and shop owners. The extra ceiling clearance you need means this car lift is generally the found as the property of daily wrenchers with dedicated service garages.
However, if you're just looking for vehicle storage and want ample space for your lower-level vehicle, this lift is an ideal choice. The HD-9XW is completely certified according to the ANSI/ALI ALCTV-2011 standard. That's why this lift is seen in shops nationwide and across the globe. There's no "safer" car lift rating, and only BendPak offers that quality and many other built-in safety features (slack-cable locks, single-point lock release, non-slip runways, magnificent power coat finishing, etc.) with a warranty so good, we trademarked it!
*Not all BendPak lift models meet the standards as prescribed by ANSI/ALI ALCTV-2011 or ANSI/UL 201. Consult www.autolift.org for a complete list or contact BendPak via contact@bendpak.com.
Features
4,082-kg. maximum lifting capacity
CE Approved and Certified. Meets or exceeds the standards prescribed by European Standard EN-1493
Freestanding design
High-rise
Perfect for parking, storage and service
Runways accommodate narrow and standard vehicles
Runways include rail-kit for optional accessories
Electric-hydraulic power system
Single hydraulic cylinder mounted underneath runway
Fully enclosed lifting cables, safety locks and sheaves
Internal anti-sway slider blocks in each column
Oversized self-lubricating cable rollers
Features heavy-duty 9.5 mm aircraft cable
Rugged 32 mm roller axles
Multi-position safety locks in each column
Adjustable lock ladders
Push-button pneumatic safety release
Independent backup slack-cable safety latches
Customizable power unit location
Removable approach ramps for additional drive-under clearance
Longer approach ramps for low-ground clearance vehicles available
Optional drive-thru ramps available
Optional drip trays available
Optional solid deck available to increase storage capacity
Optional ​2,041-kg. air / hydraulic rolling jacks available (Model RJ-45)
ETL Approved
HD-9XW Specifications

Capacity
*Max Capacity / Front Axle
4500
*Max Capacity / Rear Axle
4500
Rise
Time to Full Rise:
50 seconds
Inside Dimensions
H
- Width Between Columns:
100.25
I
- Drive-Thru Clearance:
86.5
Runways
L
- Width Between Runways:
N
- Outside Edge of Runways:
Locking
Lock Spacing:
Every 4" / 102 mm
Power Unit
Motor:
220 VAC / 60 Hz. 1Ph.
Shipping
Dimensions:
204" x 22" x 40" / 5,182 mm x 559 mm x 1,016 mm
Note: An air supply (minimum: 30 psi / 3 CFM) is required for the safety-lock mechanisms to disengage. It is solely the responsibility of the end-user to provide, install and maintain the air supply.
Note: Not all BendPak lift models meet the standards as prescribed by ANSI/ALI ALCTV-2017 or ANSI/UL 201. Consult www.autolift.org for a complete list or contact BendPak via contact@bendpak.com.