HD-9
SKU# 5175861
4,082-kg. Capacity / Four-Post Lift / Standard Width
---
The HD-9 series of 4,082-kg. four-post lifts contains seven different lifting models. Each four-post lift is perfect for vehicle storage and service, whether you're working at the shop or your home garage. Each model is available with optional casters, drip trays, jack platforms and more.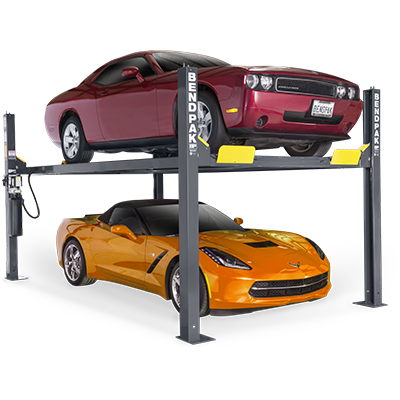 Meet One of Our Most Popular and Versatile ​Lifts
A four-post lift requires a serious level of engineering. To reduce strain on the columns and provide ample lifting security at all times, BendPak uses the most durable stainless steel lifting cables, as well as the single hydraulic cylinder, to provide an incredibly powerful and smooth lift operation. With proper use, this car lift will work as well on day 5,000 as it does on day one.
The HD-9 offers our largest variety in any BendPak four-post lift weight class because most vehicles serviced by most shops weigh less than 4,082 kg. If you need to lift heavier vehicles, we have larger-capacity models that keep you covered. For many of you, however, the HD-9 Series will hit the sweet spot for powerful lifting, compact design and product value. Browse our 9K section to see all of what you can get on these models.
Dual-hub cable sheaves
Dual-hub cable sheaves are more expensive to manufacture, but it's not a cost we push back onto you. They're necessary to prevent axles, sheaves and cables from burning out before they should. Our philosophy is that your lift should be the last thing you worry about first thing in the morning.
Multi-level locking positions
Unique service technicians require unique servicing positions; with the HD-9, you can safely lock your four-post lift at varied heights, so you're never crouching or reaching uncomfortably to perform auto maintenance. If you're raising the lift for parking purposes, that variation is going to come in handy, depending on how you stack your vehicles.
Heavy-duty aircraft cable
Each four-post lift comes with four lifting cables made from superior-grade stainless steel. Each individual cable is rated to handle 6,531-kg. This makes their combined rating over 640% of the total capacity. These cables are hidden within the post columns for both the safety and overall streamlined look of the lift. No one wants to see a cable dangling on the outside of a lift. Tuck that thing away!
Electric-hydraulic power system
No need to worry about maintenance on your electric-hydraulic power systems! The controls are all within reach, so you can stop, start and reverse your four-post lift on a dime.
Large base plates
254 mm x 305 mm base plates keep your car lift rooted in place for as long as you own it. Make sure the ground is level and you're good to go!
Caster kit
Ask us about the 4-piece caster kit that fits all our 9K four-post lifts. They turn your stationary lift into a mobile parking and service station. You can even leave a car on top while you move it!
Integrated design
All lifting cables, airlines, safety latches and sheaves are routed internally throughout the car lift. This is a crucial safety feature that also adds significantly to your lift's curb appeal! (That is, if you have it visible from the curb.)
Low-deck runways
We keep our four-post runways to a low 114 mm, so low-stance chassis can be comfortably driven onto the lift.
Longer approach ramps
Not only are our runways low, we extend them farther than others in the industry. This better suits the lifting of sports cars and other low-standing vehicles.
Automatic safety locks
Every BendPak four-post lift is designed with a safety-first mentality. To this end, four locks engage simultaneously as the lift is raised, and a backup locking system catches cable slack in the unlikely event of cable failure.
*Not all BendPak lift models meet the standards as prescribed by ANSI/ALI ALCTV-2011 or ANSI/UL 201. Consult www.autolift.org for a complete list or contact BendPak via contact@bendpak.com.
Features
​4,082-kg. maximum lifting capacity
CE Approved and Certified. Meets or exceeds the standards prescribed by European Standard EN-1493
Freestanding design
Perfect for parking, storage and service
Runways accommodate narrow and standard vehicles
Runways include rail-kit for optional accessories
Electric / hydraulic power system
Single hydraulic cylinder mounted underneath runway
Fully enclosed lifting cables, safety locks and sheaves
Internal anti-sway slider blocks in each column
Oversized self-lubricating cable rollers
Features heavy-duty ​9.5 mm aircraft cable
Rugged ​32 mm roller axles
Multi-position safety locks in each column
Adjustable lock ladders
Push-button pneumatic safety release
Independent backup slack-cable safety latches
Customizable power unit location
Removable approach ramps for additional drive-under clearance
Longer approach ramps for low-ground clearance vehicles
Optional drive-thru ramps available
Optional drip trays available
Optional solid deck available to increase storage capacity
Optional ​2,041-kg. air / hydraulic rolling jacks available (Model RJ-45)
ETL Approved
HD-9 Specifications

Capacity
*Max Capacity / Front Axle
4500
*Max Capacity / Rear Axle
4500
Rise
Time to Full Rise:
45 seconds
Inside Dimensions
H
- Width Between Columns:
100.25
I
- Drive-Thru Clearance:
86.5
Runways
L
- Width Between Runways:
N
- Outside Edge of Runways:
Locking
Lock Spacing:
Every 4" (102 mm)
Power Unit
Motor:
220 VAC / 60 Hz / 1 Ph
Note: An air supply (minimum: 30 psi / 3 CFM) is required for the safety-lock mechanisms to disengage. It is solely the responsibility of the end-user to provide, install and maintain the air supply.
Note: Not all BendPak lift models meet the standards as prescribed by ANSI/ALI ALCTV-2017 or ANSI/UL 201. Consult www.autolift.org for a complete list or contact BendPak via contact@bendpak.com.