HDSO14AX
SKU# 5175153
6,350-kg. Capacity / Open-Front Alignment Lift / Extended / Includes Turnplates and Slip Plates
---
The HDSO14AX is an open-front, 6,350-kg. capacity alignment lift. The "open" design makes it easier to access the front turn plates and undercarriage, and features front turn plates and rear slip plates built right into the runways. Wheels respond to adjustments with no resistance.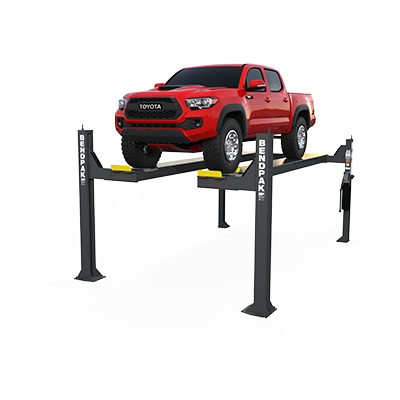 Open-Front Design and 6,350-kg. of Might
We engineered the HDSO14AX alignment lift without a front crossbar, so operators can easily enter and exit from beneath the vehicle. Now the process of front-end adjustment becomes quick and trouble-free. This is a must for busy alignment bays. Additionally, for precise front-lift leveling, nothing beats our patented, adjustable front outrigger tubes. The infinitely adjustable pitch compensates for excessive loads and sloped floors.
Slip plates
Rear-facing multi-caster slip plates and front-facing turn plates permit precise, free-floating alignment.
Turn plates
This alignment lift features two recessed turn plate pockets that let you freely position the corrosion-resistant, galvanized turn plates.
Dual-hub cable sheaves
BendPak alignment lifts include strong, durable and oversized ​268 mm diameter cable sheaves within the runway and cross tubes, as well as ​57mm diameter sheave axles. These powerful components keep your car ​lift running for many years, far past the point other brands' ​lifts have already given out or required expensive parts replacements.
Heavy-duty aircraft cable
BendPak runs four aircraft-quality steel cables (that measure in at a robust 1/2" diameter, 6 x 25), within the columns. They are literally the ultimate standard for high-quality cable construction and safe lifting.
Adjustable height locking positions
Alignments are often done by different mechanics in a busy shop. The multiple locking heights allow different people to work on the HDSO14AX alignment lift at the height appropriate for them. Since it's an open-front design, getting under is easy no matter how tall they are.
Built-in lubrication
Grease fittings are an essential component to every car ​lift we make. They keep the cable sheaves lubricated, so you don't have to worry about productivity and safety in our design.
Flow restrictor
Should anything catastrophic occur in your shop to disrupt the functionality of your ​lift, we want you to feel confident that BendPak keeps your vehicles and equipment safe. If the hydraulics are cut or lose all pressure, which would be extraordinary, the built-in hydraulic flow divider still ensures a safe, even descent at all times.
Spring-loaded safety locks
Our fully adjustable locks are also found on the HDSO14AX alignment lift. Springs engage as the lock ascends into position. This design also helps keep the platforms even, even if there's a tiny slope to your garage flooring.
Push-button pneumatic lock release
Air locks make releasing the locks simultaneous, each and every time. The instant release ensures the alignment lift platforms descend evenly.
Secondary lock system
A backup lock system protects the alignment system in the event that cable slack is detected. When this occurs, the cable is immediately "grabbed," and the entire operation ceases immediately.
Integrated design
BendPak cables, cable sheaves and airlines run internally throughout the structure. Every one of these parts is susceptible to damage and extra wear if left exposed. We keep the look and feel of this alignment lift clean while protecting the most critical parts and components.
Electric-hydraulic power system
The power unit never needs to be maintained or adjusted. It's also so easy and safe to use, we recommend it for both home and commercial applications.
Longer approach ramps
Because our approach ramps are longer, they make it easier to load low ground-clearance vehicles. So easy, in fact, that you'll never scratch up the bottom of your car or struggle with the gas pedal to give enough gas without shooting onto the ramp at an unsafe speed. Simply glide on and start aligning.
Flexible protective conduit
The durable conduit that surrounds the airlines and hydraulic hoses prevents damage to the cables. It also keeps you safe from electrical shock.
Rolling ​jacking beams
Rolling bridge jacks turn your alignment lift into an all-purpose four-post ​lift. No need to transfer to a different car ​lift to perform wheel and brake service. Now you can change brake rotors right before you align the wheels, all on the same lift. Rolling ​jacking beams are a safe and space-saving way to increase shop capability without purchasing more equipment.
Features
6,350-kg. lifting capacity
CE Approved and Certified. Meets or exceeds the standards prescribed by European Standard EN-1493
Heavy‐duty turn plates and integrated rear slip‐plates included
Multi‐position turn plate pockets
Automatic leveling system
Multiple auto-leveling locking positions
Runways include rail‐kit for optional accessories
Electric / hydraulic power system
Single hydraulic cylinder mounted underneath runway
Fully enclosed lifting cables, safety locks, and sheaves
Internal "Anti-Sway" UHMW slider blocks in each column
Features oversize sheaves and heavy‐duty 13 mm aircraft cable
Rugged 25 mm roller axles and oversize self‐lubricating cable sheaves
Multi‐position safety locks in each column with push‐button safety release
Runways adjust for different tread widths
Optional 3,175-kg. capacity jacking beams available (Model RBJ7000)
HDSO14AX Specifications

Capacity
*Max Capacity / Front Axle
7000
*Max Capacity / Rear Axle
7000
Rise
Time to Full Rise:
60 seconds
D - Overall Width (FRONT)
3,632 mm (143")
E - Overall Width (REAR)
3,301 mm (130")
F - Outside Length
5,472 mm (215")
G - Overall Length
6,191 mm (243")
H - Height of Columns (FRONT)
2,664 mm (105")
I - Height of Columns (REAR)
2,613 mm (103")
J - Width Between Columns (FRONT)
3,124 mm (123")
K - Width Between Columns (REAR)
3,046 mm (120")
L - Drive-Thru Clearance
2,464 mm (97")
M - Runway Width
520 mm (20.5")
N - Length of Runways
5,054 mm (199")
O - Width Between Runways
1,143 mm (45")
P - Min. 4-Wheel Alignment
2,261 mm (89")
Q - Max. 4-Wheel Alignment
3,962 mm (156")
R - Max. 2-Wheel Alignment
4,623 mm (182")
Inside Dimensions
H
- Width Between Columns:
I
- Drive-Thru Clearance:
Runways
L
- Width Between Runways:
or
Alignment
M
- Min. 4-Wheel Alignment:
N
- Max. 4-Wheel Alignment:
O
- Max. 2-Wheel Alignment:
Power Unit
Motor:
220 VAC / 60 Hz / 1 Ph
Shipping
Weight:
1,407 kg (3,102 lbs.)
Dimensions:
5,309 mm x 559 mm x 1,118 mm (209" x 22" x 44")
Note: An air supply (minimum: 30 psi / 3 CFM) is required for the safety-lock mechanisms to disengage. It is solely the responsibility of the end-user to provide, install and maintain the air supply.
Note: Not all BendPak lift models meet the standards as prescribed by ANSI/ALI ALCTV-2017 or ANSI/UL 201. Consult www.autolift.org for a complete list or contact BendPak via contact@bendpak.com.