Steel Ramps
SKU# 5210055
1,219 mm Steel Approach Ramps / Pair
---
These optional, extended-length steel approach ramps replace the standard-length steel approach ramps that are included with the purchase of a four-post lift.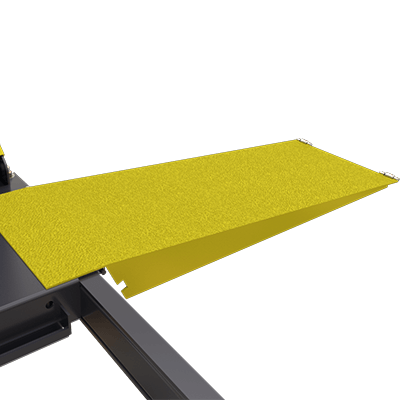 Low-Profile Steel Ramps
The extended steel ramp kit replaces the standard-length ramps. With a set of (2) low-profile ramps, quick-mount brackets and all the necessary hardware to make ramp make it easy to install and uninstall the ramps. These steel ramps are significantly longer than standard four-post ​lift approach ramps, so super-low-profile cars can more easily glide onto the runways without risk to the front-end bumper or chassis.
Chose from four models, depending on which ​four-post lift you own.
Features
Attractive design
​1,092 mm or ​1,219 mm extended-length build
Low-profile
Sturdy
Steel Ramps Specifications