PCL-18B Cross Beam
SKU# 5215423
Chassis Cross Beam / Includes Stacking Adapter Set / Fits PCL-18B Mobile Column Lifts / Each
---
The PCL-18B cross beam is an adapter that rests between two PCL-18B mobile lift columns, crossing under the frame of the vehicle being lifted. This lets operators perform wheel service on vehicles when using BendPak's mobile lifts.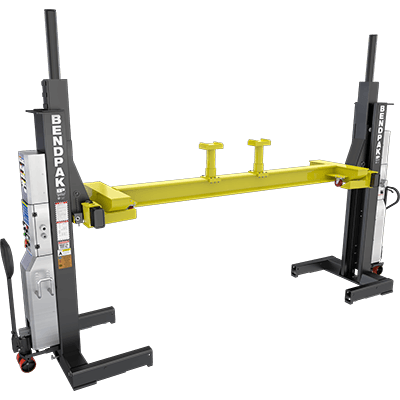 Support Beam for Wheel Service with Mobile Column Lifts
The PCL-18B is a support beam that connects two mobile lift columns. When activated, the beam's extended frame cradles engage the vehicle at the manufacturer-recommended lift points. Be sure to line up the columns at the correct lift points. Ideal for lifting and servicing school buses and other super-long and heavy vehicle types.
Features
Sturdy, single-piece construction
Rugged stainless steel frame
Rust, chemical and abrasion-resistant
Fits BendPak PCL-18 mobile column lifts
8,165-kg. capacity per beam
(4) cross beams lift up to 32,659-kg.
PCL-18B Cross Beam Specifications